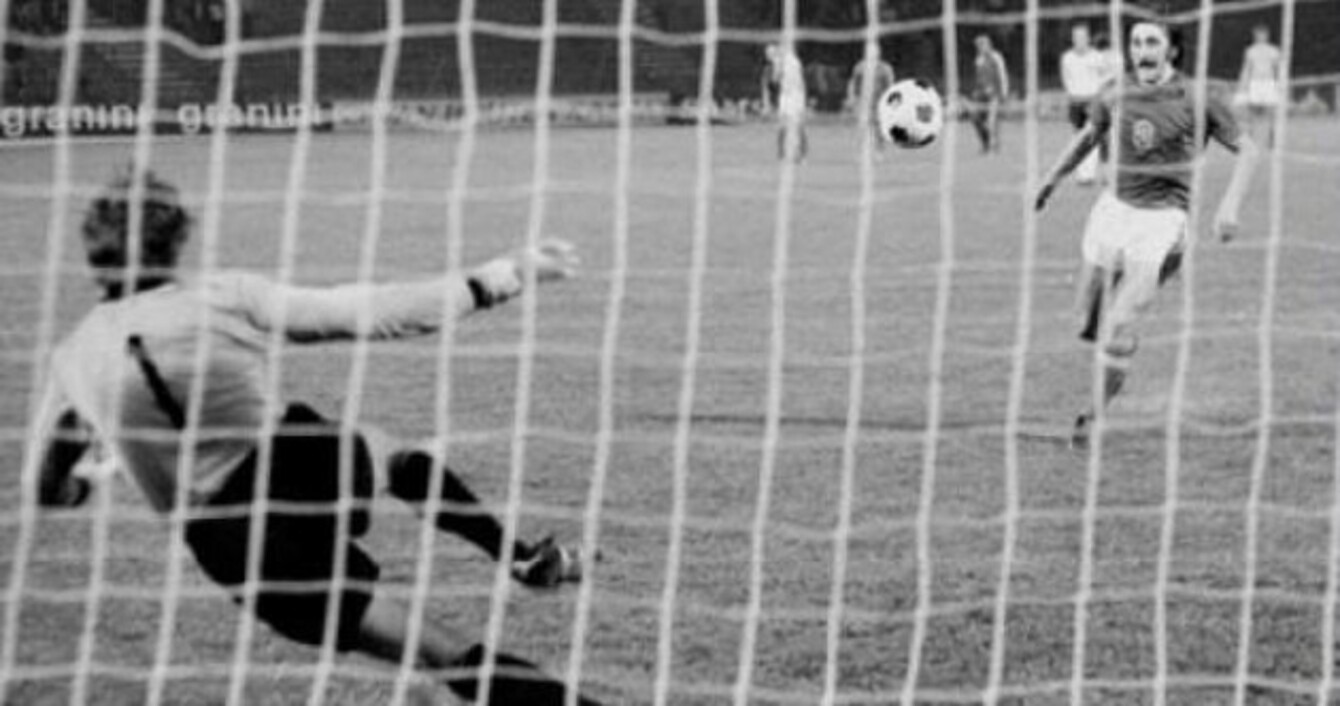 IMITATION IS THE greatest form of flattery and for Antonin Panenka, many have tried to replicate his moment of genius that occurred 40 years ago this summer.
In the context of the modern game, it's quite difficult to fathom what the Czech midfielder conjured on that balmy night in Belgrade.
With his side having beaten the Netherlands in the European Championship semi-finals, they then led Germany by two goals in the decider before being pegged back.
Dieter Muller volleyed home from close range within minutes of Karol Dobias having put the Czechs 2-0 in front.
But the reigning World and European champions were made wait anxiously for an equaliser.
It took them until the 89th-minute to get it – Bernd Holzenbein getting above Ivo Viktor to flick home a corner at the near post.
The Czechs were understandably distraught at allowing the game to slip, though composed themselves enough to get through extra-time without conceding another.
Thinking that the tie would go to a replay, they headed to the dressing-rooms when the whistle blew, unaware that a shootout was imminent.
Understandably there was a degree of confusion: a European Championship final had never been decided by penalties before.
And, given how much of a surprise it was to the Czech players, they handled the situation quite brilliantly.
They scored from their first four penalties though Germany matched them – until Uli Hoeness stepped up and missed.
"I decided to take a heavy shot – to try to put it in the corner", he said years later.
"The ball was over the bar and I think they found it a year ago during the war, when the stadium was destroyed. They finally found it."
It meant that Antonin Panenka had the chance to win the European Championships for his country.
An attacking midfielder for Prague-based side Bohemians, the 28-year-old had been practising penalties for quite a while, developing and honing a unique style.
"After training, I used to stay behind with our goalkeeper and we'd have a penalty competition", Panenka recalled much later.
"We'd play for a bar of chocolate or a glass of beer and since he was very good, it became an expensive proposition for me since I'd constantly lose and have to pay.
Sometimes, before going to sleep, I'd try and think of ways to get the better of him, in order to get back the money I lost."
Panenka had noticed goalkeepers committed themselves by diving for penalties. By delaying his kick, even by a fraction, and placing the strike down the middle, Panenka's theory was the goalkeeper wouldn't be able to get back in time to make a save.
SEE SPORT
DIFFERENTLY
Get closer to the stories that matter with exclusive analysis, insight and debate in The42 Membership.
Become a Member
By shooting from underneath the ball and chipping it towards goal, it also ensured the goalkeeper couldn't block with an outstretched leg.
"I started to test it slowly", Panenka said.
"A side-effect of this was that I started to gain weight because I was winning the bets with our goalkeeper! I started to use the technique in friendly matches and eventually perfected it so I used it in league games and the culmination of that was when I used it at the European Championships."
As he stepped up and faced Sepp Maier, Panenka was staring into the eyes of someone who knew quite a bit about penalty kicks.
In the 1974 World Cup final, Maier was beaten by Johan Neeskens but went into the '76 tournament having saved three during his Bundesliga campaign with Bayern Munich.
Still, his reputation was irrelevant. He had never been exposed to such a penalty style before and, as Panenka approached the ball, Maier dived to his left.
He had been tricked.
He could only arch his neck to the right and watch the ball as it delicately sailed to the net.
"I suspect that he (Maier) doesn't like the sound of my name too much", said Panenka.
"I never wished to make him look ridiculous. I chose the penalty because I saw and realised it was the easiest and simplest recipe for scoring a goal."
It was ironic that the Czechs – the tournament's rank outsiders – were crowned champions in such stylish circumstances.
The eastern European stereotype was, and still is to some degree, built around grit, determination and physicality: functionality before creative expression.
Source: sp1873/YouTube
The 1976 competition had been set up, once again, for Johan Cruyff and his brilliantly-flawed Dutch side to enthral and engage the masses.
But it was the Czechs who dismantled them in the semi-finals, ripping their defence to ribbons during extra-time to win out 3-1.
"No one expected we'd achieve any success", said Panenka.
"We, the players, had a different view. Some players were excellent fighters, were tough and we had creators too and finishers. The combination and range of players was ideal."
The42 is on Snapchat! Tap the button below on your phone to add!