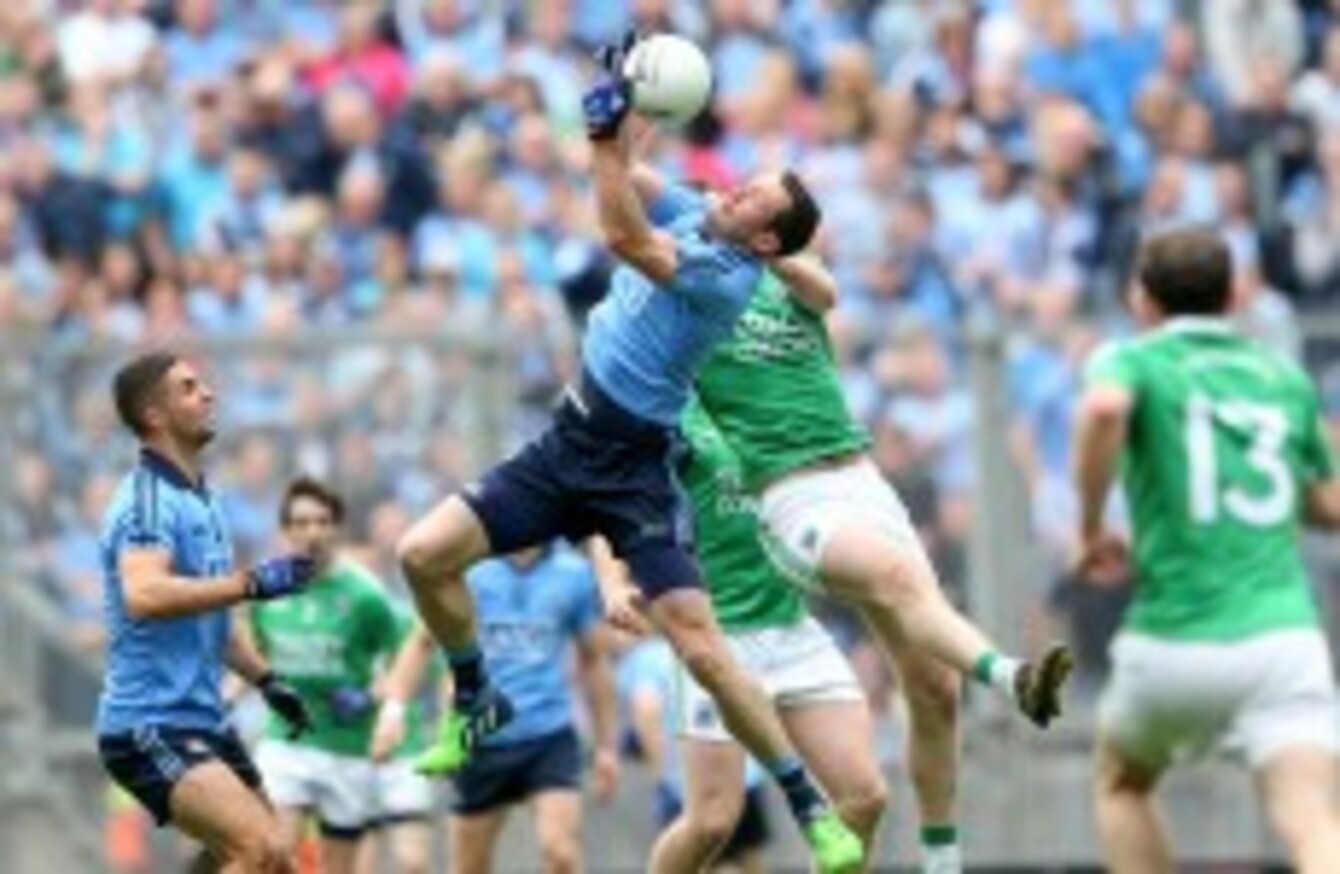 Dublin saw off Fermanagh in last Sunday's All-Ireland football quarter-final.
Image: James Crombie/INPHO
Dublin saw off Fermanagh in last Sunday's All-Ireland football quarter-final.
Image: James Crombie/INPHO
GAA DIRECTOR-GENERAL Páraic Duffy has launched a passionate defence of inter-county Gaelic football in the wake of fears being expressed over the future of the game after recent one-sided clashes.
Last Sunday's All-Ireland quarter-finals saw Kerry hammer Kildare and Dublin were emphatic victors over Fermanagh.
All-Ireland winning manager Jim McGuinness yesterday outlined his concern over the growing gulf in standards between inter-county sides.
But Duffy, speaking yesterday at the launch of the 2015 Fexaco Asian Gaelic Games, insists that perspective is being lost and that counties operating off smaller population bases need to be applauded for the strides they are making.
"I think we've lost our perspective in relation to this whole issue. For Sligo or Fermanagh to get here last weekend at round four or the quarter-finals, is an achievement.
"These counties, the population base for a start is tiny. They're working as hard as they possibly can to develop their games. This is about resources. It doesn't matter what models of championship you have, these counties are working as hard as they can.
"Monaghan are here this weekend. They've been here the last three years but go back before that and it was years and it'll probably be after this team passes it'll be years until they're here again.
"We're not going to remodel the GAA to make everybody equal because then you kill it. We're not going to make Dublin into five or six counties or Kerry into two or three or Donegal into two or three.
"The doomsday situation, I don't agree with it. I have great respect for Jim McGuinness and his articles in the Irish Times actually are very good reading.
"Do I agree with his point? No, because what he's saying is you put in more and more resources. A county like Leitrim or Longford or Carlow or Monaghan will never have the resources to put into the game the same as a county with a bigger population."
Duffy pointed out that a gap in standards is evident in all sports, citing the upcoming Rugby World Cup and the Premier League season as examples.
"Let me tell you this. In a couple of months' time the Rugby World Cup takes place. Uruguay are in it and Canada and the US.
"Have they any chance of winning the Rugby World Cup? Will there be hammerings in it? Will there be one-sided games in it? Of course there will.
"But I don't see any clamour in the Irish papers, people saying 'keep these teams out of the Rugby World Cup, they shouldn't be in it'.
"The Premiership starts next weekend – I'll tell you now the top four. I'm no expert in soccer but everyone knows who the top four will be.
"I don't hear any clamour about the teams that can't compete at the bottom, the Bournemouth's and so on. We need to get a sense of perspective."
Duffy insists he is open to a new championship format but warned that the appetite for change may not be as great as people envisage.
"If you can come up with a better championship model we're open to do that but I'll tell you – I'm chairman of a small group that was set up arising from Eugene McGee's report, the Football Review Committee, and one of the things they asked was that I would chair a small group to see how we could help the weaker counties.
"As part of that process we asked the GPA to put a survery in front of players from the 10, let's say less successful counties. And we did. The single most favoured option was leave things as they are. It was about 50%.
"And then the rest of them suggested different things. I don't know if you saw Sean Quigley's tweet on Sunday night in response to Ciaran Whelan, he said you play for days like that.
"Of course there's a legitimate debate but I think it's gone over the top. It's the same argument year after year."
Duffy believes it is 'a matter of opinion' on the debate about this year's football championship being a poor spectacle.
"It's a matter of opinion. All I can judge it by is that people are coming to the games. Jim McGuinness is saying 60,000 could become 30,000 – all the negativity, and we've had a huge amount of it from columnists and all the rest – I was at the Ulster final in Clones.
"Packed house. We could have sold more tickets if we had them. You had 58,000 people here last Sunday. Crowds are up. So it's a matter of opinion.
"I've enjoyed the championship; I've seen a lot of great games. Monaghan-Cavan, Monaghan-Fermanagh, Monaghan-Donegal – they've been great games."
- This article was originally published at 07.45 and then updated at 15.15.