STEPHEN FERRIS' AUTOBIOGRAPHY Man and Ball provides some interesting insight into what goes on during and, in his case, long after rugby's judicial process reaches its conclusions.
Ferris, you will remember, was eye-gouged twice in a single match when Stade Francais travelled to face Ulster in a fiery Heineken Cup pool meeting in December 2009.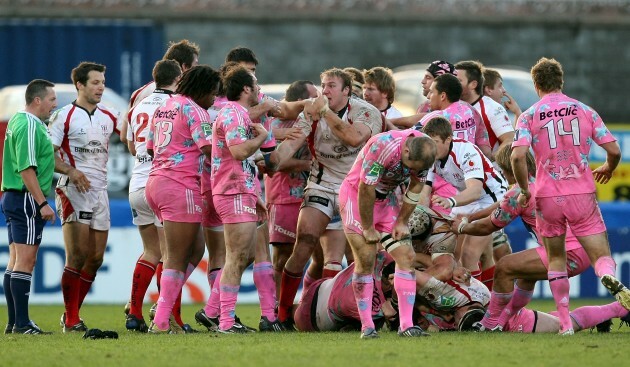 Cathal Noonan / INPHO Ferris leaps up to scrap with Julien Dupuy, who also made contact with his eye area that day. Cathal Noonan / INPHO / INPHO
In his book, Ferris recounts the fall-out from the second of the incidents, when representatives of prop David Attoub went through great lengths to muddy the waters of the process. Attoub pleaded not guilty over and over. Ferris was lying, they claimed. The photographs were somehow doctored to show Attoub's finger delving at the eyeball when the flanker was pinned down in a ruck, they claimed.
Even after the process was completed and a 70-week ban was handed down to the prop, Ferris found only cold shoulders from many of Attoub's team-mates whether they met him on the field or coming off it, when the heat of battle is supposed to be put aside.
Pascal Pape played in that game. And Ferris' tale came to mind because of Sean O'Brien this week.
Now, let's make it clear that what O'Brien did was plain wrong. A punch, a swinging arm, whatever way you look at it, it's not part of rugby.
However, what's almost as hard to stomach as a dig from O'Brien is the French reaction to it. O'Brien deserved a ban, but France's representatives battled long and hard to maximise the sentence in store for the flanker's so-called 'assault'.
Extensive medical detail was provided about the xiphisternum, "a small tongue of bone at the lower end of the breastbone" that nobody without access to a scalpel has ever heard of, and how a direct blow to it would account for the 'tenderness' Pape experienced in the area.
Tenderness?
Alright, fine, but the claim that the blow impacted Pape's overall game seems ludicrous. The connection occurred in the opening minute and the second row went on to play for a further 71. He made 17 tackles was not visibly hampered any time he engaged in a ruck.
Provocateur
This is the same Pascale Pape who managed to let a stray knee fracture three vertebrae in Jamie Heaslip's back during the Six Nations. Ireland did not provide evidence against the lock when the time came for him to be cited. His delayed apology on Twitter was unequivocally accepted by Ireland's vice captain.
It's the same Pascal Pape who acts as an enforcer around the field and who pushes the boundaries of the laws of the game to a limit, niggling away at players in an attempt to put them off their game.
When O'Brien swung his arm in minute one, it was exactly the reaction the Stade lock was after. His only problem was that there was no reaction from the referee to make for an immediate pay-off.
Exclusive Six
Nations Analysis
Get Murray Kinsella's exclusive analysis of Ireland's Six Nations campaign this spring
Become a Member
Here's just one example of Pape's off-the-ball influence from the second half of the game when O'Brien (7) is waiting to carry in the lead-up to Rob Kearney's try.
Having already forced O'Brien into an extremely rash reaction, Pape (4) takes this opportunity on a 'lazy run' back from an offside position to disrupt the openside by dragging him out of a position where he is set to carry. If he times it a little better, O'Brien knocks on or Conor Murray's pass goes to ground because his target has moved.
This happened in the second half, so of course it's not a mitigating factor or an excuse for O'Brien losing the head, but we can certainly understand the frustration if you are to come up against the same player time and again.
O'Brien's reaction was short, sharp and towards one of the least fragile sections of the body. It's infinitely preferable to a finger in the eye, but he will take the bitter ( yet deserved) medicine of being banned from a Rugby World Cup quarter-final.
Pape and his tender xiphisternum will be back under the Millennium Stadium roof prodding and provoking a new opponent.