FOR A CERTAIN type of club and player in particular, January can be a hectic time of year.
While most top European teams invariably prefer to get their transfer business done in the summer, a disastrous first half of the season or an injury crisis can create the need for urgent recruitment.
Football agent Pat Deane of Quorum Sports knows the business well, having garnered roughly 20 years of experience in the industry.
"We'll do a couple [of deals]," he tells The42, when asked about the current January transfer window. "But our main one is in the summer, we always have been [that way].
"We don't do the knee jerk and start running around. We've had inquiries from clubs on players and you got to see how strong that [interest is]. If your player is their number one target or is your player the number three if the first two don't land, do you know what I mean? So [we work] very much at a sensible pace."
Deane describes bringing Irish players over to England and Scotland as "my forte".
Quorum Sports are responsible for roughly 30 players, with clients including Dawson Devoy, Liam Kerrigan, and Promise Omochere, all of whom have left the League of Ireland for foreign clubs relatively recently.
"I used to be the financial advisor for some of the big players at a big agency in England. And then we set up Quorum, myself and Shaun (Shields) who's from Donegal," he explains.
Deane had been living in England previously but subsequently turned his attention to Irish football, basing himself in Lismore, County Waterford, and taking a particular interest in some of the underexplored footballing strongholds outside of Dublin
"I had always gone to the Dublin games," he recalls. "And I never went to Sligo. I never went to Waterford, never went to Cork. When I went over there I just thought, that's what I needed to do actually.
"A few scouts in Ireland said: 'Look Pat, you've got to look outside of Dublin because there's some really good talent,' and there was.
"I got [former Ireland U21 international] Zack Elbouzedi doing that when I went to a game in Waterford and I saw him. Conor McCarthy at Cork City, I started seeing him as a young centre half.
"The manager [usually] wants old, experienced centre halves. And I started seeing Conor McCarthy play really well and we looked after him then."
He continues: "My father was from Mayo, my mother was Meath. So even though I've got a London accent, I was very much more Irish than English.
"So I was always watching League of Ireland and the Irish national team. And I just thought: there's a market there for the boys to get a professional guy just giving them some good advice, simple as that."
Being a football agent can be an exhausting job owing to the level of travel often involved. Deane is a regular attendee at both underage and senior League of Ireland fixtures, while he will also often go to matches in England — last weekend, he was among the spectators as his client Omochere scored the winning goal to seal a historic FA Cup victory for Fleetwood Town at QPR's expense.
He also plans to attend a couple of games in the coming weeks involving Ciaran Kelly, who recently left Bohemians to join Mark Hughes' Bradford in League Two.
"My colleague Shaun and I had a little [competition]," he says. "Shaun goes to all the games in England, London, south coast, and I think in one month he went to 22 games and I was 17-18, so he beat me."
Of course, players who move from the League of Ireland across the water are rarely on life-changing money that the elite players enjoy and are not guaranteed to be a success, so Deane and his colleagues always emphasise the importance of having a backup plan.
"If they go down the road of getting their Leaving [Cert] or getting their degree first, I'd be an advocate of that. There would be more encouragement to do that. Because football can be a very hard career. And if you've got the education to fall back on, then it helps dramatically.
"Say someone like Liam [Kerrigan], when he finished his exams, he's now totally focused on football [recently joining Italian side Como]. They don't want to look back and say: 'I should have done this, and I should have done that.' There are thousands of players across the world that would like to play at a professional level, and be a professional footballer, so basically: 'Don't be complacent about it.' It's a career in which you can't take your foot off the gas, you've got to be training harder than everybody else and more ambitious than everybody else, and be prepared to roll your sleeves up
"[Ireland U21 international] Jake O'Brien is a very good example. He went to Swindon [initially]. He's at Molenbeek now in Belgium, and he's rolled his sleeves up there and played every game. So hard work has to be a major factor."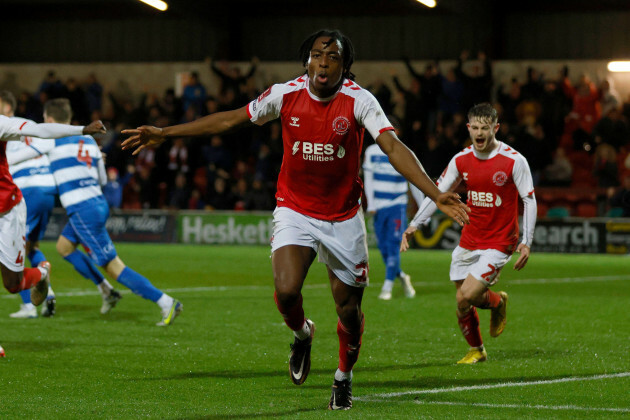 Alamy Stock Photo Quorum Sports clients include Fleetwood's Promise Omochere. Alamy Stock Photo
There have been big changes in the British transfer market in recent years, with significant ramifications for Irish-based players.
Brexit generally means Irish youngsters must now wait until they are 18 rather than 16 to join English clubs. As a consequence, more of the hottest young talents are starting out in the League of Ireland and more gradually making the switch across the water.
"The advantage of the Irish players is there's no requirement for work permits," Deane adds. "So the common travel area is a fantastic advantage for Irish players wanting to come to England.
"Whereas a player from [elsewhere in] Europe can't get into England, unless he's literally at the top level, a full international coming in. Premier League players will have no problem because they'd get the points. Whereas years ago, a player might come from Denmark and play in League One or League Two — those days are over."
It is not the only significant change Deane has witnessed in his two decades working in the industry.
He considers the relaxation of requirements in order to be a football agent in recent years to be a concerning development, although the just-announced new Fifa regulations have gone some way towards addressing that issue.
"When they deregulated the agency market in 2015, all of a sudden, everybody became an agent. Because they didn't have to do the exam. And the exam was a way for Fifa to keep the numbers down by making it very difficult. So I passed mine 11 years ago, and it gives you a good grounding on the rules and regulations.
"They voted on 16 December that they're going to implement it now [again], so the exams are coming back. That's going to get rid of the guys who just want to dip their toes into the game. Because you really do need to know your stuff. You need to know contracts, you need to know clauses, and what's out there. Because these guys are relying on your experience and that you know what you're doing."
Deane says that he has in the past observed players falling under the remit of agents with limited knowledge and ability to offer an acceptable service.
"I've seen foreign agents trying to sign up young League of Ireland players. I try to think where the logic is there. They sign an agreement with the players and they can't get out of it. If you go and see somebody, you're going for advice, their experience in the game, and their contacts in the game.
"We're very proactive as an agency, we've got a good name out there and, we don't want to look after hundreds and hundreds of players, it just doesn't work, you won't have enough time to give because a lot is time-consuming."
One of the big challenges for League of Ireland footballers who move this January, Deane adds, will be acquiring match sharpness. Unlike their counterparts across the water, previously Irish-based players in most cases have not played a full competitive 90 minutes since November at the latest.
"For them, the difference is they've had a full season, they have had a bit of a break over Christmas, and then all of a sudden, they've got another four months of football before they get their normal break.
"And the meaning of that is when the lads go in, they're up against guys who literally haven't had a break, and they are absolutely match-fit, so there's always a little bit of a catch-up.
"The proper reset is in the summer when they come back and they start the pre-season, as with all the players, so it's like: 'Get through those 20 games until the end of April, beginning of May.' And then when they come back, the settling-in period has happened."