PAT LAM FEELS Connacht's self-belief will be strengthened by last night's ridiculously entertaining 30 – 25 win over Ulster after what he called a 'horrendous week of disruptions'.
The Samoan had not presided over a win against the northern province since taking charge out west, but tries from Jack Carty, James Connolly and a brace from Cian Kelleher ensured he finally added the third Irish scalp to his wall. Ulster, the head coach pointed out post-match, were also the only team he had not managed to get the better off in the wider Guinness Pro12.
That's all in the past now.
"To beat that group," Lam said standing to address the media post-match, "ah, it's a monkey off my back. I've now beaten all 11 teams so I'm pleased about that. It gives us belief that we can beat anybody. We've only had five games, so we've a few to go.
"We've got Toulouse coming here now and it's going to give us a lot of confidence."
Having lost three (and a half) games to start the season, last night's win makes it back-to-back successes for the reigning champions. Perhaps more importantly though, was the style in which they have achieved those results – with an abundance of flair despite some key players going down injured in recent weeks.
The loss of key performers like Matt Healy, Denis Buckley and Tom McCartney would upset the rhythm of a normal team. Throw in an international mini-camp for six players on Monday and midweek injury flare-ups for Quinn Roux, Kieran Marmion and Peter Robb – the latter replaced by Craig Ronaldson, taking the field for the first time in seven months — and Connacht's incisive swagger last night is all the more remarkable.
The thing I'm most pleased about is (that the win came) after such a horrendous week of disruptions. Obviously there were guys missing at camp, but we named a team on Monday and then that team completely changed. More guys dropped out on Wednesday and then more on the captain's run.
"As I said to the boys: 'we have our system, but what brings it to life is the culture and what we're about. Some guys didn't quite have their jobs right, but what carried us through was the culture and belief.
The Samoan added: "Craig was down to play 40 minutes for Galwegians, but I made a call in the captain's run that he had to play this one. For him to play 80 minutes after being out for such a long time, and a really good 80 minutes, is great. He did a great job.
"Ultan (Dillane) was supposed to have a rest because of his minutes, but he fronted up and soldiered on. It was lastminute.com."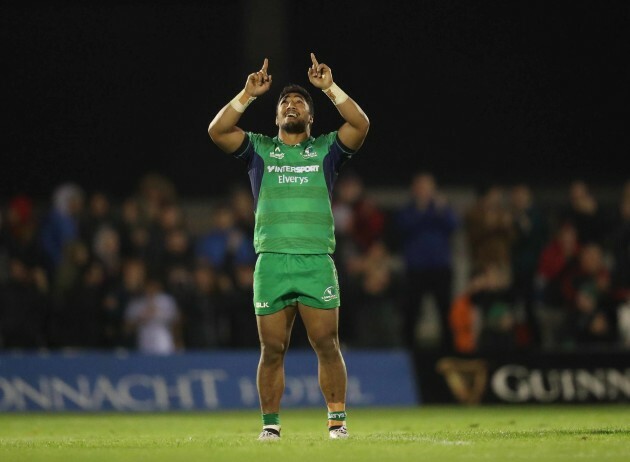 Billy Stickland / INPHO Billy Stickland / INPHO / INPHO
Lam is well within his rights to be proud of the culture he and his players have created and it's telling that he drifts back to the topic when praising Cian Kelleher. The new man in the squad bagged two tries and a man-of-the-match award last night, but the wing was clearly the beneficiary of a heap of hard work being done inside.
"When I met him and his dad," Lam says of Kelleher, "I showed them what we do and how we try to play and I could see his face. He was like a kid in a candy store. I said it's not about just coming to Connacht, it's about understanding the way we play — the starting play last week, within a three-minute period all 15 guys had carried the ball.
"He knows he's going to get a chance to show his stuff. Everyone gets a chance. I don't have: 'you're a runner, 'you're a cleaner'. Everyone's got to do their bit.
"He got really excited by it. He's fitted in really well and what I'm really pleased about is that the boys have really taken to him as well. He can see now the culture that actually brings our systems to life."