DESPITE A CAREER which saw him battle against Vicente del Bosque in front of 60,000 spectators at the Bernabéu, mark a 19-year-old prodigy named Diego Maradona in Buenos Aires and win the league and FAI Cup alongside his boyhood heroes, there is only one achievement Pat Nolan is willing to boast about.
"I worked with John Player for nearly 30 years," he jests, "and I never smoked a cigarette in my life. I never touched one and never had the inclination to."
The former Limerick defender has a lot of stories to tell — drinking quiet pints with Ray Wilkins, playing golf with Bryan Robson, swapping shirts with Kevin Keegan, being battered up and down the pitch by Brazil at the Pele Stadium a year before they lit up the 1982 World Cup.
But he's been reluctant to tell them since he retired and that hesitancy to speak about his experiences is perhaps the reason why his name does not fall off the tongue like other League of Ireland greats, who's stories we could each reel off at the drop of a hat.
He says it's embarrassment and that his career as an "average player" is nothing to boast about. But the right word is modesty, and a self-deprecating manner belonging to a footballer who was a core part of Limerick's greatest ever generation (capped at U21 level for Ireland and named in the 1980 Soccer Writers' Team of the Year), as well as a player who shared the field of play with some of football's most iconic stars.
Joining Limerick in 1974 as an 18-year-old from local side Wembley Rovers, there was no reason to believe an extraordinary career which would see him play games in places like the San Mamés, River Plate and the Netherlands lay ahead.
Limerick FC / YouTube
In fact, until his mid-teens the Henry Street boy hardly even touched the ball with his feet.
"Up to the age of about 15-years-old I actually played in goal," he laughs. "The team was so good and no-one wanted to play there, so I got stuck between the sticks for a few years… call me a late developer."
Growing up in Limerick in the late 1950s was not glamorous, he admits. He namechecks Angela's Ashes and contrasts Frank McCourt's portrayal to his own youth on Knockdown's Lane.
It was difficult growing up," he says. "My dad was a laborer. We didn't have any hot water, we didn't have an inside toilet — all the luxuries we have and take for granted now compared to back then. But we were all very happy. Football was my life growing up, really.
"Even at that early stage it was all just football, football, football. There was nothing else for you as a kid. It was all about playing and going to the Market's Field on a Sunday, where I was inducted very early going to watch guys like Kevin Fitzpatrick and Al Finucane, two boyhood heroes I had the good fortune to later play alongside and become great pals with."
Today the average attendance at the Markets Field is a little over 1,000 for home games. With Limerick preparing for an All-Ireland hurling final in a few short weeks and the popularity and success at Thomond Park, it's easy to think football was always a secondary or tertiary choice as a spectator sport.
But that couldn't be further from the truth, Nolan attests. Limerick is, was and always will be enchanted with football, as was his own experience.
"In '65 and '66 Limerick were beaten in two FAI Cup finals back-to-back by Shamrock Rovers — that would have had a huge influence on me, as well as the team in 1971 who managed to get over the line.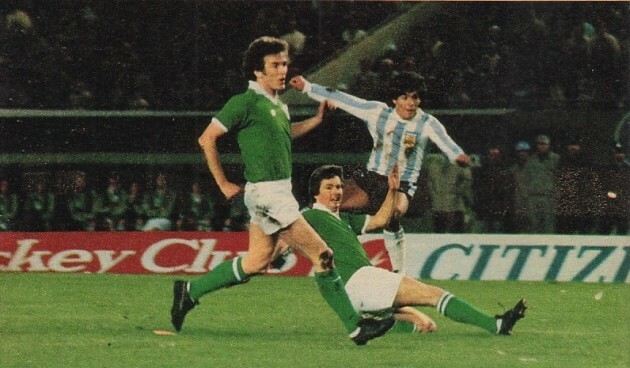 Pat Nolan (centre) tries to block a shot from Diego Maradona.
"I got off school to see that game. They beat Drogheda on a miserable Wednesday 3-0 in the cup replay — it was a great night for Limerick because it was the first time in the club's history to actually win the FAI Cup.
"The year we won the league we were getting 7,000 or 8,000 people at the Markets Field every fortnight, it was just jammers. But then again, there was nothing for people in those days.
There was nothing else you could do on a Sunday evening other than go to the game. You have so many different options now: rugby, hurling, you've matches on TV every day of the week. We're spoiled for choice now.
"People still come up to me to this day and say 'Jesus Pat, didn't you used to love going to the Markets Field half three on a Sunday as a kid?' People would be coming from places like Cappamore and all the country areas — there was a huge rural following throughout the county in those days."
The arrival of Eoin Hand, who would later manage Ireland for five years, completely transformed the fortunes of football in Limerick in 1979.
Coming to the end of his own playing career, a 33-year-old Hand swapped Portsmouth for the League of Ireland in a move which would alter the course of history for the Blues, ushering the team into what is still proclaimed to be a golden generation it has never come close to matching, or surpassing.
A league title — the club's first in 20 years — a league cup, an FAI Cup and three consecutive years of football against European opponents like Real Madrid, Southampton and AZ Alkmaar saw a new era of untold success sweep through the crumbling fortress that was the Markets Field in Garryowen.
Before Eoin Hand, Limerick were much as they are now, Nolan attests — struggling, punching low at the bottom of the table, flirting with the threat of relegation. But after his arrival, the side grew in stature, he says, commanded a new bullishness and built on the momentum of a new structure of professionalism which their new manager enforced from the get-go.
"When I started in 1974 with Duggy (Gerry Duggan) and Dessie (Kennedy) and Johnny Walsh, we were bottom of the table. Like in recent times, some months we didn't even get paid. But different from today, they are all full time professionals, we weren't. Back in those days we had jobs as well, so if we didn't get paid it wasn't a huge issue.
I played my first game in 1974 and remember lining out in Turners Cross against Cork Celtic. By God they had some team — Carl Davenport, who I'm great friends with since. John Carroll, Paddy Short, Ben Hannigan, Alfie Hale.
"You're on a learning curve then. I was 18 when I made my debut but what people forget is that when we got to 1979 with Eoin, most of us had five years of League of Ireland football tucked under our belts. We had all grown up playing together locally.
"We played against good teams like Cork Hibs every week. Sonny Sweeney, John Lawson, I mean come on, they were just fantastic opponents. And you had to learn, you had no other choice because Limerick had nothing to lose.
But then it turned in 1975/76 when we won the League Cup against Sligo and followed that up by getting to the FAI Cup final in 1977, when we were beaten by a very good Dundalk team. So the sprouts for success were there. The team was there to be moulded and then Eoin came and brought that bit of professionalism, which is something that us younger guys really wanted. We were hungry for it."
Winning a league title is always said to be the greatest achievement a team can attain together. Unlike cup competitions where fortunate draws and one-off matches can see clubs go on a run to silverware, the league is a demanding, unforgiving crusade to success. "It's our bread and butter," Bill Shankly famously said when quizzed if he would prefer to win the English First Division or the European Cup with Liverpool.
EMPICS Sport Eoin Hand led Limerick United to league and FAI Cup success. EMPICS Sport
Limerick's own league title under Hand in 1979/80 was nothing less than a feat of incredible stature, but the manner in which it was earned by taking a team bottom of the table just a handful of seasons previous adds more weight and veneer to the success. Pat Nolan admits winning leagues was something which seemed a world away from Limerick's ambitions when he made his debut as an 18-year-old.
But Hand changed everything arriving off the boat from England to take his first managerial role. Player-manager, as it were, with the bossman chipping in with more than a handful of goals which helped steer his side up the table, on one occasion scoring all four in a 4-0 win over Cork United.
Hand even brought his own lawnmower to cut the desperately poor playing surface at the Markets Field and that fact alone offers an insight into the desire he had for Limerick to fulfill its true potential, to stand tall alongside teams like Shamrock Rovers, Dundalk and Athlone.
"Ah, he changed everything. Absolutely everything," Nolan reflects.
It was a combination of Eoin and a lot of credit has to go to the fitness coach David Mahedy, because back in '80 the key reason we won the league was due to the fact that we were so fit and agile.
"We trained really hard, we really did train like full-time pros. I remember Eoin brought us over to Portsmouth mid-season one time. We were after getting beaten by Bohemians in Dalymount and the following Monday we were taken away for a week to recharge the batteries.
"Portsmouth were away at the time and Eoin took us to Fratton Park where he told one of the fitness coaches: 'listen I want you to really hammer these guys'. The man did everything in his power and by the end of the week he said 'Eoin, these lads are as fit as any team in England'. I think that worked.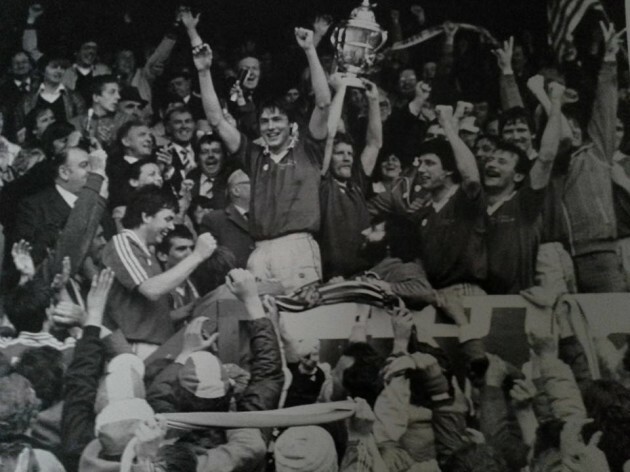 Limerick celebrate beating Bohemians in the 1982 FAI Cup final at Dalymount Park.
"Both David and Eoin were fantastic. He was the boss in one sense and he was one of the boys too. He could mix it, he could have his few pints with us, but you knew when to draw the line. It was very much a case of 'don't step over this line, I'm the boss' — and he let you know fairly quickly.
"He was brilliant, just brilliant. I'll tell you a story, actually," Nolan grins.
"I remember we went to Ballybofey to play Finn Harps on a Saturday, and we stayed overnight where we always did in Brian McEniff's hotel, the Holyrood in Bundoran.
"We played the game, it was probably the match that won us the league in 1980 — 2-0 down with 15 minutes to go, we score in the last minute to beat them 3-2. We arrived back in the hotel and Eoin says 'right lads, drinks are on me'.
On the Wednesday I was getting married. But anyway, we went back to the hotel, had our meal, had a few pints until the bar closed, which was 11pm or 12am at night. We're still four and a half hours from getting back to Limerick and down the stairs we go to a disco.
"We arrived back in Limerick at 10.00am, and they were all due to go to my stag that night… they never showed up. None of them — they were all plastered. Tony Morris went into work, he was in Krups factory at the time. He went to work, went into the loo, fell asleep and the boys woke him at 4.30pm and told him to go home: 'your shift is over Tony'.
"That was the sort of stuff that went on. We had loads of great nights out as a team. Eoin was mad into his music so we would be out at all sorts of concerts listening to The Dubliners, Paddy Ryan and the Wolfe Tones, the Dublin City Ramblers too."
No, but in all fairness Eoin was very good," Nolan adds. "Man-management-wise, there was no one better. He knew how to deal with players. Different people need different ways to get them going and motivate them, and he was very good at that. I thought he was very unlucky as the Irish manager… one goal (against Belgium) and he would have been the hero instead of Jack Charlton."
Hand succeeded in leading Limerick to its first League of Ireland title since 1960, claiming the silverware thanks to that dramatic 3-2 victory away to Finn Harps before a tense and fraught 1-1 draw against third-placed Athlone sealed it. An infamous match which lives long in the memory of all supporters.
retroloi / YouTube
The visitors brought thousands of fans draped in blue with them to Athlone to witness their crowning moment, but an error from goalkeeper Kevin Fitzpatrick, where he bizarrely picked the ball up outside his own box, allowed the hosts to sweep in a stunning free-kick to snatch the lead.
Nolan laughs about it now, saying that his goalkeeper blamed everyone bar himself for the out-of-character-error which showed just how nervous Limerick were about potentially throwing the title away when they stood on the precipice of unimaginable greatness.
For years Kevin blamed me for the goal we conceded," Nolan jostles. "For years! I always keep telling him, 'Kevin, I went to pass the ball back and there you were standing beside me outside your box!'
"We had everything under control, I go to pass the ball back to him and he's nearly scratching my head he's so close to me. I'm thinking 'what on earth are you doing out here?' In the clip on YouTube Kevin even blamed John Delamare for giving the ball away in the middle of the pitch… blaming anyone but himself," he laughs.
"There aren't characters like Kevin around anymore. We were nervous — the league was on the line for us. One game, we needed a draw. And we were nervous. I reckon there were 7,000 people from Limerick packed in there like sardines.
Actually, it was probably even more than that. I'd say 15,000 people would tell you they were in St Mel's Park that day, it was a bit like the All Blacks game against Munster — everyone will tell you they were at it."
A penalty from Tony Meaney levelled proceedings, Limerick held on for dear life, and a point was enough to secure a first title in two decades.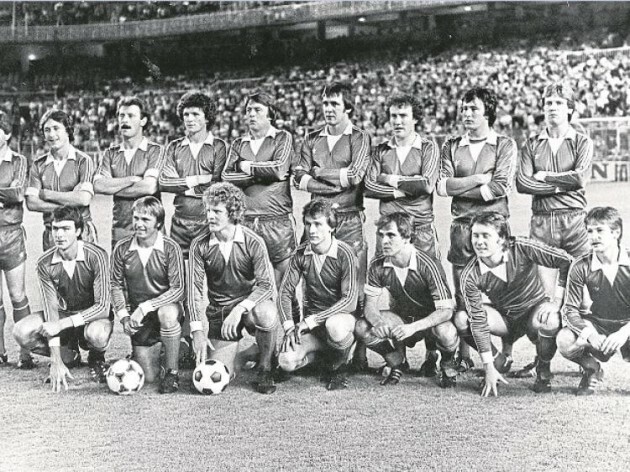 Limerick pictured before kick-off at the Santiago Bernabéu.
"The achievement of it didn't really sink in, and it's only later on in life that you think of it. Limerick have won the league twice and the cup twice, and we're half of that — our team is half of that haul. That's staggering when you think about it. For a city the size of Limerick and we've only won the league twice and the cup twice, and the lads and I are half of that equation."
Did he think Limerick would still be waiting for their next league title 28 years later?
Not on your life," Nolan says. "We were looking at it the following year thinking, 'we'll do it again', and we came very close. You did think the good times were going to last forever, absolutely. We had the chance to do the double that year in 1980, and we were done by Waterford in a semi-final replay in Milltown. It was, it really was a golden era for football in Limerick at that time and you did think it was going to last forever."
Winning the league in 1980 meant the prospect of European football. But there's a big difference between a game on the continent and being drawn to play Real Madrid in the opening round of the European Cup — let alone in a season where the Spanish giants would make it all the way to the final, where they were undone by an Alan Kennedy strike for Liverpool in Rome.
"We thought it was a joke," Nolan exhales remembering the moment he and his team-mates found out that they would be playing the La Liga champions at home and then away at the Santiago Bernabéu.
It was like somebody was having us on when we heard. It couldn't be, it was just unbelievable. But to be honest with you, even though they had won the European Cup how many six times, Eoin Hand made us believe that they were only 11 men, just like us. And looking back… I still think it was a game we should have won," he says.
"It's one of the few regrets that I have, the fact that we should have beaten them. I'm not being smart or clever by saying that, but we should have. We were the better team on the day, we were 1-0 up and Johnny Matthews had a goal disallowed which was proven afterwards wasn't actually offside.
"That goal would have seen us go 2-0 up. We were one up with 15 minutes to go and Fitzpatrick got a rush of blood to the head, gave away a penalty."
RM GolMedia / YouTube
The game was moved to Lansdowne Road due to the poor condition of the Markets Field. But just 7,000 supporters turned out in Dublin for the glamour fixture, with the decision to move the game away from Limerick a point of contention which still does not sit well with supporters and players alike almost three decades on.
Despite Des Kennedy putting the League of Ireland side ahead with a deft finish, a Juanito penalty was followed by a second-half winner from Pineda, who poked in a free-kick to snatch a 2-1 win for Madrid.
We had played very well all night and we were not in any way overawed by them," says Nolan on the first leg in Dublin. "They certainly did not put us on the rag at any stage. When we got in at half-time we were saying to ourselves 'lads, this crowd are there for the taking'.
"Had they not got the penalty, which was nothing more than bad judgement on Alan's part, I don't think they would have ever scored. I think we would have won 1-0. The penalty gave us away and deflated us a small bit. We switched off for another free-kick, they scored from it and that was that."
The second leg, Nolan says, was simply the stuff of fairytales. The legendary Santiago Bernabéu, over 60,000 supporters packing the stands like sardines stacked high in endless, tall rows one on top of the another and little old Limerick standing opposed to 11 men draped in those iconic white shirts.
Joe O'Mahony leads Limerick out in front of 60,000 fans in Madrid.
The right back was just 23 years old stepping out into this cauldron at the heart of the Spanish capital, making a journey out onto a pitch so iconic it goes without thinking. Only Nolan wasn't overly taken aback by the size of the occasion.
This was a football match, he says today 28 years on. A game of football he wanted to win, desperately, desperately wanted to win. Limerick had not been taken for mugs in the opening leg, had led Real Madrid 1-0 and could still do the unimaginable and dump the six-times European champions out on their own patch.
There wasn't time to be nervous and there wasn't a need to be overawed, even facing off against players like Spain's World Cup-winning manager Vincent del Bosque. Much like their days of battling the top sides in the League of Ireland in the mid 1970s, Limerick had nothing to lose and everything to gain.
Were we intimidated? No, to be honest," he says. "You kind of blank everything out and I personally never had any issues on the pitch. You blank the crowd out no matter what the size, and as you get older you start to hear any bad things that they are shouting at you.
"But when you're younger, you're fearless and you're involved in the game and it doesn't faze you one bit. We went into the stadium the day before and they wouldn't let us walk out onto the pitch unless we took off our shoes.
"That is a fact, that is gospel. At that stage the ground was a bit dilapidated and it needed a bit of renovation and modernisation. But all that said, how many people can say they played in the Bernabéu?"
Exclusive Six
Nations Analysis
Get Murray Kinsella's exclusive analysis of Ireland's Six Nations campaign this spring
Become a Member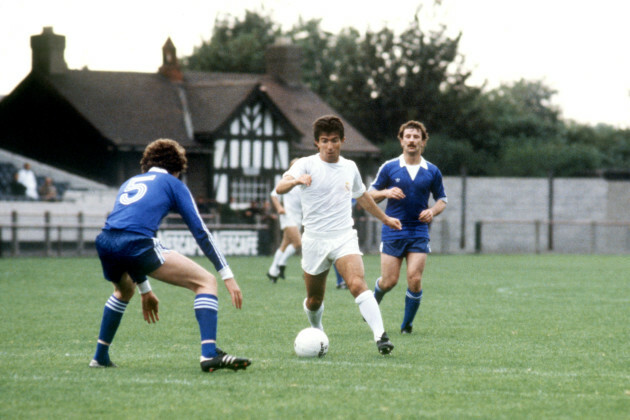 EMPICS Sport Madrid beat Limerick 2-1 in front of just 7,000 fans at Lansdowne Road. They would make it all the way to the final in 1981. EMPICS Sport
Despite their confidence and desire to cause one of the biggest upsets in European history, things didn't go to plan. Des Kennedy replicated his achievement at Landsdowne Road and scored at the Bernabéu, but five goals past Kevin Fitzpatrick saw the night end in a 5-1 loss in Madrid and a humbling 7-2 aggregate defeat.
It probably wasn't a fair reflection of the effort that we put into it," Nolan says. "Going into the game with a scoreline of 7-2 against a team like Real Madrid, you'd nearly expect that. It was always going to get away from us in the away leg though, they were always going to put us under pressure — and they did."
One positive from the trip aside from the experience of getting to play in front of so many tens of thousands at such an iconic arena was the warm welcome and friendly face offered by England international Laurie Cunningham, who had moved to Real from West Brom in 1979.
What clouded it, however, was the treatment the winger got from those in the stands.
"A few of the lads told me that the amount of racial abuse that he got from the spectators in Spain was unbelievable," Nolan reflects.
"We had about 100 or so Limerick supporters over there and they were telling us afterwards that other fans were throwing bananas at him, he was getting an awful time. But, Lord have mercy on him, he was very good to us. Joe O'Mahoney was our captain and he showed Joe and all of us around a few of the tourist sites in Madrid afterwards. He was excellent to us, an absolute gentleman."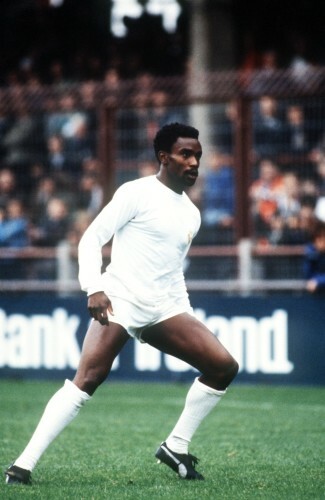 EMPICS Sport Laurie Cunningham showed the Limerick players around the city of Madrid. EMPICS Sport
After the low of Madrid, success continued for Limerick two years after, winning the FAI Cup in 1982 for the first time in 11 years. Nolan had seen his boyhood club lift the famous trophy after beating Drogheda 3-0 in front of 15,000 spectators at Dalymount Park.
A little over a decade later the boy had become a man and had swapped his seat in the stands for a place on the pitch in Phibsborough, beating Bohemians 1-0 on their own patch.
"It was a shocking day with torrential rain. You couldn't have asked for a worse day for a cup final. There was a gail-force breeze blowing down into the opposite stand where the old dressing rooms were.
"There's a good story about that final — we didn't win many games in Dalymount but we had to play them there in the cup final that year. And that record of losing games against them away is going through your head all the while before kick-off.
Joe won the toss for the dressing rooms, so we snatched the home dressing room off them. I heard afterwards that it did have an effect on them," he says with a laugh. "The wind and the rain that day my God… but it was just fantastic."
retroloi / YouTube
Like their league title success leading to a European fixture with Madrid, their third-placed finish in 1981 brought with it another glamour tie — facing Southampton in the Uefa Cup opening round, a game which ended in a 3-0 defeat at home, but saw a famous 1-1 draw at The Dell.
"We played them here in the Uefa Cup. Going off at half-time I said to Kevin Keegan, 'Mr Keegan', (I didn't dare to call him Kevin) 'Mr Keegan', I said, 'any chance of getting your jersey?' I told him I had a testimonial coming up and that I was going to raffle it off. 'Sorry', he said. 'I promised it to someone here already.'
But when you come over to England for the second leg I'll look after you,' Keegan told me. "I said to myself, well Pat, there's no chance of that happening, he'll forget it by that stage.'
"So we went over anyway — now remember, swapping jerseys in those days wasn't the done thing and it was only slowly coming into fashion — but Lawrie McMenemy came into our dressing room with a BBC crew because they were doing some sort of a documentary on Tony Ward.
"There was pandemonium in the dressing room, we had gotten a great result drawing with Southampton 1-1. You were looking at guys like Alan Ball, Mick Channon, Mark Wright, Kevin Keegan, Ivan Golac, Steve Moran — they had some team.
"But anyway, the manager McMenemy came in and said 'lads, just as a mark of respect for your performance you can swap shirts with our lads'.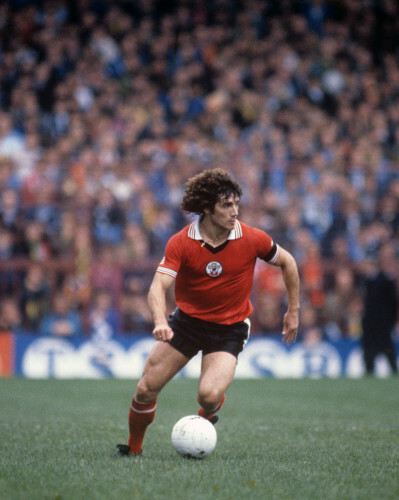 EMPICS Sport Kevin Keegan in action for Southampton. EMPICS Sport
"My team-mate Brendan Storan was off like a shot down into the home dressing room in search of Keegan. He walked up to him and said 'Kevin, any chance of your jersey?'
"Keegan looked at Brendan and said: 'I'm sorry, I promised it to the full-back in Limerick'. And that's a true story — he remembered what I had said to him at the Markets Field and he had kept the jersey for me," says Nolan.
I just thought 'what a man', — he was true to his word. What a man. I would put him in the same ilk as Robson and Wilkins — they were just gentlemen. Gentlemen. Because don't forget, he was a superstar at that time after being European Player of the Year and winning the Ballon d'Or playing at Hamburg and Liverpool. He was just a gent, a gent."
Nolan mentions Wilkins and Robson, and naturally there's a story in there too. After almost a decade of service to Limerick, he was given a glamour testimonial against Manchester United at the Markets Field in 1982.
Ron Atkinson arrived in Garyowen alongside stars like Kevin Moran, Gordan McQueen, Garry Birtles and Frank Stapleton for a one-off match in recognition of the defender's loyalty and achievements in the blue shirt of Limerick.
S&G and Barratts / EMPICS Sport Nolan played golf and enjoyed drinks with Bryan Robson and Ray Wilkins in 1982. S&G and Barratts / EMPICS Sport / EMPICS Sport
"It was a great night. I was fortunate — Eoin was friendly with Ron Atkinson and they were over to play in Don Givens' testimonial in Dublin. I think Eoin was reasonably friendly with Atkinson and he got Man United to bring them down. It wasn't cheap either, I think it cost about £15,000 back then.
"It was a great occasion and they were a great bunch of fellas. I spent the night with Bryan Robson and Ray Wilkins.
"Wilkins was just a gentleman down to his shoes," he says very seriously.
That lad… he just oozes class. I was so sorry to hear when he passed away. I brought him out to one of the local golf clubs the day before the match. I play golf up there and was a member and I asked the club would they let them play, and it was no problem organising clubs and everything for them.
"I think most of them were playing golf themselves at that stage. They were all in their tracksuits and whatever else, but Wilkins didn't play golf and he came in for the presentation dressed in his official Man United club suit, shirt and tie.
"Real quality now. He stood up and thanked the golf club for having them, thanked all the staff, signed autographs for everyone, just an unbelievable man. Later that night I had a few pints with them. Robson and himself were just so down to earth, two of the nicest guys I ever met."
Ray Wilkins at the Markets Field for Pat Nolans' testimonial.
You can hear in his voice the reverence that Nolan has for all that he achieved with Limerick. Not personal achievement, but the fact that it came with his local club, the club he supported on Sunday afternoon's when there was nothing else for a kid on Henry Street to do.
Climbing out from the stand and onto the pitch to share titles and cups with his boyhood heroes are his favourites memories. But outside of his club career came some fascinating trips abroad, which he admits again he was fortunate to experience.
A trip to Buenos Aires in 1982 saw a League of Ireland XI face World champions Argentina at the River Plate stadium. Nolan had the task of picking up a tricky forward by the name of Diego Maradona, but even he couldn't keep him scoreless — the magnetic 19-year-old rifling a stunning left-footed effort into the top corner to snatch a 1-0 win.
It was a backs-to-the-wall performance, but we got an unbelievable result all things considered. They went to Dublin the following week and beat the Republic 1-0 in Lansdowne. Maradona was just exceptional, even then you could see it.
"I picked him up, I had the job of marking him. The lads will testify on my behalf, I don't think I kicked the ball all night," he laughs. "I don't think I kicked the ball and I didn't kick him either — you couldn't get near him he was that good. I couldn't get close.
"I asked him for his jersey and he wouldn't give it to me, which is the one disappointing thing from the night in Argentina. Now I can speak a small bit of Spanish and I'm convinced if I had the language back then maybe there was a chance he would have given it to me. Maybe he would have been a bit more giving.
Maradona scores against the League of Ireland XI in 1982.
"But even at that stage I think he was only 18 or 19. He was a kid thinking 'who's this Irish fella', which was fair enough. I somehow managed to get myself into a great photograph of him actually scoring the goal. Some Spanish magazine snapped it and it ended up on the cover — Paddy Duggan to the side, me sliding in to try and get a block in, and the man himself Maradona taking a shot which flew into the top corner.
"I got there as quick as I could but it wasn't enough," Nolan says heartily. "It was some goal, too, I think it was Alan Patterson in goal for us that night. I don't think Alan saw too much of it, the shot flew past him in the blink of an eye. An almighty strike, it was just incredible.
He was quick, Maradona… and let me tell you, he was built solid. He was a little shit to play against but in the best possible way. A serious competitor and all the talent in the world. They didn't score in the second half… so we must have done something right."
If the Argentina game was a tight contest with a 1-0 defeat, a meeting with Brazil at the brand new Estádio Rei Pelé in September 1982 did not yield anywhere near as close a game, with the League of Ireland XI being pummelled 6-0.
"Brazil were probably the best side I've ever seen and they probably should have won the World Cup in 1982. We played against 10 of their regulars… Socrates was the only one missing. We flew into Rio and had another two and a half hour flight to get to Maceió. They hadn't had an international game there in 25 years and this match with us was in the new Pele Stadium — it was just full to capacity, 55,000.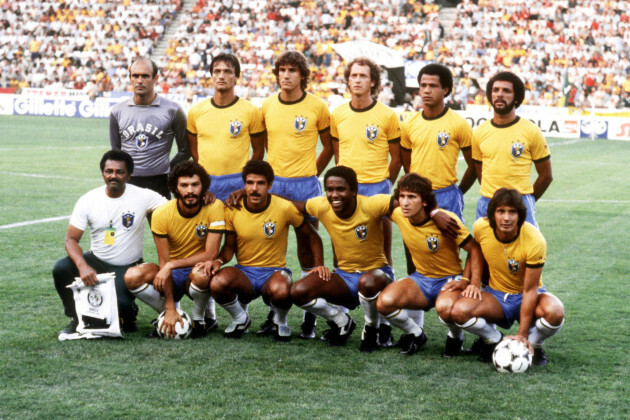 Peter Robinson Nolan was on the receiving end of a 6-0 defeat to Brazil in 1981, swapping shirts with Éder. Peter Robinson
"The game was on at 9pm and it was packed at 6pm. There was at least another 10,000 outside. It was unbelievable, it really was. They beat us 6-0, Zico scored four. I think Tony McConville got his jersey and I got Éder's. I gave all of my jerseys away and it's the only one I've kept.
"It was amazing then to see the same lads we played against rock up at the 1982 World Cup the following year, Paolo Rossi scoring a hat-trick to beat them in the second round. They say it was the best Brazil team since 1970 and one of the best, along with the Dutch in 74, never to win the World Cup."
Three years before that Nolan featured against the Basque national team, in what was the nation's first football match since 1937 as the dictatorial Franco regime clamped down throughout the following decades.
Xabi Alonso's father, Miguel Ángel Alonso, was just one name on the opposition team-sheet. The match was organised to round off the annual Aste Nagusia (Basque week of celebration), with 45,000 frenzied supporters packing Athletic Bilbao's San Mamés for the occassion — a 4-1 win for the hosts.
They hadn't played since 1937 as a country and you know the Basques… they want their independence, just like the Catalans. I didn't realise the significance of the game until years afterwards when I read up about it.
"There was 45,000 people at it and it was a real carnival atmosphere at the game, it was like a week-long celebration full of Basque festivals. It culminated with the League of Ireland XI playing against them.
"Again like a lot of these games, it was just a fantastic occasion and we were privileged to be a part of it. Ronnie Whelan played for us and he scored a goal on the night… they beat us 4-1. We played very, very well and oddly enough played in an all-blue strip with an Irish crest."
We've been speaking for well over an hour and despite spending much of that time laying praise at the feet of his team-mates, Nolan fails to mention one game in particular.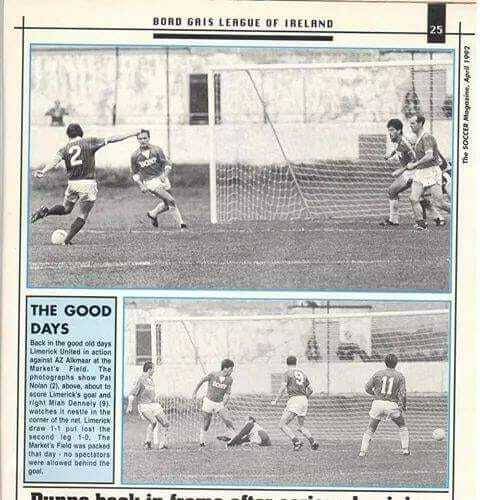 A newspaper clipping of Nolan's goal against AZ Alkmaar in the European Cup Winners' Cup.
Suddenly his modesty becomes all the more transparent, as he needs to be chided into talking about the goal he scored against AZ Alkmaar in the European Cup Winners' Cup in 1982 — he had failed to mention it.
"I remember it very clearly," he says after a while. "Eoin had been onto me at the start of the season that I didn't score enough goals, and to be honest I didn't. He was onto me and onto me about being more ruthless and getting into the box to try and finish off chances.
"Gary Hughes had a great run down the right hand side and he got to the byline. He looked up, lifted his head and saw me coming — he pulled it back, I let it go across my body and struck it.
Little did I realise it would be the last goal Limerick scored in Europe ever since. We were very unlucky to go out in the tie 2-1, and in the next round AZ were beaten by Inter Milan, who Liam Brady played with at the time.
"So we were kicking ourselves afterwards thinking we could have had a European Cup Winners' Cup game against Liam Brady's Inter Milan."
His goal against the Dutch club, as he points out, is still the last goal ever scored by a Limerick player in European competition. And because their glamour tie with Real Madrid was moved to Dublin and they played AZ in the Markets Field, it was also the only European goal scored in Limerick, ever.
But he doesn't want to dwell on it too much, stating time and time again that he was nothing more than an average player who had the good fortune to be a member of a great team.
Instead of boasting about his career, where he marked Maradona, battled Del Bosque, got Kevin Keegan's shirt, played in front of 60,000 at the Santiago Bernabéu, and won the league and FAI Cup — Pat Nolan just speaks about how fortunate he was, and how grateful he is to have the memories he does.
Because that's the word he keeps returning to — memories.
"The memories stay with you and with your family and friends forever," he repeats.
"It's only in those quiet moments years after you've retired you realise what these games meant to your neighbours and your friends, the lads you went along to the Markets Field with as a kid.
"And it makes the hairs on the back of your neck stand up. Medals and trophies and cups and shields and caps and jerseys… they're only immaterial, really. It's memories, and the people you make those memories with, that's what it's all about.
"I'm embarrassed talking about my time in football, to be perfectly honest with you.
I don't talk about it that much, I wouldn't really, and I haven't spoken about it for a long, long time to anybody. I don't think embarrassment is the word, but I shy away from reflecting on it too much. I very rarely talk about games.
"Someone might bring it up but you just nod and say 'ah yeah, yeah' and move the conversation on. Limerick is a small place. We were just so fortunate to be part of a golden era for football in the area.
"I played for that Limerick jersey. I would have played for nothing. Getting a few bob for it was a bonus. It was always my ambition to play for Limerick, and nothing made me prouder than to play for my boyhood club.
"Winning a league, League Cup and an FAI Cup winners' medal alongside your childhood heroes — it's only later on in life you appreciate it and you realise the joy and pleasure that it gave to people. We were the lucky ones."
The42 is on Instagram! Tap the button below on your phone to follow us!