JAY PATERNO LEANS over his dying father, gave him a kiss, and whispered in his ear.
"Dad, you won," he said. "You did all you could do. You've done enough. We all love you. We won. You can go home now."
Joe Paterno died Sunday of lung cancer at age 85.
At a memorial service Thursday that drew some 12,000 people to the Penn State basketball arena, Jay Paterno reflected on what he called the "magnificent daylight" of his legendary father's life.
It was primarily a glowing tribute to Paterno and his accomplishments during 46 years as Penn State's football coach — but also an opportunity to defend his legacy against criticism that he failed to do more when told about an alleged child sexual assault involving one of his former assistants.
Nike founder and CEO Phil Knight won a thunderous standing ovation when he defended Paterno's handling of the 2002 allegations against former defensive coordinator Jerry Sandusky. Paterno, he hinted, had been made a scapegoat.
"If there is a villain in this tragedy, it lies in that investigation and not in Joe Paterno's response," Knight said. Paterno's widow, Sue, was among those rising to their feet.
Capping three days of mourning on campus, the 2½-hour ceremony was filled with lavish praise for the man called "JoePa." Paterno racked up more wins — 409 — than any other major-college football coach, led his team to two national championships, and preached "success with honor" while insisting his athletes focus on academics. The Paternos donated millions to Penn State.
No grudge
Though the campus and surrounding community have been torn with anger over the Sandusky scandal and Paterno's summary dismissal by the board of trustees two months before his death, Jay Paterno said his father didn't hold a grudge.
"Despite all that had happened to him, he never wavered in his belief, in his dream, of Penn State. He told me he wanted to use his remaining time on earth to see Penn State continue to thrive. He never spoke ill and never wanted anyone to feel badly for him," Paterno said.
Players from each decade of Paterno's career as the Nittany Lions' coach spoke in loving terms about their mentor, saying he rode them hard, but always had their best interests at heart and encouraged them to complete their educations and become productive members of their communities.
Among the speakers were Michael Robinson, who played for Paterno from 2002 to 2005 and flew in from Hawaii, where he was practicing for his first Pro Bowl; star quarterback Todd Blackledge from the 1980s; and Jimmy Cefalo, a star in the 1970s. Like Robinson, Blackledge and Cefalo went on to play in the NFL.
Former NFL player Charles V. Pittman, speaking for players from the 1960s, called Paterno a lifelong influence and inspiration.
Influence
Pittman said Paterno challenged his young players, once bringing Pittman to tears in his sophomore year. He said he realised later that the coach was molding him into the man he would become.
"What I now know is that Joe wasn't trying to build perfection. That doesn't exist and he knew it. He was, bit by bit, building a habit of excellence," said Pittman, now a media executive on the board of The Associated Press.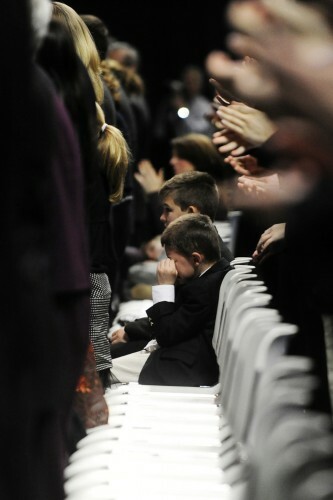 Two of Joe and Sue Paterno's grandchildren remain seated as the audience applauds. (AP Photo/York Daily Record, Chris Dunn)
Paterno was fired on 9 November after he was criticised for not going to police in 2002 when he was told that Sandusky had been seen sexually assaulting a boy in the showers. Sandusky was arrested in November and is awaiting trial on charges that he molested 10 boys over a 15-year span.
As the scandal erupted, Pennsylvania's state police commissioner said Paterno may have met his legal duty but not his moral one. Penn State president Graham Spanier was also fired in the fallout.