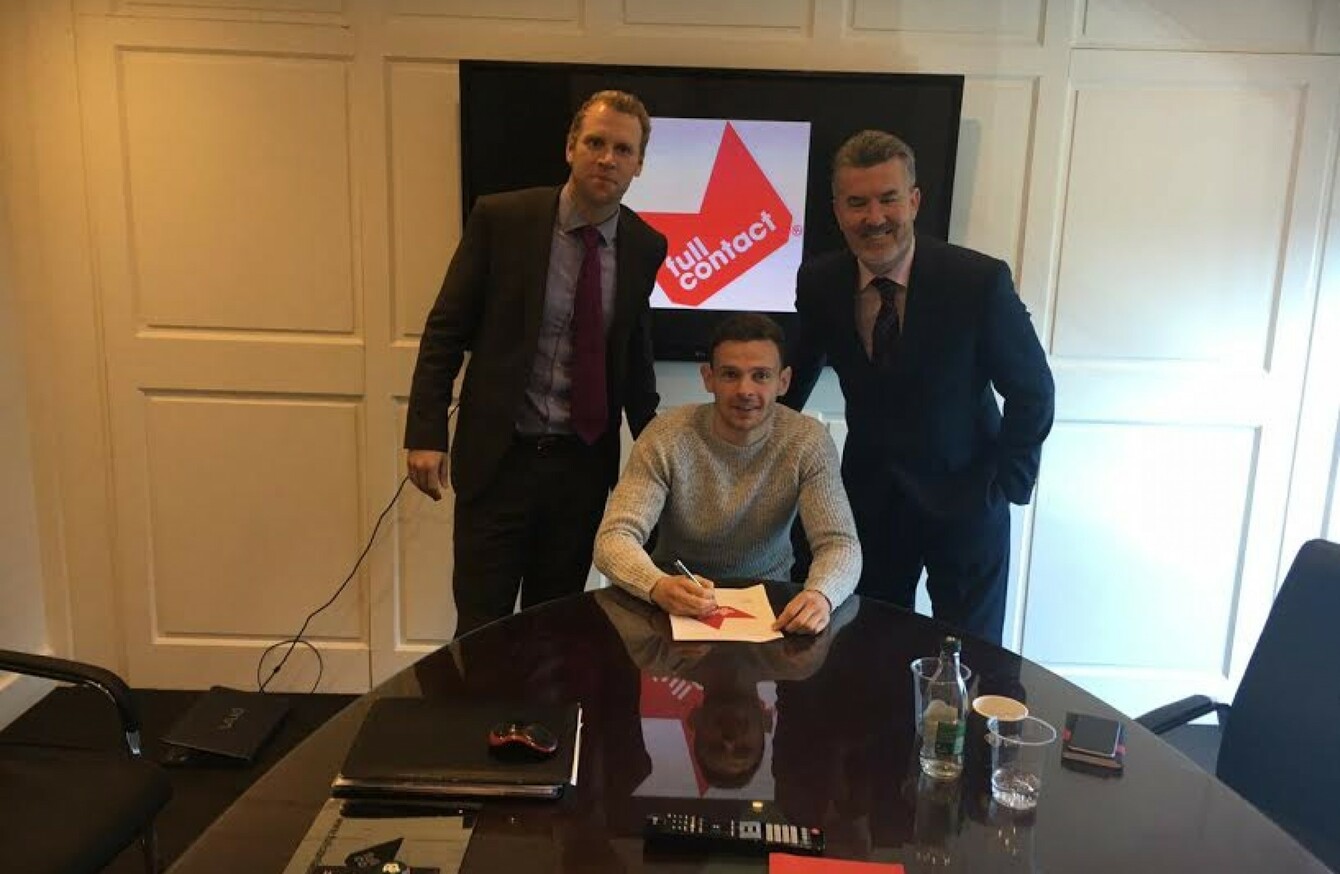 Full Contact's Patrick Conliffe and Lee Payne with Andy Boyle.
Image: Patrick Conliffe
Full Contact's Patrick Conliffe and Lee Payne with Andy Boyle.
Image: Patrick Conliffe
LAST TUESDAY NIGHT, Andy Boyle was among the latest group of Irish players to be handed their senior international debuts.
It has been a barely-believable 12 months for the 26-year-old defender, whose other recent achievements include playing in the Europa League group stages, winning a third consecutive league title with Dundalk and earning a move to the English Championship.
Along with team-mate Daryl Horgan, who also won his first cap in the 1-0 defeat to Iceland, Dubliner Boyle agreed to join Preston North End back in December.
And although it took the former UCD and Shelbourne centre-half time to break into Simon Grayson's side, he has started in each of their last four league matches.
"There was quite a lot of interest in Andy towards the end of the last League of Ireland season and we flew him into a few clubs in the UK to meet the managers and see the grounds and set-ups," football agent Patrick Conliffe of Full Contact, who represent Boyle, told The42.
"However, Preston was a no-brainer for Andy due to the high level they are competing at and the opportunity to get first-team football, which is manifesting itself now.
"Our head of football in the UK, Lee Payne, did a fantastic job for us on Andy and really believed in him. To be fair to Andy, he is an intelligent lad and a dream client to work for."
English clubs offering Irish football's top talents the chance to earn a respectable living and play at a higher standard is nothing new.
In recent years, the likes of Pat Hoban (Dundalk to Oxford United), Ryan Manning (Galway United to Queens Park Rangers), Chris Forrester (St Patrick's Athletic to Peterborough United), Brian Lenihan (Cork City to Hull City) and Richie Towell (Dundalk to Brighton) have all made the switch across the water having gained experience at senior level here.
Go back a little further and it's well-documented that current Ireland internationals Wes Hoolahan, Seamus Coleman, Kevin Doyle, Shane Long, Stephen Ward, James McClean Stephen Quinn and Daryl Murphy all cut their teeth in the domestic league before establishing themselves.
And although Conliffe believes the LOI has been undervalued for some time, he feels the achievements of the Premier Division's top two in 2016 have helped to recapture the attention of clubs.
"Prior to last season, the interest in the League of Ireland had been dwindling for some time, in my opinion, and there was a lack of respect abroad for the standard of the league and the players," he explains.
"However, Dundalk and Cork City — with their tremendous exploits in Europe last season — have put the league firmly on the map with UK and foreign clubs, as competing against large European clubs has given a benchmark by which to judge the Irish league and players.
With the likes of our own Andy Boyle fitting in so well in the English Championship and other such as Daryl Horgan and Chris Forrester also doing so well to date, it has shown people in the UK that League of Ireland players have two feet and two arms and they can actually play football too!"
A qualified solicitor, Conliffe went on to study sports law at Leicester's De Montfort University and then worked with a leading rugby agency before moving on to his current job.
As head of Full Contact's Irish agency, he looks after a number of SSE Airtricity League players such as Cork City's John Kavanagh, Ronan Curtis of Derry City and Shamrock Rovers midfielder James Doona.
"Our job for Irish players is usually to find them a career in the UK or beyond," he says. "Once we do that, we try to negotiate the best possible deal for them and to ensure that they have everything in position to develop their career to the fullest — from career-ending insurance to boot deals or whatever it may be.
"We're also there to advise them on any legal issues that may arise and we act for the families of many players in legal matters. We often act as player mentors and confidants in many cases and that regularly means answering the phone on a Sunday night."
Signing players from Irish clubs has its advantages as there is often no transfer fee involved with the majority of players on one-year contracts — which can be as short as 40-weeks long — although compensation is due for those under 23.
However, Conliffe sees the fact that the LOI season ends in the middle of English and Scottish campaigns as a reason why more players don't get away.
"We all know that the League of Ireland has many issues, which are not readily fixable without heavy investment and assistance from the powers that be," he says. "Most clubs cannot afford to give players two-year, 52-week contracts.
"Most Irish players are on less than one-year contracts ending in October of each season and it is well-documented the struggles players face in the off-season.
"However, I do think if the Irish season was aligned with the UK season, Irish clubs would actually lose a lot of players each year compared to what they currently do, as any quality players over 23 would be snapped up by UK clubs on free transfers.
"As Irish players are only free agents from October to, say, December of each year, they miss out on both the summer and January windows. October is not a priority period for UK club recruitment so it is a challenge."
On 1 April, 2015, Fifa deregulated the football agent industry by ending the existing licensing system and handing responsibility to each national association.
The new measures were heavily-criticised by chairman of the Association of Football Agents Mel Stein, who said at the time:
"I think it's going to create anarchy and everybody is going to be sorry about it. Fifa couldn't cope so they decided to hand it over to the individual territories. I can see the bloke in the pub who knows a parent or a footballer's dad saying 'I'll represent you' and then undercutting everyone."
The FAI is following the world football governing body's guidelines on introducing 'intermediates' — the new term for agents — but there is just one name on their current list with most opting to register in England instead.
"There are currently no football agency regulations in force in Ireland, unlike rugby which is heavily policed by IRUPA," says Conliffe, who has expressed major concerns with the recent changes.
"In April 2015, Fifa abolished their agency regulations and left it up to the national associations to govern their own agents and they offered recommendations to the associations, but the associations were essentially free to do as they please.
SEE SPORT
DIFFERENTLY
Get closer to the stories that matter with exclusive analysis, insight and debate in The42 Membership.
Become a Member
"The FA in England has followed Fifa's intermediary regulations almost to a tee. Agent exams have been abolished and the requirement for an agent to hold professional indemnity insurance has also been scrapped.
You can now become an intermediary in England if you pay the FA £500 and sign a form to say that you are of good and reputable character. To represent senior players you don't even need a criminal record check.
"This leaves players open to serious misrepresentation as there exists intermediaries out there who don't know the complexities of Fifa compensation and solidarity payments.
"They don't know how the contracts work and they don't have the requisite contacts with the clubs and know the values of the current market with respect to salaries and contract bonuses etc.
"That is without even delving into their past and criminal history. It is also highly worrying at minor level, as you have to ask the question who is representing Irish kids going across. Parents need legal advice on what they are signing with UK academies, however intermediaries are not legally entitled under FA regulations to sign players until they are 16.
"Countries such as Denmark, Spain, Portugal and France have far stricter regulations in place than the FA in England and we would welcome some sort of regulations here, especially with respect to underage players."
Agents and intermediaries are often portrayed by managers and others as money-hungry sponges of the football industry, who are out for whatever they can get by advising their clients to hold out for higher deals or, alternatively, look for more lucrative contracts elsewhere.
But is it understandable to hold such a belief?
"I don't think all managers would say that," replies Conliffe. "However, I can certainly see why managers would say that and I would agree with them on a lot of agents!
"Due to a lack of regulation across the board in football, unscrupulous agents have thrived in the game. That said, I know many managers that would say certain agents are honest, direct and professional. Managers have their own job to do and we have ours and sometimes that conflicts but in many cases we can help each other.
"Certainly clubs don't see us as a sponge when we obtain a large fee for them with respect to a player of theirs. Like every walk of life you have your professional people with integrity and then you have the other end of the spectrum.
"The wrong end is highlighted so much in football because there is so much money in the game and yet so little regulation. I don't see agents being branded as sponges in rugby.
"Any player negotiating their contract without an agent is in dangerous territory. Clubs have their own priorities and players are vulnerable without representation and therefore agents are a necessity for players whether you like it or not."
The42 is on Instagram! Tap the button below on your phone to follow us!