James Crombie / INPHO James Crombie / INPHO / INPHO
THE CORK HURLERS are getting set for the prospect of not having their captain Patrick Cronin available for Sunday week's All-Ireland semi-final against Tipperary.
Cronin came off injured in the Munster final win over Limerick and time is running out for him to be declared fit for the Croke Park clash.
"He's very doubtful obviously," admitted manager Jimmy Barry-Murphy last night. "It's going to be a race against time. It's probably unlikely but we're hoping.
"Hairline fracture of the bone in his ankle. He has the boot off now and he's doing a light bit (of running).
"He got the injury in training believe it or not, he got a belt in training on the Tuesday night when we had a bit of a game. From what Dr Con (Murphy) was telling me subsequently, it was more of a stress fracture then that developed during the game [Munster final].
"He didn't get a belt in the game itself but the bone it was like a snap on the day but he didn't know what it was. It was obviously a recurrence of what he'd got in the training and he was in a boot then. We'll see on Tuesday night and make a call on it then after that."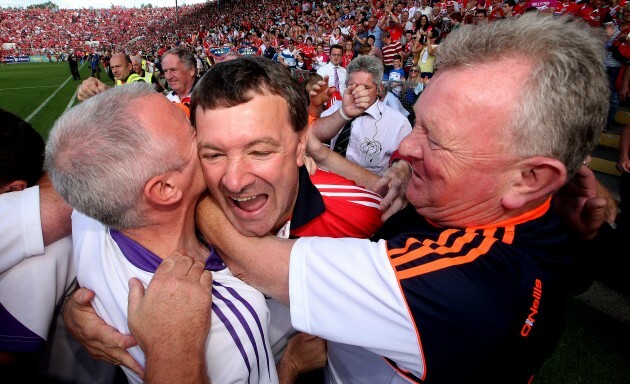 James Crombie / INPHO Jimmy Barry-Murphy celebrating Cork's Munster final win. James Crombie / INPHO / INPHO
Barry-Murphy admits the issue of dual players still needs to be addressed in Cork. The footballers exit last Sunday from championship brings an end to the juggling act that Eoin Cadogan, Aidan Walsh and Damien Cahalane have been doing this year.
"Going forward it's something that has to be addressed obviously. Every player is an individual in his own right and I'm sure the footballers will look at it and we'll look at it.
"And at the end of the day every player will have to make up his own mind whether he can continue to do it or not.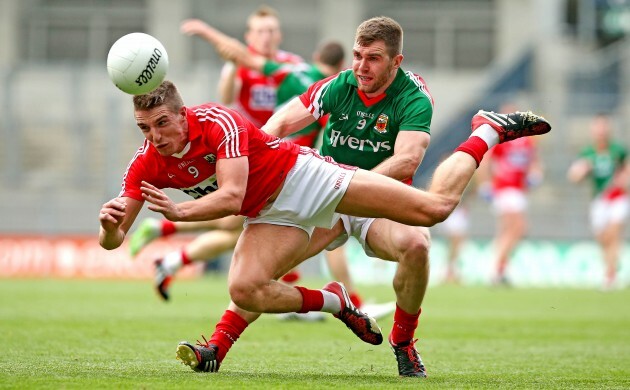 James Crombie / INPHO Aidan Walsh in action for Cork against Mayo last Sunday. James Crombie / INPHO / INPHO
"From talking to Aidan he seems happy enough that it worked out fairly well for him anyway. From our point of view we felt we needed the lads at the start of the year. They were a great boost to us and a great boost to the panel as regards increased competition for places and you've seen the displays that Aidan and Damien have given.
"Eoin hasn't got as much opportunities because he had a lot of injuries and really hasn't played as much hurling as he would have liked. But the three of them have been a great addition to the panel and we couldn't be happier about it."