Chris Hogan, left, and Danny Amendola celebrate a touchdown.
Chris Hogan, left, and Danny Amendola celebrate a touchdown.
THE NEW ENGLAND Patriots held off the Tampa Bay Buccaneers to claim a 19-14 victory in NFL action on Thursday.
Neither Tom Brady nor Jameis Winston were particularly sharp, but the Patriots did enough at Raymond James Stadium in Tampa.
The Bucs (2-2) were unable to capitalise on a pair of Brady turnovers as kicker Nick Folk missed three field goals.
After Winston hit Cameron Brate for an 18-yard touchdown with just over two minutes remaining, the Buccaneers tried an onside kick but it was recovered by Patriots safety Nate Ebner at the Bucs 42-yard line.
The Patriots (3-2) were able to use the favourable field position for a 48-yard Stephen Gostkowski field goal with 1:10 left on the clock.
Winston, who finished 26 of 46 for 334 yards and a touchdown, got the Bucs to the New England 19-yard line, but his pass to the end zone on the final play of the game was broken up by Patriots cornerback Jonathan Jones.
Brady finished 30 of 40 for 303 yards with a touchdown and interception. His streak of 264 pass attempts without an interception was snapped in the first quarter when an errant throw was picked off by Buccaneers rookie safety Justin Evans. The Buccaneers went three-and-out on the ensuing possession.
New England got on the board first with a Gostkowski field goal of 27 yards.
Doug Martin, making his season debut following a four-game suspension dating back to last year, scored the game's first touchdown when he dove into the end zone with 8:26 remaining in the first half. Martin finished with 74 yards on 13 carries and his touchdown gave the Bucs a 7-3 lead.
The Patriots regained the lead on a touchdown pass from Brady to Chris Hogan five minutes later.
After New England added a pair of Gostkowski field goals to build a 16-7 lead, the Bucs were unable to convert a second Brady turnover into points. Adarius Glanton came around on a perfectly timed blitz for a strip-sack of Brady late in the third quarter.
Defensive end Will Clarke recovered the fumble at the Tampa Bay 47 but, seven plays later, Bucs kicker Nick Folk missed a 49-yard field goal attempt.
Folk missed attempts of 56, 49 and 31 yards and has missed five of his last seven attempts.
The Patriots were playing without tight end Rob Gronkowski, who was inactive with a bruised thigh. Hogan and Danny Amendola picked up the slack. Each caught eight passes with Amendola going for 77 yards while Hogan had 74 receiving yards and the score.
Hogan's leaping touchdown was reviewed and, though he landed with his feet at the one-yard line, he made initial contact with the ball in the end zone and the officials ruled it a score.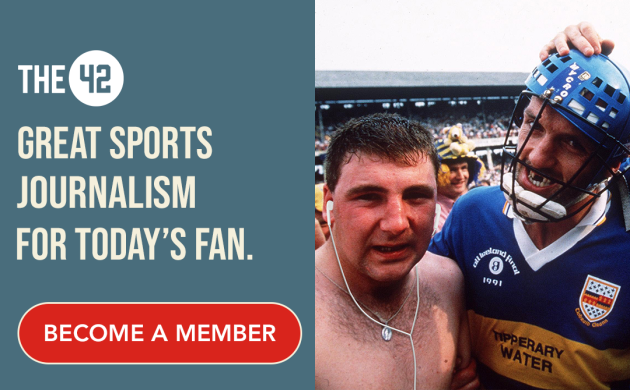 "It wasn't perfect. It never is," Hogan told NFL Network. "But the defence came through and we found a way to put points on the board."
Thursday games can often leave offences hampered and this game was a huge indicator of that. The Bucs were without starting linebackers Kwon Alexander (hamstring) and Lavonte David (ankle), and safeties Keith Tandy and T.J. Ward, who both have injured hips.
New England were unable to take advantage of the short-handed Bucs, even without Gronkowski. They still got the win as Brady tied Brett Favre and Peyton Manning for the most regular-season victories by a quarterback with his 186th career win.
Winston and the Buccaneers could also not exploit a New England defence that came in ranked last in nearly every statistical category. Tampa Bay ran for 91 yards and Winston's 56.5 completion percentage was his worst since a week-15 loss to the Dallas Cowboys last season.
Subscribe to The42 podcasts here: