AMERICAN FOOTBALL IS a sport obsessed with statistics.
Everything that can be measured is and is measured in minute detail.
But here's a stat for you. Tom Brady has reached the American Football Conference Championship Game in 11 of his 15 seasons in the NFL (that excludes the year he was injured in game one and missed the entire season).
That's 73%
Among starting quarterbacks, Sam Bradford led the league in passing accuracy this year with 71.6%, the best number since the league started counting in 1936.
So there you have it, Tom Brady is statistically more likely to reach the AFC Championship Game than the league's most accurate quarterback is to complete a pass.
By rights I should hate Brady. Bill Belichick too.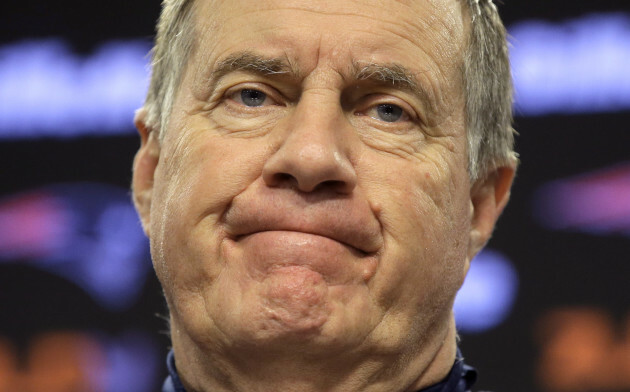 Steven Senne / AP/Press Association Images Belichick will go down as one of the all-time greats. Steven Senne / AP/Press Association Images / AP/Press Association Images
They are, after all, responsible for what is perhaps the most disappointing sporting moment of my life.
A Raiders fan since 1992, there had been some brief moments of success in my time supporting them, but nothing like the Madden-era.
However, after an AFC Conference Game appearance in 2001, the following season looked like it was going to be a special one for the Silver and Black.
And it was.
That is until 19 January 2002 and the divisional round match-up with the Patriots and their young, back-up, quarterback who they had taken 199th overall in the sixth round of the 2000 NFL Draft.
How could the Raiders not win? Wasn't this Brady chap only in the game because Drew Bledsoe suffered a torn blood vessel in his chest earlier in the season.
Plus the Raiders had Jon Gruden, one of the most highly regarded young coaches in football.
Across the field was Belichick, whose head-coaching career had been disappointing to say the least after two Super Bowls as the defensive co-ordinator with Bill Parcells' New York Football Giants.
The Patriots had only managed a 5-11 record the previous season but, with Brady under centre, won the AFC East for the first time since 1997; the former Michigan man throwing for 2,843 yards over 15 games, with 18 touchdowns and 12 interceptions.
This wasn't Connor Cook the Raiders were facing, but they knew they had a chance of coming out of the final game at the old Foxboro Stadium with a win and thought they had secured as much when cornerback Charles Woodson sacked Patriots' Brady, forcing a fumble that was recovered by Oakland linebacker Greg Biekert.
czabedotcom / YouTube
Game over, the Raiders go on to play Pittsburgh in the AFC decider before lifting the Vince Lombardi Trophy at the Louisiana Superdome in a hard-fought Super Bowl XXXVI encounter with the then-St. Louis Rams.
Except, that's not what happened.
Instead, referee Walt Coleman — who has refereed more than 200 games since but never the Raiders — invoked NFL Rule Three, Section 22, Article 2, Note 2, the infamous Tuck Rule, and the Patriots got the ball back.
By now you know the ending.
With 27 seconds left, Adam Vinatieri kicked a 45-yard field goal to tie the game. Eventually, the Patriots kicked the game winning field goal in overtime and went on to win the Super Bowl that year.
A dynasty was born in Boston while Oakland became the laughing stock of the NFL.
Don't get me wrong, I don't for one second kid myself that the Raiders would have achieved anything like the success the Patriots have over the past 15 years.
They couldn't simply because New England has the best coach and quarterback combination the game of football has ever seen. There can be no debate about this.
After this year, Brady will have started at quarterback in 14% of all Super Bowls that have ever taken place.
More impressive still, he has reached 43% of the Super Bowls that have been played since he became the starter for the Patriots — and that includes missing the 2008 season when he missed all but one game.
Some argue that Belichick's accomplishments are even greater than his quarterback's.
After all, he managed to win 11 games with Matt Cassell when Brady went down in 2008 and started this season 3-1 as #12 served his 'Deflategate' suspension.
But trying to separate the pairs' achievements is a bit like wondering if Zig would have had as lasting an impact on your childhood without Zag or which of the O'Donovan brothers would have won their Olympic lightweight double sculls silver medal without the other.
They are Walter White and Jessie Pinkman, two back-street chemists that nobody really saw coming, cooking up new and innovative ways to get the edge over anyone and everyone who crosses their path.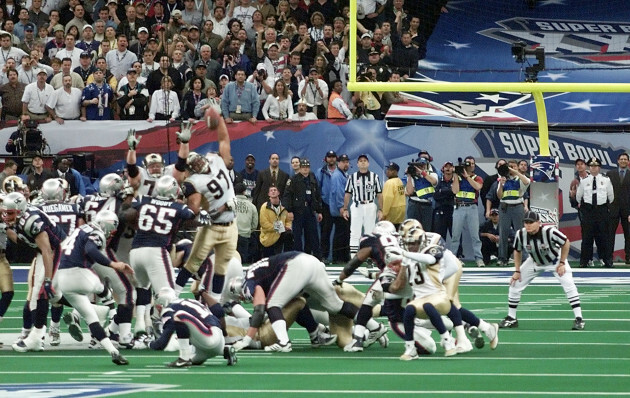 RICK BOWMER / AP/Press Association Images Adam Vinatieri kicks his game-winning field goal. RICK BOWMER / AP/Press Association Images / AP/Press Association Images
On 5 February they face a seemingly unstoppable offensive juggernaut in the Atlanta Falcons, averaging 34.4 points per game.
Back in 2002, the Rams went into Super Bowl XXXVI averaging 32 ppg.
Belichick did his job and the defence held St. Louis to just 17 points before Brady led the game-winning drive that day.
Who'd bet against history repeating itself in Houston?