"IT'S VERY HARD, you'd be on the floor after a race.
"Sometimes I can't even stand up out of the boat. But we just love trying to do that to ourselves. We love that feeling of pain," Paul O'Donovan explains.
Rowing is a way of life for the O'Donovan brothers, Paul and Gary, who were crowned lightweight men's double sculls champions in Brandenburg, Germany seven days ago.
That's how it's been for as long as they can remember. It connects them almost as deeply as their genes.
Growing up in Lisheen, west Cork, they were just 10km outside Skibbereen, a remarkable rowing heartland where their father Teddy has been heavily involved in the sport for years. Something was bound to stick.
With just a year between them in age, their fiery competitiveness has had ample time to brew. But that drive, that hunger to beat each other, is no longer the primary motivation. These days, it's them against the world.
For two brothers who spend their lives in each other's pockets, doing the same things and sometimes even finishing each other's sentences, they are quite different characters.
Gary, 23, is the first to speak and his enthusiasm is infectious. Paul, 22, sits back, arms crossed and listens intently.
They've only been rowing together, in the lightweight men's double sculls, for 18 months, and just a year in that discipline in the green of Ireland. But the reality is they have been rowing side by side for most of their lives.
It's been a rapid rise, albeit on the back of years of work on a slow, arduous, repetitive road.
It wasn't just the fact that they won European gold in Germany last weekend that impressed, it was the manner in which they did it, beating the German and Norwegian pairs in a closely-fought final.
They overcame a typically-strong duo from the host nation and a Scandinavian pair who bagged bronze at the last two world championships and gold in 2013.
Four weeks ago, in Varese, Italy, the O'Donovans finished second in the first of three World Cup meetings this season, two-tenths of a second behind South Africa's James Thompson and John Smith.
That same pair won the world championship in Amsterdam two years ago, setting a world record (6:05.36) in the process, and were part of the lightweight coxless four who won gold for the African nation at the London Olympics four years ago.
The O'Donovans, having secured their Rio Olympic qualification last September, are used to rubbing shoulders with the world's elite these days. And the only way is up, it seems.
"Everything is tailored towards Rio at this stage but these races are great experience for us," Gary, a final-year marketing student at CIT, explains.
Compared to a lot of the teams we're a relatively new double. We've only been 

together a year and a half and racing internationally for 12 months. T

he Germans and the Norwegians, they've been together for the last four years anyway.
Difficulty
When people try to weigh up the difficulty, especially in terms of physical exertion, of certain sports, rowing invariably figures highly in their thoughts.
To the outsider, it is a sport that appears to burn the lungs with little mercy. It requires a delicate balance of technique and raw power. You need speed, endurance and monastic dedication.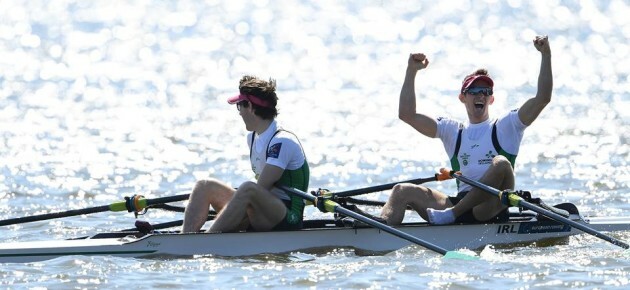 Detlev Seyb / MyRowingPhoto.com Paul (left) and Gary celebrate their success in Germany. Detlev Seyb / MyRowingPhoto.com / MyRowingPhoto.com
The O'Donovans train on the water twice a day, usually at the National Rowing Centre in Cork, weather dependent of course. The indoor machines are an unfavourable alternative.
The guts of two hours of endurance work makes up their morning session, covering 20-30km.
That gives them time to rest, refuel, and get some study done before heading back on the water in the evening for shorter, high-intensity intervals, at race pace.
Add in weight sessions a couple of nights a week, mostly legs but also an emphasis on core and upper-body work, and you have yourself the schedule of an Olympic rower.
"You get used to it I suppose," Paul, a third-year physiotherapy student in UCD, says of the training.
"When you're starting off, you're probably a little bit afraid of it."
A brief pause allows Gary to jump in and offer his two cents.
You learn to deal with it. Some of the hardest things are in the middle of winter. We do an awful lot of training.
"Even when we're not physically rowing, everything we do outside of rowing is about how do we get the best recovery and the best rest, stay healthy and injury free.
"In the middle of winter, it's dark outside; it's cold and wet and you're after a hard week's training already and you still have to get up the next morning, roll out of bed and do the same thing again. It's relentless but you've just got to keep doing it day after day.
"It becomes like a habit, you don't even think anymore."
Paul is quick to check Gary's stride. They do this out of a love for the sport and a desire to succeed; the hardship is just a part of that, Paul reasons.
"You don't dwell on the misery either," he interjects.
"You look at the bits that are enjoyable and you make the most of them. You see a lot of people and they talk about how hard the training is and how bad the weather is. But if you make the most of it, it's not too bad."
Detlev Seyb / MyRowingPhoto.com Detlev Seyb / MyRowingPhoto.com / MyRowingPhoto.com
The brothers got their first taste of rowing races as nippers, supporting their father as he coached Skibbereen Rowing Club.
And when they finally got in a boat for the first time, 15 years ago, Paul as a seven-year-old and Gary one year older, they were hooked. Line and sinker.
"We played a bit of GAA, rugby and soccer but because of our love for rowing it started to take over," Gary recalls.
"So eventually we put the other sports to one side and got into rowing full time."
The brothers, who stress how helpful their respective third-level institutions have been in facilitating their rowing aspirations, made their first Irish team in 2008 as part of a quad in an U18 regatta between Ireland, England, Scotland and Wales.
Alongside them that day was a familiar face in good pal and fellow Skibbereen man Shane O'Driscoll, who bagged an impressive fourth-place finish, partnering Mark O'Donovan (no relation and yet another product of Skibbereen RC) in Germany last weekend in the lightweight men's pair.
From there, the O'Donovan brothers carved separate paths through Ireland's underage grades. But it was only 18 months ago, after the national rowing trials, that they found themselves representing their country in the same boat again.
"September 12 months ago, the top rowers in Ireland did a trial and we were the top two lightweight men," Gary explains.
Paul finished first and I finished second. Through that, we got selected in the double — we're not in the double because we're brothers.
"It was the same last October, we did another trial and we finished first and second again, so that granted us selection again for the double this year.
"Growing up we rowed in almost every boat category. Presently, we do an awful lot of training in singles and it helps when you have a competitive environment in your training."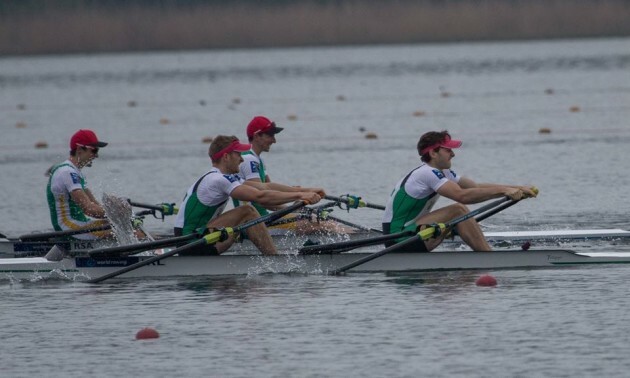 They may be a team in the green of Ireland but there is still an undercurrent of sibling rivalry. It doesn't take long to come bubbling to the surface either.
"We'd be racing against each other as well as with each other," Gary adds.
"Paul has always been faster than me, I can't remember the last time I've beaten him. He always seems to be beating me. I'm still trying and I won't give up."
Surely spending so much time together eventually takes it toll?
That query raises a pair of wry smiles.
"We get on really well. We spend an awful lot of time together," Gary insists.
"Of course, sometimes we can get on each other's nerves. It can be hard.
"If we are in Spain on a training camp for three weeks, we'd be sharing the same bedroom, the beds are only a few feet away from each other.
"We're having breakfast, lunch and dinner together every day, in the boat together every day. By the end of the three weeks, we can get pretty frustrated with each other."
As young, aspiring Olympians the O'Donovans didn't have to look far to find role models, Skibbereen RC members Eugene Coakley (2000, 2004), Richard Coakley (2008) and Timmy Harnedy (2004) having represented Ireland on rowing's grandest stage.
Morgan Treacy / INPHO Brothers Richard (left) and Eugene Coakley in action for Ireland in 2008. Morgan Treacy / INPHO / INPHO
Coach Dominic Casey is the lifeblood of Skibbereen RC, along with father Teddy, and he also oversees the O'Donovans' progress at international level. The success story that is Skibbereen RC is an amazing tale in itself and it's showing no signs of letting up.
The club is thriving and the qualification of the O'Donovans has already had a ripple effect, something they were inspired by upon a recent visit to their old stomping ground, Lisheen National School.
"We went back to our old school with our silver medals after the World Cup in Varese," Gary explains.
"We got to give them a night off homework too which was nice.
"When we asked how many were involved in rowing, I'd say more than half of the senior group put up their hands. We love the sport and we want it to grow, so to think that we're having an influence on youngsters is fantastic.
"In our own club in Skibbereen there is a huge uptake. We qualified for the Olympics in September, and September is the start of a new season for beginners, and there were loads of young guys and girls who came in to try it out."
From small beginnings, big things grow. Two more World Cup meetings (Lucerne, Switzerland, 27-29 May and Poznan, Poland, 17-19 June) loom before the Rio encore in August. Row now, rest later.
First, Gary must face his final-year exams in CIT later this week.
Then the real tests begin.
The42 is on Snapchat! Tap the button below on your phone to add!