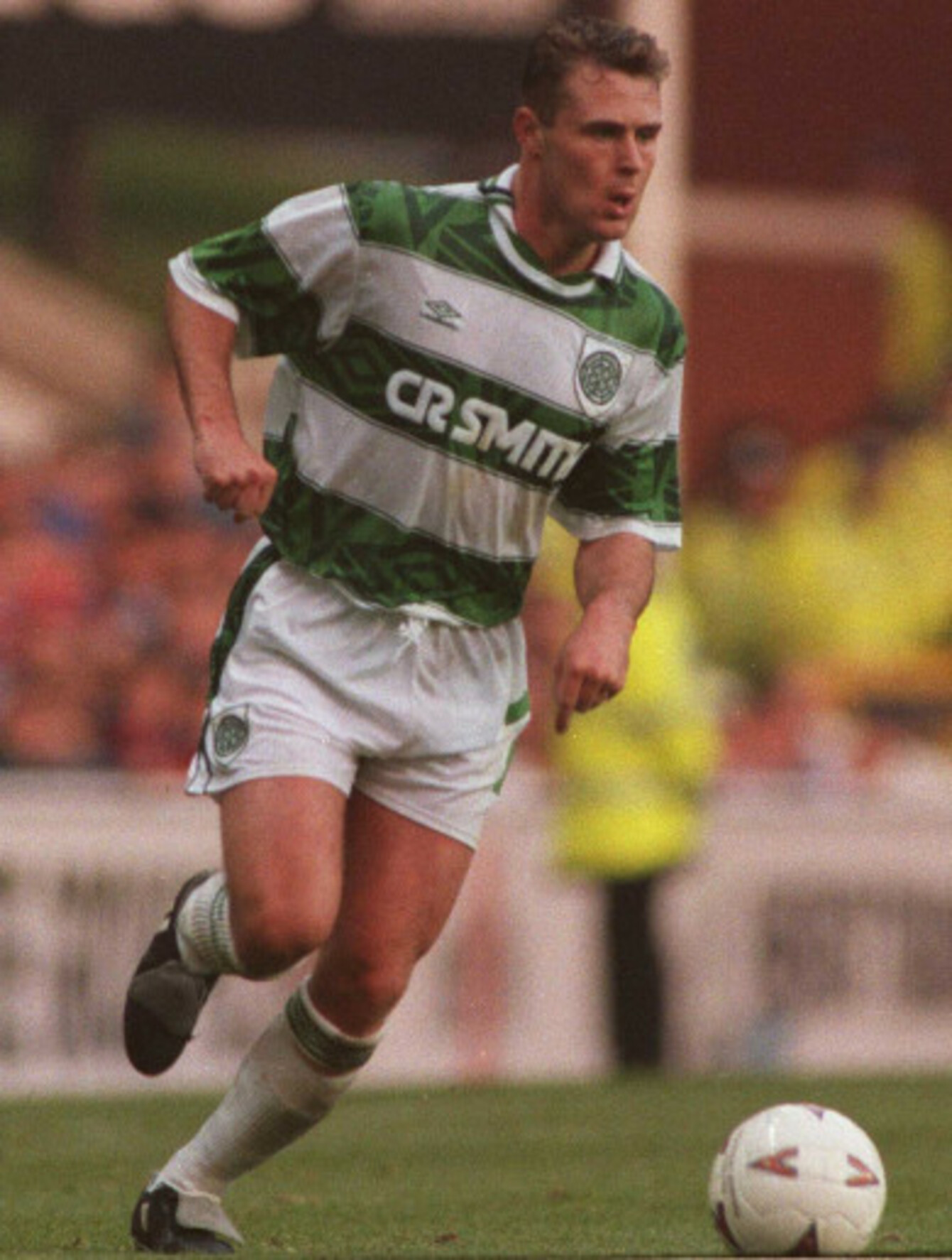 Byrne during his days at Celtic.
Image: EMPICS Sport
Byrne during his days at Celtic.
Image: EMPICS Sport
"MY CAREER WAS all ifs, buts and maybes," admits Paul Byrne. 
For a man who is still fondly-remembered by Celtic fans today for scoring, not one, but two goals in the Old Firm derby, it seems a strange statement on the surface.
But the Dubliner is abundantly aware that his professional playing days could have — and should have — amounted to so much more.
The natural talent was never in doubt, but problems with drinking, gambling, weight and general ill-discipline contributed to his shortcomings.
We all know a fella down the local pub who will tell you he was destined to be the next big thing in Irish football.
In Byrne's case, they are legitimate claims. Many players would bite your hand off to achieve what he did in the game, but it's hard not to feel that the 46-year-old ultimately wasted his God-given abilities.
Six months out from the 1994 World Cup, The Irish Times made comparisons (both positive and negative) with him and another gifted Paul — England star Gascoigne. The piece went on to suggest that he could potentially make an impact with Ireland similar to what Gazza had done four years previously at Italia '90.
As you'll read later, that never transpired and there would be no senior international cap despite him featuring in squads under Jack Charlton.
Even two decades on, the feeling of 'what might have been' weighs significantly on his shoulders. Byrne accepts that his behaviour has been far from exemplary over the years and, as a result, relationships with family and loved ones have suffered at times.
"I still struggle with it," an affable Byrne tells The42 this past week. "I wouldn't call it a deep depression but I self-destruct sometimes. I don't become a very nice person when I do that. It's something that I want to deal with and try to cope with.
"It's difficult. You hurt the people around you and sometimes it's too late to mend the bridges. I'm spending my time trying to fix things with my kids and the people I love."
Like so many young footballers in Dublin (and one particularly high-profile one from Cork) around the 1980s and 90s, Byrne was spotted by renowned scout Noel McCabe while lining out for his local side Bluebell United at the age of 13. 
He and his team-mate, current Dundalk manager Stephen Kenny, were sent across for trials with Oxford United and the youngster liked what he saw despite interest from elsewhere.
"Back then, they had the likes of Davy Langan, Ray Houghton, John Aldridge, Billy Hamilton and Jeremy Charles were playing in the first team," Byrne says.
There were a couple of other clubs sniffing around including Liverpool, but Oxford just appealed to me. I felt that if I went to a lesser club, even though they were in the old First Division, I would have a chance."
That proved to be the case and he would make his first-team debut at the age of 17.
"It was brilliant," he remembers. "In my first game, I came on against Barnsley and then I started against Middlesbrough, which was great. I was introduced as a substitute against Spurs, when Glenn Hoddle came to play at the Manor Ground. A couple of years previous to that, my father would have kept me up to watch Match of the Day and all of a sudden you're on the same field as some of these players. It was incredible."
There was a strong Irish presence at Oxford and Byrne often cleaned the boots of Aldridge and Houghton, while he says the likes of Steve Foster, Jim Magilton and Paul Kee helped him settle.
But it wasn't long before he began to find himself in trouble.
Mark Lawrenson, who managed the club in 1988, proclaimed at the time that "Paul Byrne's biggest problem is Paul Byrne", while his replacement Brian Horton was far from pleased when the teenager went to visit his girlfriend and young son in Ireland — only to fail to return for several weeks.
"There was no doubt about my ability and I was given the chance," he accepts. "I could have taken it a lot better than I did, but I was young and I was away from home. Once I started breaking into the first team, I began to get sidetracked by the things I shouldn't have been doing.
My addiction started when I was at Oxford. A lot of people know the things I did — not going back for pre-season training, staying home for three months and stupid stuff like that.
"It was all down to discipline. I was very young to be achieving what I was starting to achieve. You ask any ex-professional footballer in and around my age group, and they will tell you it's not like today."
He adds: "Karl Wilson, whose son Tyreke plays for Manchester City, is a very good friend of mine. I've been watching him over the last few years and Willo has been telling me about his progress. Clubs gives the players pocket-money out of their wages, and the rest goes into a savings account until they are of an age that they know exactly what they want to do with it.
"We didn't have anything like that back then, so we went astray. We would have an odd game of golf, or you would be playing pool, having a few pints or doing a couple of bets when you should have been going out for second training sessions in the afternoon, working harder and keeping your head down.
"We started at 10 and we were finished at half 12. What else are you going to do when you're away from home? Boredom leads to a lot of things and we ended up going to the pub and wasting ourselves."
Free to leave Oxford, Arsenal offered him six months to impress in their reserves. Byrne played regularly but there were plenty of top players in front of him and a deal didn't materialise that summer.
"George Graham bought Jimmy Carter from Liverpool for something like a million pounds [£800,000] and he felt he had to play him. There was no place for me in terms of contract for the second season.
I've met George a couple of times since then and he has said it was a big mistake letting me go because he felt he could have worked on me. 
"I remember my last day at the club, they were playing in the European Cup and I was sitting beside Ian Wright as Arsenal had just signed him. Sadly, that was my last encounter there."
Ex-Ireland international Theo Foley was assistant manager at Northampton Town and there was a chance to go there, but Byrne opted to join Bangor in the Northern Irish League instead.
And he became an instant hit with the Seasiders, leading them to the 1993 Irish Cup final before scoring the winner against Ards with the last kick of the game after two replays were needed. That strike at Windsor Park was his 21st of the season, and remains the most famous goal in the club's history. 
"I'm just back from Bangor as it was their 100-year centenary dinner and I was up their all weekend," says Byrne, who took part in a Q&A session with other Bangor legends such as Gerry Armstrong at the event.
At the end of that season, he cleaned up on awards night — winning senior and young Northern Ireland PFA Player of the Year as well as senior and young Football Writers' Association of the Year.
"It was never done before and it will be never done again because they don't give them out like that anymore. I won the four awards and George Best presented me with my trophies."
Having got his career back on track, Byrne's stock was high once again and a £70,000 switch to Glasgow beckoned.
"Man City and a couple of other clubs were in at the time," he explains. "Celtic were the last club to show interest, but I just felt when they came in that nothing else mattered."
Aware of his disciplinary history, Hoops manager Liam Brady — one of Ireland's greatest-ever players — even took Byrne in to live with him and his family for his first six months.
They didn't get off on the best foot as he arrived "two stone" overweight, but the 20-year-old was determined to make his dream move work.
"Looking at the Celtic team at the time, I felt I had a real chance once I got myself fit," he says. "Living with Liam helped me greatly to get used to what life in Scotland was going to be like.
"It's just mad, it's hectic. Everyday, you're trying to please one half and you're a 'b' to the other half. It's a goldfish bowl, and you had to watch what you did, where you went and who you spoke to. It was difficult at times to cope with the pressure up there and Celtic were going through a bit of a bad time and we went through a couple of managers."
Byrne made his league debut for the Hoops as a substitute in a 2-1 loss to St Johnstone. A day later, Brady stepped down after failing to end a barren period that saw them without a league title since 1988. Lou Macari replaced caretaker boss Frank Connor, and, although he wasn't always first-choice, the midfielder did bag himself two goals in the biggest fixture of the season — the Old Firm derby with Rangers. His second, at Ibrox in January 1995, was a beauty (see video below, skip to 3:10 in).
Latching onto John Collins' cross-field ball after excellent work from the former Scotland international, Byrne arrived late to volley home a stunning equaliser on the hour-mark.
Source: WILLIE COLLOW/YouTube
"It's just amazing the way people still treat me today because of it [the goal]," he reveals. "Myself and the missus have been to a couple of functions over the last few weeks for Q&As with Frank McAvennie, Jackie McNamara and John Hartson. It's great to be remembered.
"I felt I played my part for Celtic at that particular time. I felt if I had stayed that extra one or two years and got my head down to work that little bit harder, I could have been part of the league-winning team, but what I have to live off now is the two goals I got against Rangers. I think that's more than enough because people in Scotland never let you forget it."
Byrne had represented Ireland at every level when he received his first call-up to the senior squad from Jack Charlton. 
"I played for the Ireland U21s when Roy Keane made his debut at that level over in Malta," he recalls. "I had to go and play right-full so Roy could play in the centre of the park. Jack must have seen something in me that I could play outside right, full-back or central midfield and maybe he said 'I'm going to give this kid a chance'.
"I was sort or hot property at Celtic at the time, scoring goals in the first-team and playing in Europe, so I was holding my own at one of the biggest clubs in the world. That's why Jack gave me my chance."
Having qualified for the '94 World Cup, the Boys in Green were preparing for their trip to the States with a number of friendlies early that year. They faced Russia at Lansdowne Road in March, and although Byrne made the bench, he wasn't handed a debut in the 0-0 draw.
He feels that the general perception may have been that he was left out for allegedly climbing out a team hotel window the night before the game — a claim made in a newspaper article that he refutes.
"I was meant to be sitting in my local pub Kelly's drinking alcohol when I wasn't," he says. "That story would have stuck in a lot of people's minds but it couldn't be further from the truth.
"If Jack Charlton thought for one minute that I was climbing out a hotel window, he wouldn't have put me on the bench at all. I spoke to Jack and he said he hadn't heard anything. How stupid would that be when I had every chance of getting onto the field, showing him what I could do and possibly be part of the World Cup? I was nuts but I wasn't that nuts!"
For whatever reason, there was no place for Byrne in Charlton's final squad for the finals, and not to have represented his country at senior level remains a major disappointment.
"I was looking at the likes of Jason McAteer, no disrespect to him, Gary Kelly, who's a good friend, and Phil Babb. They were no better than me when I was in my peak playing in Celtic's first team.
"I felt that because I didn't get on Packie Bonner at Celtic, as I wasn't doing the extra training that he wanted me to do in order to be that thorough professional, there was a little bit of a conspiracy against me.
He was a good friend with Mick McCarthy and that's maybe why Mick never gave me my chance, because he gave everyone else one. I was good enough for Jack Charlton's squads, so why wasn't I good enough for one of his to show what I could do instead of listening to other people?"
Back at club level, his time at Parkhead appeared to be ending as Brady offered an exit route to Brighton. "I was still at Celtic and I went out on loan to Brighton as Chippy was there. I think I played eight games, then Celtic called me back. Who knows what would have happened if I had stayed at Brighton. My career was all ifs, buts and maybes. If I had got onto the pitch with Ireland in 1994, just before the World Cup, maybe I could have been part of that. That was another if. If I had looked after myself a little bit better who knows what I could have achieved."
Byrne then went on to spend three years at Southend United under Ronnie Whelan before winding up at Glenavon in 1998. One season later, he was back in Dublin to link up with Roddy Collins at Bohemians.
"Roddy had been a good friend of mine over the years," Byrne says. "I felt he was a good man and a good character for me. Maybe he was the type of manager that I needed. Roddy was a super motivator, and he had Liam O'Brien doing the coaching. His sessions were very good, and it was good cop, bad cop sort of thing. When Roddy said something, you sat up and listened… otherwise, he would give you a dig."
At the turn of the Millennium, an opportunity to join Philadelphia Union arrived on his doorstep through a friend. 
"There was a lad I knew from the States named Michael Lapper," he says. "He was a US international at the time and asked if I'd be interested. I played a few games out there and I loved it. I was in the shape of my life after all the training in that heat and I was eating right too."
Returning to Ireland, he signed for St Patrick's Athletic under Pat Dolan but left after a disagreement with the Saints boss.
"One day in the gym, Pat pulled me aside and says 'We're going to have to find you a job to make up your wages'. I said 'Nah, I don't do work. I'm only in my late 20s and I've still got a bit to offer so I want to train full-time'. He told me that they couldn't afford me. By then, I knew that Roddy had been coming to a few games and sniffing around."
"I picked up the phone and said 'Roddy are you ready to take me?' He said he'd have me tomorrow so I told Pat 'I'll shake your hand now and thanks very much for what you did for me'."
And his second spell at Bohs brought silverware, as they won a first league title in 23 years as well as the FAI Cup — although Byrne was cup-tied for the latter. 
He jokes: "I had more clubs than Jack Nicklaus, but what a team we had at Bohs the second time. We had a fantastic team. If someone was beating us 1-0, we'd go and win 4-2."
Byrne would also play for Kilkenny City and Dundalk, and although his legs may have gone, the past 15 years has seen him line out for a variety of Leinster Senior League clubs.
The likelihood is that many reading this piece will have witnessed his stocky figure sit in midfield and ping balls around the pitch for the likes of St James' Gate or Park Villa. Having got into the coaching and management side of things more recently, he's currently involved with Oliver Bond and Dublin Celtic. Then there's the media work he enjoys doing weekly on Sunshine 1068FM with ex-world snooker champion Ken Doherty.
"You just don't want to stop playing," he says. "You drop down the ranks but you've still got something to offer in your own head. It's in your blood so the last thing you want to do is give it up. When LSL teams come along, I tend to say 'Why not?'."
Paul's son, Kurtis, has carved out his own career in the game. Having joined Norwich City as a schoolboy, he went on to play for Hibernian, Ross County, Dundalk, Bohemians, St Patrick's Athletic and Linfield. The 28-year-old is currently with The New Saints in Wales, having arrived last June.  
"He's back on the goal trail as he got one Wednesday and another last Saturday," Byrne senior says. "He started over there with a couple of injuries and was a little bit behind from the deal going through at Linfield.
"Now he seems to have found his feet and he is in good nick. He has his own family, his own home and he's back in Dublin this week so I'll have a chance to see my grandson."
The demons may never completely go away and he will always have to live with the regret of not working hard enough to get the most out of football, but Byrne says he has been trying to improve as a person in recent years for the sake of his children and grandchildren.
There were better players than me that have been there, done it and wore the t-shirt in terms of making the same mistakes I did," he ends. 
"It's how you cope with that. This is where the mental side of it comes into it. Depression kicks in when players finish and if you're not a strong character… a friend of mine took his own life and I know a few ex-footballers who have tried to end it because they couldn't cope with life after football.
"It wasn't easy finishing and you turn to drink and whatever else in your social circle. I took it out on the wrong people, it was just self-destruction but it was the people around me I was hurting too.
"That was the biggest disappointment for me. You can still hurt the people who you love today because every now and again it will go through your mind what could have been. You look at all these ex-players who have gone on to do well and they were probably no better than I was."