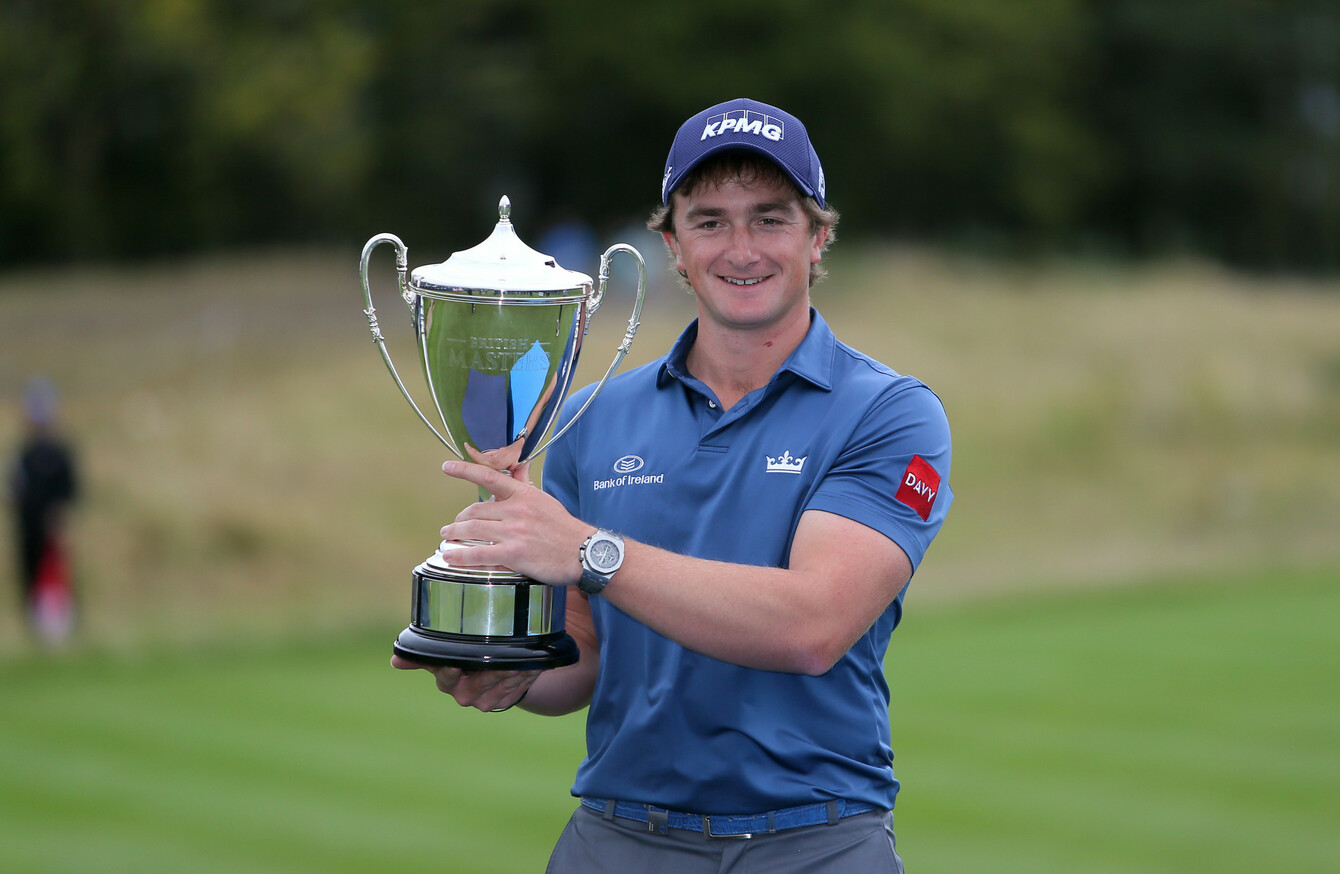 2017 British Masters champion: Paul Dunne.
Image: Richard Sellers
2017 British Masters champion: Paul Dunne.
Image: Richard Sellers
YESTERDAY WAS ONE to remember for Paul Dunne.
The 24-year-old Greystones native won the 2017 British Masters, and did so in style. He fired seven birdies and an eagle in a closing 61 to finish on 20 under par.
A chip on the 18th rounded an impressive victory, and a memorable day for Irish golfing circles.
"Once you do it, no one can take it away from you, so it means everything," Dunne said afterwards at Close House yesterday. And he echoed his words on Second Captains today.
"It was brilliant," he told the podcast.

"I had been up there quite a bit this year but I hadn't managed to get the job done. It was one of those things, I just told myself when I woke up, to go out and try and win rather than hope other people would hand it to you, to take the bull by the horns.
"I got off to a quick start, which was what I great and what I needed in a bunched leader board like that. I had a great mindset for the day, to keep pushing on and making birdies.
He continued: "You couldn't script it. I had the breaks go my way as well, which you need to get over the line.
The best of Paul Dunne's winning round of 61 📹#BritishMasters pic.twitter.com/CJH9c45fvb

— The European Tour (@EuropeanTour) October 1, 2017
"Once I got in front, I never let anyone really get close enough to threaten me too much — apart from Rory (McIlroy) near the end. It was just a great day, everything was on. I putted well, I hit the ball nicely. I was chuffed."
Dunne finished three shots clear of McIlroy, but complimented the 28-year -old's charge.
He said that he had been checking the leaderboard the whole way around, and had his eye predominantly on one name.
"In my head I was so sure that he (McIlroy) was going to make a run at me, it helped me have a clear mindset — that I needed to make a couple of birdies myself.
"If it was someone else, maybe I would have thought par will be fine for the rest and I'll cruise in. Because it was Rory, it helped refocus me and made me birdie my way in rather than playing too conservatively.
"I'll never forget it. Holding off the likes of Rory McIlroy for my first win is pretty memorable."
When asked about the journey from the British Open in 2015 to now and it's ups and downs, he responded: "Put it this way, I wouldn't change it for anything.
What a day! Thanks for all the support & messages. Thanks to all my sponsors. Very happy to be 2017 #BRITISHMASTERS champion @EuropeanTour pic.twitter.com/r9tTDy1sO1

— Paul Dunne (@dunners11) October 1, 2017
"Last year was more of a battle to keep my card more than anything else. During that time, I learned a lot about myself and my game, especially mentally. About how to get in the right mindset to play well on the weekend, when it came down to payday.
"Everything has been a bit of a learning curve, my game has gradually developed and mentally, I've gotten a lot stronger. I've gradually built up and I wouldn't change it for anything. Hopefully I can continue like that and get a few more wins before the next few years are out.
Last night, he celebrated with Shane Lowry and Padraig Harrington, among other Irish golfing names, and he spoke about how close the Irish golfing set-up is.
"Everyone wants to win themselves but if you can't win, it's nice to see another Irishman do it," he continued. "I was really grateful to have the other Irish contingent to celebrate with me."
And looking to the future — the aim must be to get into the top 100, and try and stay there?
Thanks to @WestwoodLee for a brilliant event. Massive congrats to my good friend @dunners11 . Amazing performance 💪🇮🇪 https://t.co/UQX8NHGBqx

— Shane Lowry (@ShaneLowryGolf) October 2, 2017
"This tournament will open up doors for me, I don't know exactly what doors to be honest because I was too busy having a few pints to look into the details of it!
"I know it gets me to China in a few weeks so that will be my first World Gold Championships which is really exciting for me. I think it also gets me to maybe Firestone next year. There may be other opportunities there for me, but it gets me in the big events I want to be playing in.
"Every step forward is a step in the right direction so I'm just going to keep going about my business and try and move forward."
Subscribe to The42 podcasts here: