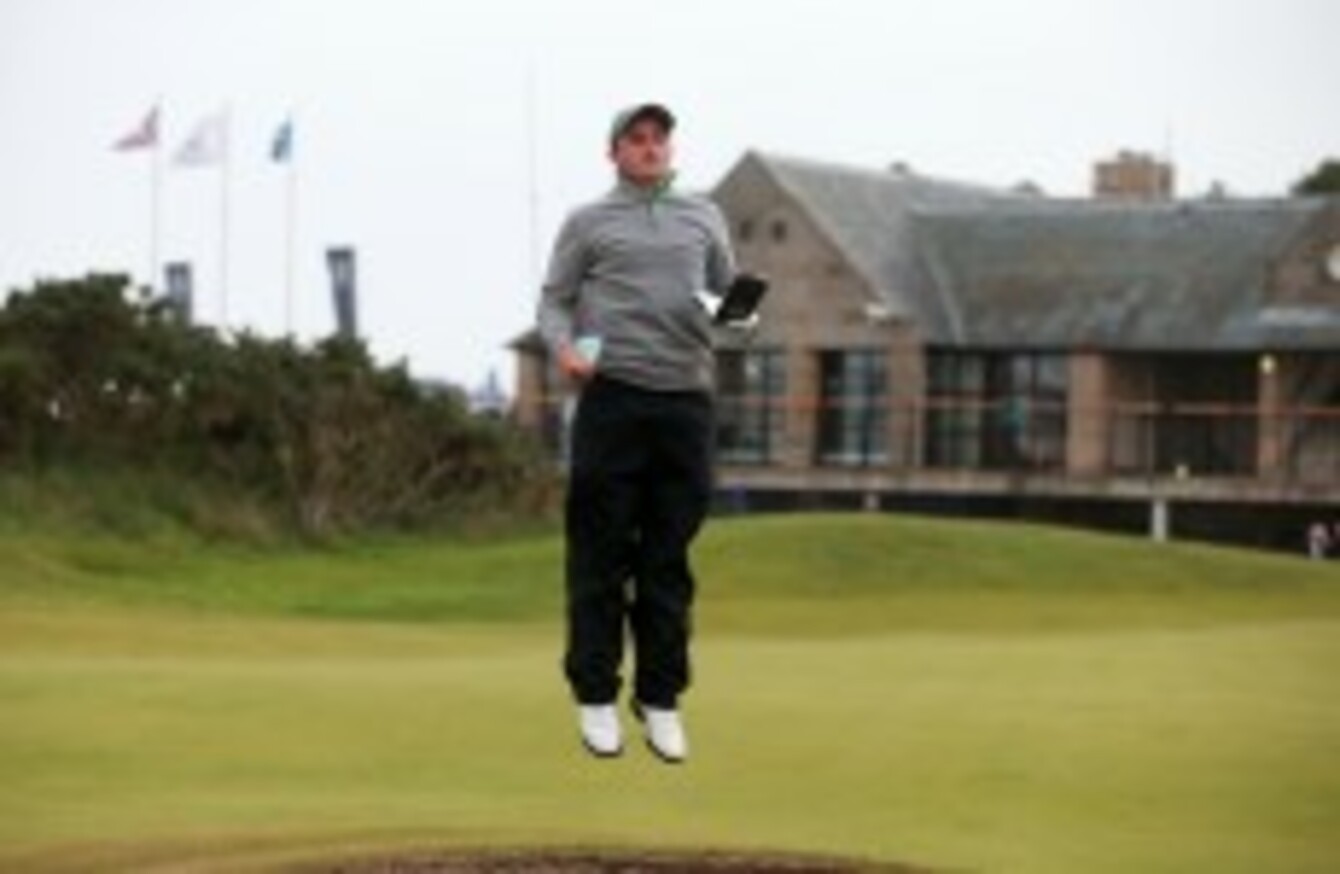 Dunne found the going tough on Monday but it was a huge learning experience.
Image: David Davies
Dunne found the going tough on Monday but it was a huge learning experience.
Image: David Davies
PAUL DUNNE'S PERFORMANCE at the Open has seen the 22-year-old soar up the world rankings but it appears his intention is to remain amateur for the time being.
Despite slipping down the field during Monday's final round at St Andrews, Dunne enjoyed an unforgettable week as he made a name for himself on the biggest stage.
In the end, he finished in a tie for 30th on six-under par and his exploits over the extended weekend on the Old Course sees the Greystones amateur climb 719 places to 896th in the latest world rankings.
After beginning the day on top of the leaderboard, Dunne was unable to maintain the consistency which saw him card a flawless 66 in the third round.
His hopes of becoming the first amateur since Bobby Jones in 1930 to win the Open slowly disappeared in the unrelenting rain and his father, Colum, admitted nerves probably got the better of him.
"It would be very difficult for some of the pressure not to get to you," he told Brendan O'Connor on RTÉ Radio 1 this morning. "To be the last person that Ivor Robson ever calls out at a British Open.
"The first two holes he looked very nervous, he recovered then. Golf is a funny game. Sometimes you have a good day, sometimes you have a bad day. He stuck in there and deserves credit for that.
"When guys have a last round when things don't quite go to plan it takes them a little while to get over that. He has good support here, he has friends who have been here all week and his brother and sister and his mum here. That helps."
Dunne will now turn his attention to earning selection for the Great Britain and Irish team for the Walker Cup which takes place in September. The University of Alabama graduate will head down to Royal Lytham and St Anne's in Lancashire for team practise this week.
Speaking to The42 before the Open, Dunne revealed the intention was always to try and play in the prestigious amateur event and then turn professional in September. It doesn't appear that his remarkable rise has changed the plan.
Dunne rubbed shoulders, and competed, with the biggest names in the game at St Andrews and such was his impact, several of the them took the time to offer their words of advice and inspiration.
"Spieth had a word with him twice when he came in and that was a very, very nice thing to do. The amount of goodwill from the other golfers was absolutely incredible," his father continued.
"In fairness to Jordan Spieth, and we all know how big a player and ambassador he is for the game, he sought him out. Rickie Fowler went up to him afterwards… there was a huge amount of goodwill.
"When you're playing sport at a high level, to get the respect of your peers is a huge thing. That's a huge thing for him.
"Those guys have been fantastic and that is a takeaway for him."