ROBBIE MCDAID NEVER thought he would be lining up alongside his first cousin Paul Durcan in an All-Ireland final.
He considered them both featuring in a Croke Park showpiece alright but in opposition camps.
Durcan is an established Donegal senior with Allstars to his name and the experience of lifting Sam behind him.
McDaid is an emerging player for Dublin, an All-Ireland minor finalists in 2011, an All-Ireland U21 winner in 2014 and a defender who was on the fringes of Jim Gavin's squad last summer.
But a potential inter-county collision has instead been replaced by the scenario of being club comrades.
Cathal Noonan / INPHO Ballyboden's Paul Durcan Cathal Noonan / INPHO / INPHO
Durcan joined Ballyboden St-Enda's last April from his native Four Masters. He had been living and work in Dublin for some time.
"I just think there wasn't any other club that he would have considered," says McDaid.
Growing up I would have gone to all the Donegal games and he would always be in touch, finding out how I did with the club and obviously we had minor successes in the club as well.
I think he showed that interest in my football in Dublin and I think he just saw what a club Ballyboden was. I don't think there was any other option for him really.
To be honest he didn't take much persuading. Obviously I said we'd love you up with the club but it didn't take much to get him here.
"We're first cousins. My dad and his mum are brother and sister."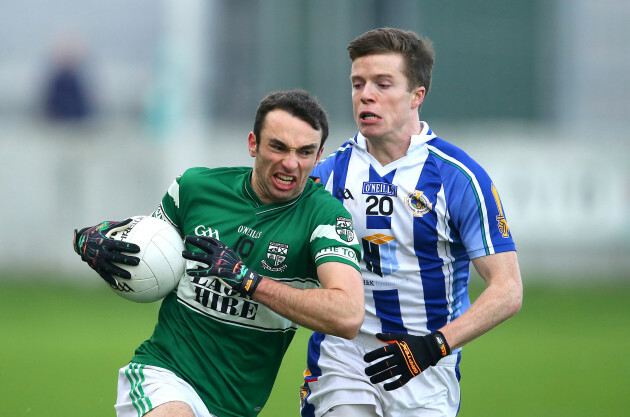 Cathal Noonan / INPHO Robbie McDaid (right) in action for Ballyboden in the Leinster club final against Portlaoise Cathal Noonan / INPHO / INPHO
Durcan's arrival has coincided with Ballyboden's greatest club football campaign which culminates on Thursday when they face Castlebar Mitchels in the AIB All-Ireland senior decider.
"To be honest I thought I'd be playing against him," remarks McDaid.
"But yeah it's a great occasion for the family and all of his sisters and my cousins are coming to the games following our progression in championship. It's always special when you have that kind of family ties in the club.
"I'm looking forward to lining out in Croke Park with him."
Durcan's preparation from the game is unique. He moved to Doha, the capital of Qatar, in late August last year.
But the 2012 and 2014 Allstar award winner has commuted home for every club hurdle that Ballyboden have had to surmount throughout the winter.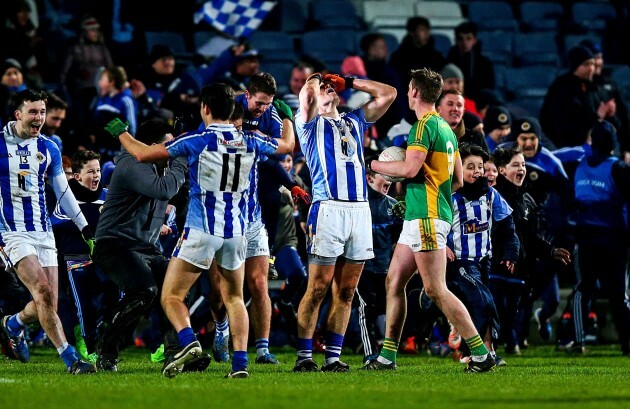 Donall Farmer / INPHO Ballyboden players celebrate their semi-final win over Clonmel Commercials Donall Farmer / INPHO / INPHO
"It makes it a lot easier when you're winning games," outlines McDaid.
"I think the thing he finds the hardest is the weather, getting used to it because of course he's enjoying the sun and heat over there.
"When you come back here, it's Baltic. But when he comes back here, the cousins are here so he gets to see family and friends. It makes it a lot easier."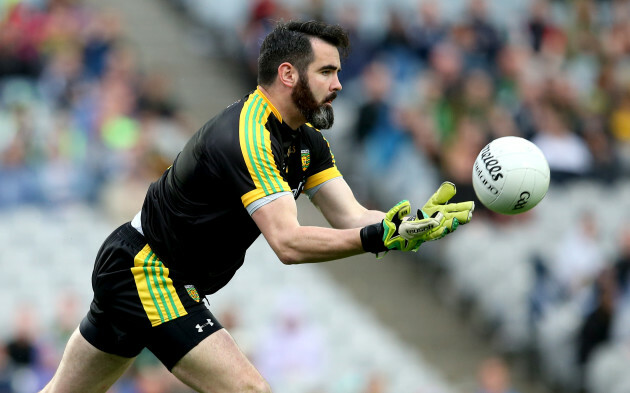 James Crombie / INPHO Donegal goalkeeper Paul Durcan James Crombie / INPHO / INPHO
The addition of Durcan has strengthened Ballyboden's cause as they now possess one of the best kickout exponents in Gaelic football. McDaid and his teammates are benefiting.
"Kickouts the way the game has gone, they're so important. It just changes the way we play.
"We know that if we make the runs, the ball is going to be put out in front of us and knowing that it makes it easier to make those runs even when the legs are heavy or anything like that.
"His range of kicking as well is just phenomenal, he can hit the shorter or the very long ones as well. It makes us hard to play against as well for any opposition."
The42 is on Snapchat! Tap the button below on your phone to add!