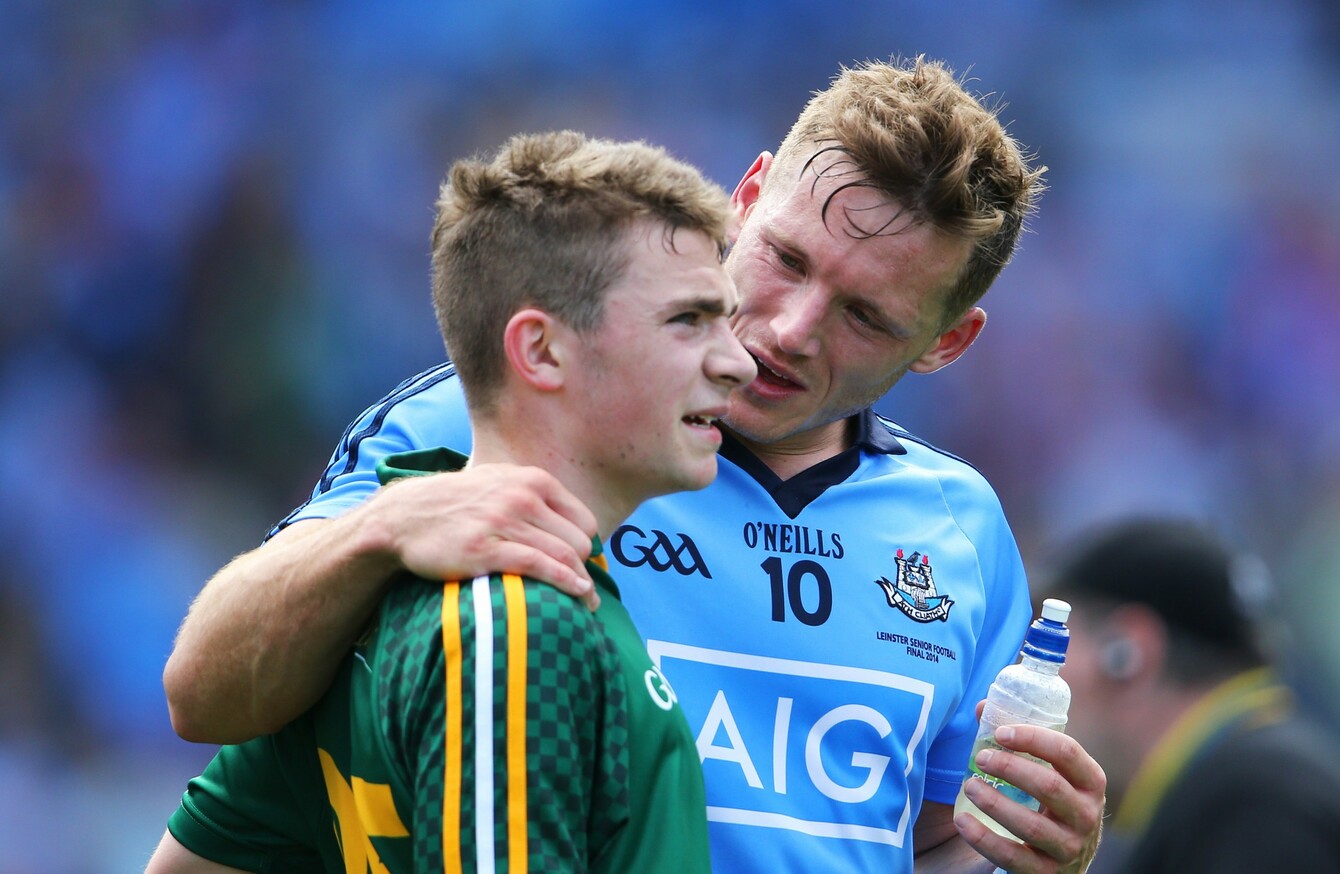 Dublin's Paul Flynn and Meath's Joseph Wallace after the 2014 Leinster final.
Image: Cathal Noonan/INPHO
Dublin's Paul Flynn and Meath's Joseph Wallace after the 2014 Leinster final.
Image: Cathal Noonan/INPHO
PAUL FLYNN HOPES to assist Dublin's relentless march through Leinster football on Sunday afternoon and he won't lack insight into the opponents standing in their way.
Flynn has frequently come up against Meath on the pitch and he worked for a spell as well in the Royal county, teaching in Ratoath where he encountered one of the current Meath senior players.
"I remember teaching out in Ratoath College a couple of years back, in a past career, and half the school were Dubs and half the school were from Meath.
"That (did) lend itself to a good tension builder. I definitely taught young Joey Wallace. Eamon (Wallace) was gone the year before.
"There's always a good, healthy banter between the fans. The Dublin fans are great. They'll be proud too. They always want to keep things on top."
Dublin may be dominating the recent clashes between the counties but Flynn remembers clearly an era where the power lay elsewhere.
"If you think about the current (Dublin) team, some of them were born in the 90's but I grew up anyway watching Meath beat Dublin a lot if the time.
"It kind of ebbs and flows, it's one of those kind of really great rivalries. I think the last three times we played them we've come out on top but at the same time you treat each one as a different case."
"Especially this young team, a lot of them wouldn't have been involved in those games so they'll come in with an air of freedom and they'll be really going at it. It's still a Dublin-Meath rivalry."
The 2010 clash is an obvious reminder for Flynn of Meath's capabilities, when Dublin were submerged by a wave of Meath goals.
"Sometimes you do need a wake up call like that to say we need a drastic change, not just incremental change," recalls Flynn.
"That was an eye-opener. Certainly an eye-opener. I'll never forget the atmosphere that day. It was probabaly four-to-one Dublin fans to Meath fans but it felt the opposite way around.
"I remember that day. Three points down, I took a shot. It was going in top corner, and it hit the post and went out. They went down and got a goal.
"I remember they were all screamers. Joe Sheridan got one. Cian Ward (as well). It's funny. That was such a turning point in this team, the way we set up.
"(We) went more defensive then. Got to the semi-final of the All-Ireland that year, should have beat Cork, (they) played Down in the final."
The42 is on Snapchat! Tap the button below on your phone to add!