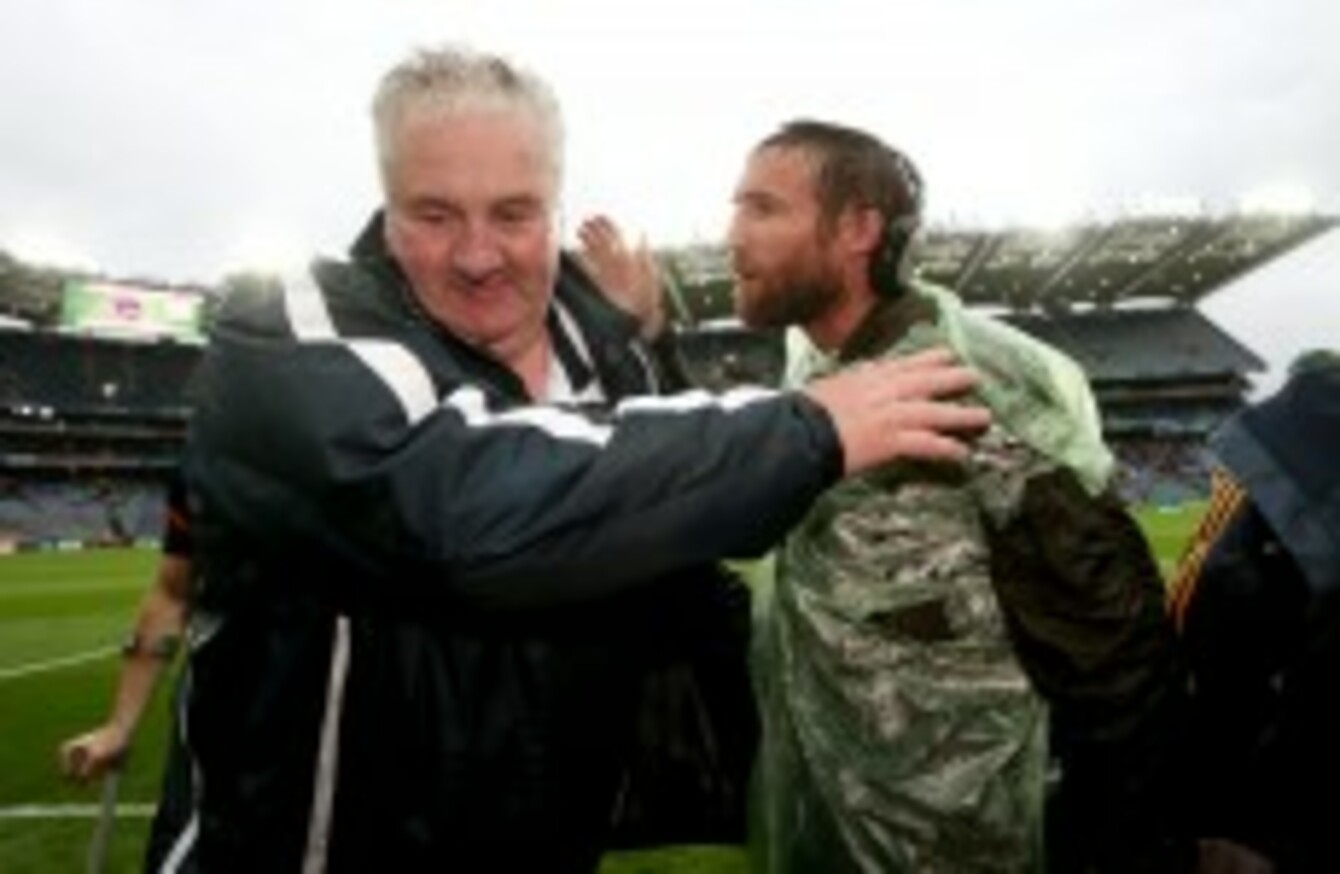 Paul Grimley refusing to talk to the media.
Image: Ryan Byrne/INPHO
Paul Grimley refusing to talk to the media.
Image: Ryan Byrne/INPHO
PAUL GRIMLEY SAYS that the Irish media would not treat professional sportsmen in the same way as Armagh were treated this year.
The now ex-Armagh boss has finally explained exactly why he instilled a media ban upon the senior county panel this year.
Grimley feels that his team were undermined, while the media tried to create a rift between him and his management team, and in particular with Kieran McGeeney. He believes that this media campaign began even before the pre-match brawl with Cavan in their Ulster championship last June.
"It started off fairly harmlessly," Grimley told RTE Radio 1′s Saturday Sport this evening. "It started off when the Ulster championship was launched.
"We sent Peter McDonnell, he was there for two-and-a-half hours and no-one thought it was worth their while interviewing him.
"So he was rightly upset about it and he came back and said; 'look if no-one cares about what we have to say then we won't be saying anything to anybody'."
However, it was an incident which occurred during the pre-match parade of that Ulster championship match which really brought Armagh's media ban to life.
"I said we'll suspend this (media ban) after the Cavan game, and that's what we did but then it took another turn.
"I wasn't happy with the way the Cavan game was reported. I felt our team lined out in an orderly fashion and did nothing wrong. In fact, they defended themselves.
"Some of the reports afterwards were saying children had to run for cover and that we targeted players on the Cavan team, and that people were verbally abused and this sort of thing. It got very out of hand.
"We were in the parade a good 50 seconds before Cavan took their place and there are all sorts of arguments, but it wouldn't have been hard to swap the flags over. It is an unwritten code that the home team march on the inside.
"Then we came out of that with three suspensions and Cavan came out with two?"
Central to Grimley's issue with the media's "cheeky" reporting was a so-called plot to cause a rift between Grimley and other members of his management team.
"The media took on a different side to it and I though it was a nastier side, camouflaging insults, and the reason was because we weren't playing their game.
"They were calling us childish, ignorant, they called our county board spineless. They were also trying, in the way they reported things, to cause a wee bit of a problem within the camp between me and Kieran [McGeeney] or vice versa" he said.
Be part
of the team
Access exclusive podcasts, interviews and analysis with a monthly or annual membership.
Become a Member
"They were very shrewd in what they did, it's not a case of me being over sensitive. I have to ask the question; 'is this the kind of thing they would do to professionals,' and the answer would be no.
"They know that they couldn't afford to do that to professionals. They know they couldn't sit in front of Martin O'Neill and Roy Keane and do that if Roy Keane took a notion not to talk to them."
When questioned over whether a professional team would get into a "huge row behind a flag," Grimley responded:
"The point I'm trying to make is that we're moving on from that, and the media started to create a story about how we weren't speaking, not the reasons behind it, and it became more about them.
"I was [taken aback by the whole incident]. I didn't obviously intend for it. But I think some sections of the media were saying we don't give a damn what Armagh think but clearly they did as they kept writing about us."
One particular pundit who has never hidden his views on the 2014 Armagh manager is Joe Brolly, last year describing him as "out of his depth".
"It was a personal attack, a certain amount of it was true but you know yourself with Joe — hopefully I made him eat his words.
"It is disappointing that Joe has to go down that road, but that's good television. It was tough on my family; my son and wife weren't too happy about it, and I had to rush home so my mother didn't see it on the TV."
After announcing that he will not be continuing as Armagh manager for the 2015 season, a more reflective Grimley admitted that his stubbornness was an issue during the entire saga.
"We are amateurs and really there is no particular professional training in the media for us. The county board just asked (if he would talk to the press after the defeat to Meath), and we didn't want to be difficult with Croke Park.
"Yes it was a relief, because it got out of hand. It probably was a lot of stubbornness on my part but there was a lot that I didn't like.
"They were a bit cheeky at times and I thought, we'll teach them a bit of manners here."