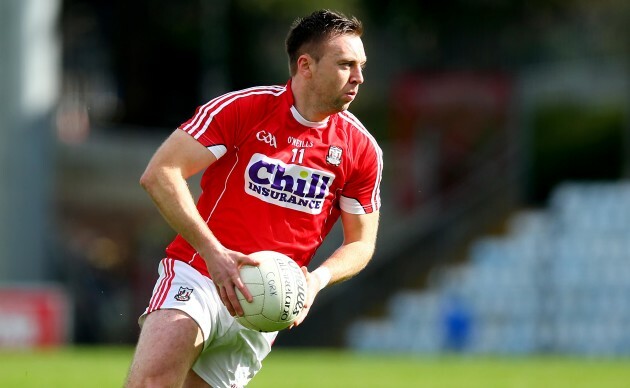 Donall Farmer / INPHO Donall Farmer / INPHO / INPHO
THE CORK FOOTBALLERS bus will be pointed in the direction of Galway today but their captain will be delayed behind them.
The senior side dip their toes into 2017 league waters for the first time with a trip to Salthill.
But before taking on Galway tomorrow as a forward and the leader of the team, Paul Kerrigan must focus his attention towards Mallow this afternoon.
Coláiste Chríost Rí have a Munster senior A colleges football (Corn Uí Mhuirí) semi-final against Tralee CBS and Kerrigan is central to their coaching ticket.
"At the start of the year, I would have written down Corn Uí Mhuirí dates and then the league dates when they came out," stated Kerrigan.
"But it just didn't cross my mind that they'd be crossing. It was only until after the last game that it hit me.
"Look it's busy enough weekend but I won't be too far behind the lads and it's on the road to Galway as well."
He'll have Cork defender Stephen Cronin for company on the road to the west after the final whistle, the UCC student and Chríost Rí past pupil having been roped in to help with defensive operations.
As Cork captain, there is plenty to contend with. Kerrigan would be forgiven for keeping his Chríost Rí role to his day job as a teacher but the coaching role was something he didn't need to be nudged towards.
"I didn't even think about it really when I went in doing my Dip.
"Aidan Moynihan would have been the head guy involved with the seniors and he was doing an awful lot of work, which wasn't fair either.
"So myself and a couple others took a team and put a bit of effort into it. No one asked us, we just volunteered."
This is his fifth year involved with a school side and the first time he has taken the seniors. He has Brian Coughlan, a recent U21 and junior footballer with Cork, alongside him on the sideline.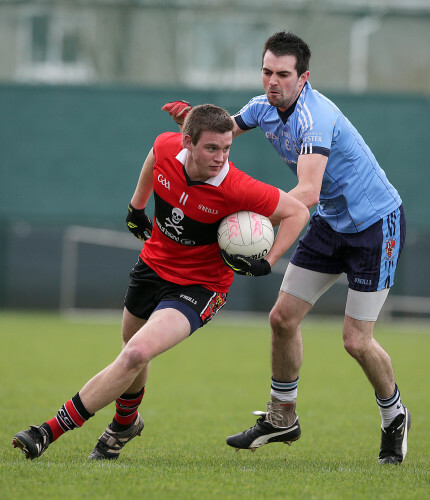 Brian Coughlan in action for UCC in the Sigerson Cup
There is an obvious attachment to Chríost Rí for Kerrigan. During his own playing days, he attained Munster glory in 2004 as he managed a feat that had previously eluded his father Jimmy, a Cork All-Ireland senior winner.
"I've great memories of that. I still have the framed photos at home from it and I'd still be very friendly with a lot of the fellas I've played with.
"Like we would have said to the lads when we took over, when you come to Chríost Rí, you don't think of Frewen or counties, you think of Corn Uí Mhuirí straight away. I think they understand that."
He doesn't lack passion for this stage of Gaelic football. Marc Ó Sé will be part of the opposing Tralee CBS brains trust. Kerrigan understands the desire to be involved.
"I love it. It's handy when you're still playing. You're getting ideas and you're getting drills.
"You're thinking of how to play a certain way and against a certain team. The big thing we would be seeing an improvement is in fellas, things like kick-passing.
"It's important to keep that going. Getting the head up and giving a kick pass straight away is something we'd be doing, right from the goalkeeper up. We'd be focusing on that and fast, open football. The coaching is very enjoyable.
"There's lot of passion involved in it, fierce hunger and a lot of good people involved."
It's a landmark moment in the fledgling careers of some of the Chríost Rí players, the core of which stemmed from a successful Frewen Cup team last year.
Away from the coaching, Kerrigan has his own playing responsibilities to cater for.
The new season dawns for Cork after a trying and frustrating 2016. Giving themselves the best possible chance was the starting point in their preparations for the 2017 campaign.
"A lot of my focus and the squad's focus has been prehab and injury prevention. I would have rested and come back in December. I just had a minor Achilles problem, did the rehab for that and came back.
"I reacted very well to it. We were decimated last year, when you look at the numbers we'd injured in January or February.
"Then take the week of the Tipp game, four lads got injured – who were starting – on the Tuesday. We're just monitoring our load. We've been looking at injury prevention since October.
"I think fellas have bought into it and hopefully it will stand to us."
It's a different squad he's preparing with now. Three players he soldiered with in underage days – Daniel Goulding, Fintan Goold and Patrick Kelly – all called a halt to their inter-county careers over the winter.
INPHO Goulding, Goold and Kelly all retired this winter. INPHO
"You're losing three very good friends, you'd think about it more outside of training.
"They'd be the fellas you'd chat to if you're looking for advice. I've played with them since I was 14 or 15 so it is a big change.
"But I think the group has gelled really well the way we trained in the winter. The lads have left, so it's up to whoever wants it to step up."
Division 2 will not be an alien experience to him. Cork may have plummeted down after suffering league relegation last season but the early days of Kerrigan's career were in the second tier.
"I would have played a bit in 2009 and we reached the All-Ireland final. Last year two of the provincial champions – Tyrone and Galway – came from Division 2. It's not the be all and end all.
"Yes it's great in Division 1 but if we can find out about our style of play, a couple of tweaks in our game plan and keep everyone fit up until championship, that's of huge benefit.
"It'll give fellas confidence in their games. We have to start performing straight away with the first two games away to Galway and Kildare. We're happy enough with where the squad is. You're going to two tough places and it'll test us."
The42 is on Instagram! Tap the button below on your phone to follow us!