FORMER TOUR DE FRANCE cyclist and award-winning author Paul Kimmage has launched a stinging attack on the London 2012 efforts of Irish cyclists Nicolas Roche and Daniel Martin.
Speaking on Newstalk's Off The Ball show on Tuesday, Kimmage said the performance of Roche and Martin was the worst he had ever seen from Irish cyclists at the Olympics.
Roche and Martin, cousins that competed for rival teams in the Tour de France, finished 89th and 90th respectively in Saturday's road race, which was won by Alexandre Vinokourov of Kazakhstan.
Daniel Martin, the third member of Team Ireland, crossed the line in 55th and escaped criticism from Kimmage during the radio interview.
Huge effort from Team GB
Kimmage was less critical of the British team, including Bradley Wiggins, Ian Stannard, David Millar and Christopher Froome, who failed to control the race pace sufficiently to set teammate Mark Cavendish up for a sprint finish and possible gold.
He said, "I take issue with you on the point that they were the chief losers. certainly, in terms of the expectations, they were the biggest losers but in terms of what they actually delivered, I would suggest that they were actually the biggest winners." Kimmage added:
You really have to understand the sport to appreciate how close they came to pulling it off on Saturday. They had four guys to control a race of 250 kilometres and were pitted against 140 guys trying to stop them.
"Basically, they came up short by about 25k from bringing it all back together again but the effort they put in, the selflessness of Wiggins, Millar, Stannard and Froome in rying to bring the race together for Cavendish in trying to set up the sprint for him was absolutely remarkable."
He added, "Where I a team manager I would have nothing but praise for them. That praise is not something I would extend to a lot of other teams, particularly the Australians, who were really, really poor."
Damning assessment
Kimmage also noted the indifferent efforts of the German and Belgian teams, who did not assist Team GB in the pursuit of breakaway riders, but reserved some of his most withering words for Team Ireland.
He said, "It was an absolutely dreadful performance."
Kimmage continued, "I'm trying to be as polite as possible. There are a lot of Irish riders, very average Irish riders, who have represented us at the Olympics over the years. What they did give however was 100% commitment to the jersey." He declared:
That is not something I could extend to Nicolas Roche or Daniel Martin on Saturday. I thought that was one of the poorest performances I've ever seen.
"If I was (chief executive of the Irish Sports Council) John Treacy now, looking at the funding that we've put into these guys for the last number of years, I would be seriously questioning their commitment to the cause."
Kimmage commented that he had read Roche's column about the race, published on Sunday.
The author said, "(Nicolas) said in it that he decided he best bet would be to stay with Cavendish. In a million years he is not going to beat Cavendish in a sprint. His only chance was to go with the moves on the last climb.
"It was what I expected them to do but I saw nothing from them."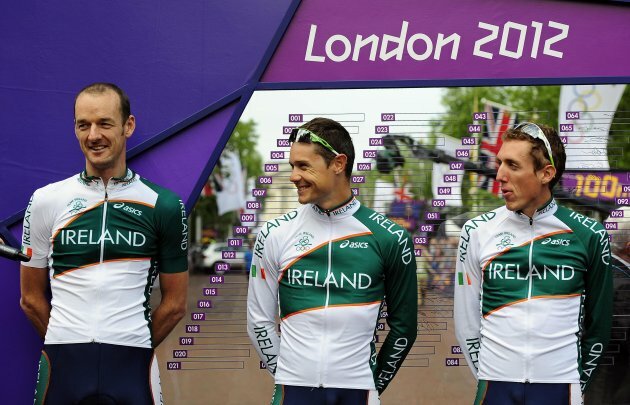 The Irish road race team of David McCann, Nicolas Roche and Daniel Martin. (John Giles/PA Wire)
Kimmage criticised the preparation of Team Ireland, in the six-day turnaround after the Tour de France, when compared to the Great Britain team, who travelled to Surrey to keep up their conditioning.
Exclusive Six
Nations Analysis
Get Murray Kinsella's exclusive analysis of Ireland's Six Nations campaign this spring
Become a Member
He criticised reports that Roche fly into London last Monday and found himself waiting around to catch a bus out towards the Olympic Village. Kimmage said:
This is a guy who is earns about €200,000 a year. If he is not capable of getting himself from Heathrow into the Olympic Village in some sort of comfort, or car, I've got to question the preparation there.
"As a bike rider and as an Irishman I was really disappointed by that."
Kimmage complimented the other member of Team Ireland's cycling team on Saturday, David McCann.
"I didn't agree with his selection for the road race but he acquitted himself quite well.
"He hung in there, he finished. It was as much as you were going to ask of him. I don't hold him as responsible as the other two in terms of the performance."
McCann is in action on Wednesday afternoon's time trial.
Kimmage, ever the pragmatist, says McCann has 'no chance' against the likes of Wiggins, Christopher Froome, Tony Martin and Fabian Cancellara.