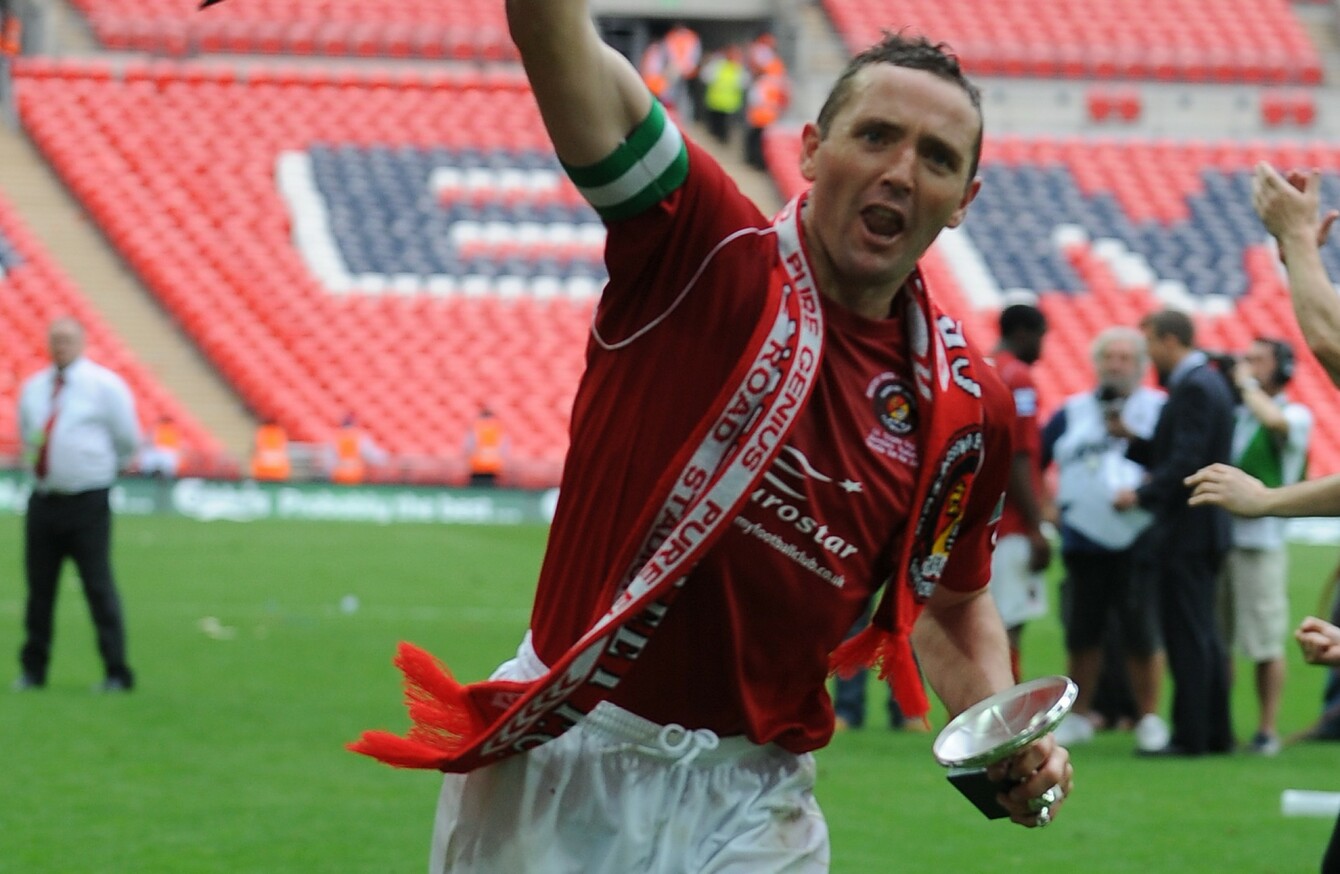 Image: Tony Marshall
Image: Tony Marshall
THERE HAVE BEEN many heartfelt tributes paid to Paul McCarthy in recent days. Perhaps the most fitting was from Ian Atkins, his former manager at Oxford United.
"He was a diamond", he said.
"To be fair, I had about 15 diamonds there at Oxford. Great lads who were a pleasure to work with and all stuck closely together. But he was one of the ones who shone the brightest.
He was a natural leader and had a great football brain. Sometimes I'd just look his way on the pitch and he would know what I was thinking and get the message across to the other players for me".
McCarthy only spent one season at the club – a strange situation for him considering his 23-year career in England's lower leagues can essentially be broken into unfashionably long-term stints with just three teams: Brighton, Wycombe and Ebbsfleet.
Yet, even during a brief stay at Oxford, he left an imprint. They all queued up to offer up some glowing praise.
""As a man he was incredible", said former team-mate Steve Basham.
"Paul was hard as nails on the pitch and one of the loveliest blokes off it – he was much loved in the changing room", according to Scott McNiven.
There was a low-key consistency to McCarthy, the powerful centre-back. In an environment where dressing-rooms changed drastically every season, he always remained. The old-fashioned habits of determination and doggedness led to him being adored by those along the touchline, in the boardroom and on the terraces.
McCarthy is forever associated with Roy Keane and that fabled underage Rockmount side of the mid-1980s. Alongside Len Downey, Alan O'Sullivan and Damien Martin, the team won the U14 Kennedy Cup in 1984 and the quintet all Irish internationals the following year.
Famously, Keane struggled to catch the attention of scouts who were wary of his size and temperament. Instead, O'Sullivan and McCarthy got moves across the water – to Luton and Brighton respectively. In July 1989, while Keane was signing with Cobh Ramblers, McCarthy was turning professional in England.
McCarthy was just six days older than Keane but played the supportive older sibling role to perfection. In another show of his character, he wanted Keane with him at Brighton. His father told the club about the diminutive, snarling midfielder who ran things in the middle of the park for Rockmount – 'The Boiler Man' as his nickname was – the guy who got things going and kept them ticking over.
Brighton's Irish scout looked into Keane and didn't fancy him. But they loved McCarthy. In his seven seasons, he made over 200 appearances and finished his time there as captain. It was during his time at Brighton that he went to Portugal for the 1991 World Youth Cup with the Republic of Ireland and scored in the group-stage clash with Korea. He'd go on to make several more appearances for the U21 side in the early 1990s.
He left Brighton in the summer of 1996, just as Keane was toasting his second Premier League and FA Cup double at Manchester United. Football can be fickle at times.
Wycombe swooped in and signed McCarthy for £100,000 and he enjoyed a memorable seven years there. In 2001, there was a spell-binding FA Cup run where McCarthy, inexplicably, was the side's lucky goal-grabbing charm – just as he had been all the years before in Rockmount.
He scored in a 2-1 win over Millwall. His late equaliser earned a replay with Grimsby. He scored again in the replay. Against Wimbledon, the tie went to a second game and McCarthy (after conceding a penalty earlier), conjured a last-minute extra-time leveller that secured a shootout. Wycombe subsequently won on penalties and faced Leicester in the quarter-finals.
Source: Wycombe Wanderers/YouTube
And at Filbert Street, McCarthy scored yet again while Roy Assandoah produced a last-gasp winner to send Wycombe to the final four.
In April, McCarthy headed to Villa Park and faced into the biggest game of his career. And for 78 minutes, he and his team-mates stood firm. But substitute Emile Heskey headed home Steven Gerrard's cross while Robbie Fowler curled a free-kick to the top corner. Keith Ryan pulled a goal back but it wasn't to be and McCarthy would have to wait for his big day out.
That day eventually came at non-league Ebbsfleet, whom he joined in 2004. It had been a long slog but four years later, just a few months shy of his 37th birthday, McCarthy led his team out at Wembley Stadium to face Torquay. And that day, in May 2008, he was crowned an FA Trophy winner – twenty years after first crossing the Irish Sea and signing on as a trainee with Brighton.
When the legs finally started creaking, McCarthy combined playing duties with the role of assistant-manager alongside Liam Daish and continued with Ebbsfleet until 2012. And then retirement, right? Not quite.
At 42, he joined Southern Counties outfit Crowborough AFC. He just couldn't stop. Until the heart, ironically, gave out on Sunday.
McCarthy will forever be entangled with the intrigue that surrounds Roy Keane's story, almost to the point of disservice. He had his own long, distinguished, successful career. It's important such dedicated service gets the respect it deserves.