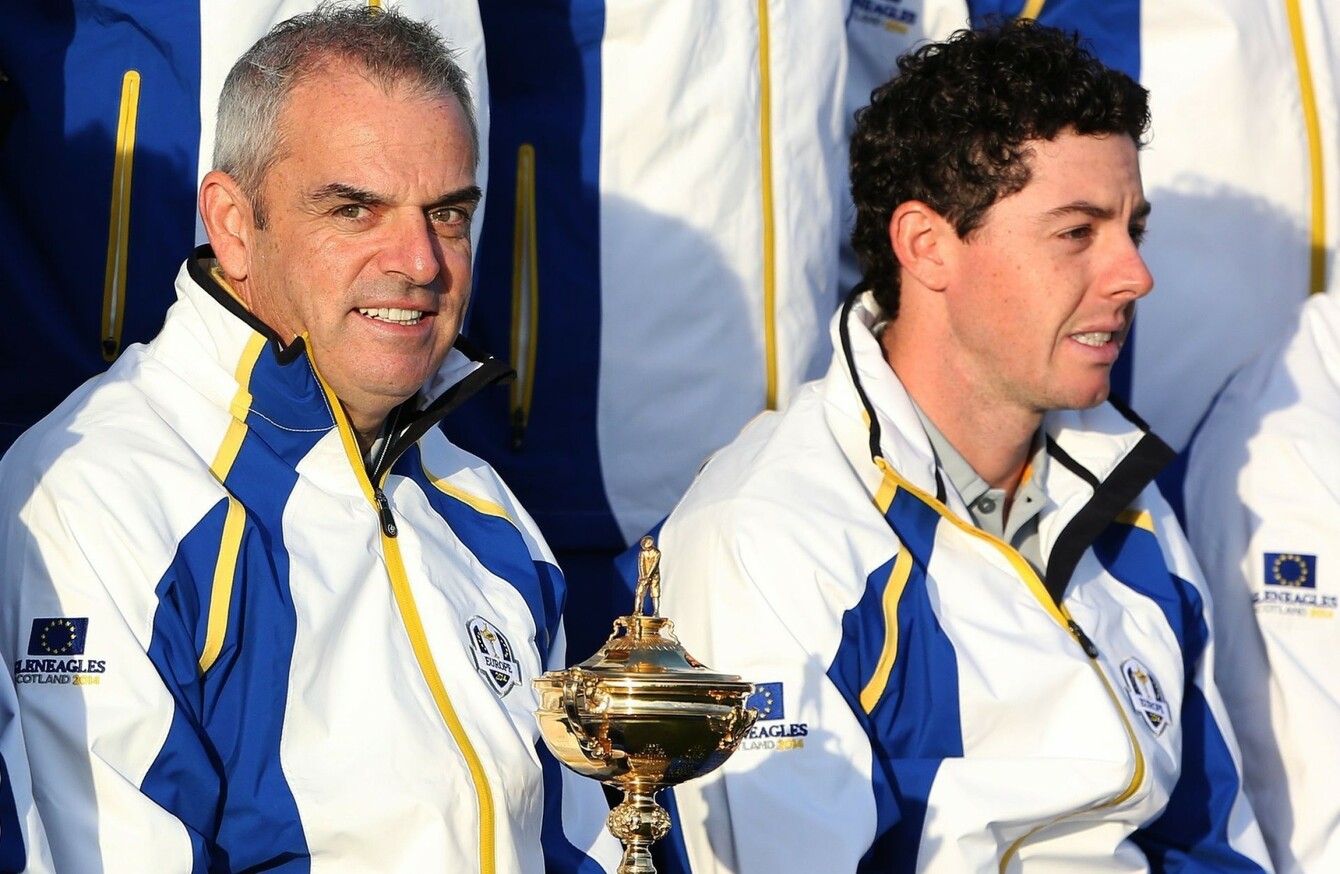 Paul McGinley and Rory McIlroy at the 2014 Ryder Cup.
Image: PA Archive/Press Association Images
Paul McGinley and Rory McIlroy at the 2014 Ryder Cup.
Image: PA Archive/Press Association Images
"SURPRISING, DISAPPOINTING, BUT understandable."
That was the reaction of Paul McGinley to the news that Rory McIlroy has decided not to play at this summer's Olympic Games in Rio de Janeiro due to fears over the Zika virus.
McGinley, who will captain the Irish golf team in Rio, clearly sounded disappointed by the development when he spoke to Sean O'Rourke this morning on RTÉ Radio 1.
After being in Paris yesterday evening to attend Northern Ireland's Euro 2016 game against Germany, McIlroy released a statement this morning. McGinley was informed of his decision late last night.
"There's been a lot of noise, particularly in golfing circles, regarding the Zika virus and Rory's opinion has kind of changed in the last 10 days," McGinley told Sean O'Rourke today.
As the noises got stronger regarding Zika, and the press coverage going on and the number of doctors who have come out against competing in the Olympics because of Zika, that is the noise that ultimately led him to this decision."
Earlier this month, McIlroy said he was "ready to play" at the Olympics after doctors calmed his fears over the virus. However, the four-time Major winner has seemingly had a swift change of opinion.
McGinley said: "It's only in the last week to 10 days that he's taken this view, which is obviously disappointing. But it's his decision. It's not something that I, as team leader of the Irish golf [team] can get involved in.
"It's a personal decision, a family decision, and he's made this decision. We move forward. We move forward with some new players and new representatives for golf in Ireland in the Olympics."
Be part
of the team
Access exclusive podcasts, interviews and analysis with a monthly or annual membership.
Become a Member
McGinley added: "It's his decision. It's not for me to influence him. This is a health concern that he has. He's discussed it with his family and his wife-to-be and came to this conclusion, and notified us late last night to say 'this is the conclusion I've come to and this is what's going to happen'."
When asked if he felt "let down" by McIlroy's decision, McGinley said: "No, I don't. I think, as an Irishman, I'm disappointed [but] it's not about me, it's about representing Ireland.
"With Rory, obviously we had a very legitimate chance of gold. We still have a lot of good players coming behind who could win a medal as well too — hopefully a gold — so we move forward in that direction.
"I think it's disappointing as an Irishman, not so much about me. It's not about me, it's about representing Ireland and a legitimate chance that we had. Having said that, we obviously have a lot of very strong players as well who will be representing Ireland.;
"Fingers crossed, we'll come home with a medal."