AHEAD OF THE 2012 Leinster hurling final, Kilkenny were poised to collect their 14th provincial title in 15 seasons.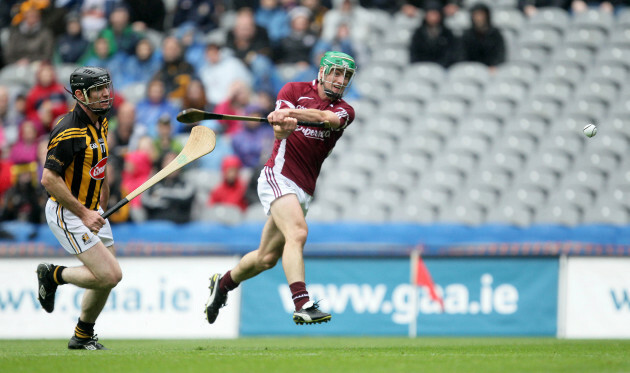 Cathal Noonan / INPHO David Burke fires a goal against Kilkenny in the 2012 Leinster final. Cathal Noonan / INPHO / INPHO
They were the reigning league and All-Ireland champions. They butchered their Leinster final opponents Galway in Division 1 that April by 25 points. This was considered to be one of the greatest ever Kilkenny sides, backboned by Tommy Walsh, JJ Delaney and Henry Shefflin. A young TJ Reid was coming of age. Every line in the team amounted to a seemingly unstoppable force.
This latest meeting between the two sides on a misty July afternoon in Croke Park pointed towards another stamp of dominance for the Cats.
But then Joe Canning shook the net inside a few minutes. David Burke added a second goal for Galway later in the first half. 
A lot of eye-rubbing at the sight of the 2-8 to 0-1 half-time scoreline, but this was real. And Kilkenny corner-back Paul Murphy was trying to make sense of how Galway had learned to unpick the lock. Today, 11 years on from that meeting where Galway won their first Leinster crown, he can admire how they arranged the chess pieces to overwhelm them.
"Galway just put so much to us that day early on," he tells The 42.
"They weren't just doing one thing, they were doing two or three things and doing them really well. They did something I hadn't really seen before which was, every time a puckout came, they rotated each player anti-clockwise. It wasn't a case that you could go man mark because your full-back would then end up right-half back and so on.
"We hadn't seen that before. The confusion in the backline was like fire and you were just trying to put it out. And that's what created space for the likes of David Burke to get his goal.
"Our saying after that was Galway came to win a game, we came to play a game."
Kilkenny were looking pale as they retreated for the half-time break 14 points down. Double digit scorelines usually tended to work the other way round to favour the Brian Cody outfit.
Of course, they could always rely on the resurgent energy that is synonymous with Kilkenny to start flowing in the second half. And by 48 minutes, they had trimmed the deficit down to seven thanks to goals from Richie Hogan and Shefflin.
But there was no shaking Galway as they charged to a 10-point victory and announced themselves as All-Ireland contenders. This result would end up being the first of an intriguing three-game saga between the counties in 2012.
Michael Fennelly and JJ Delaney were glaring absentees from the Kilkenny team for that Leinster final due to injury. But even if they had been present, Murphy doesn't believe it would have altered the outcome.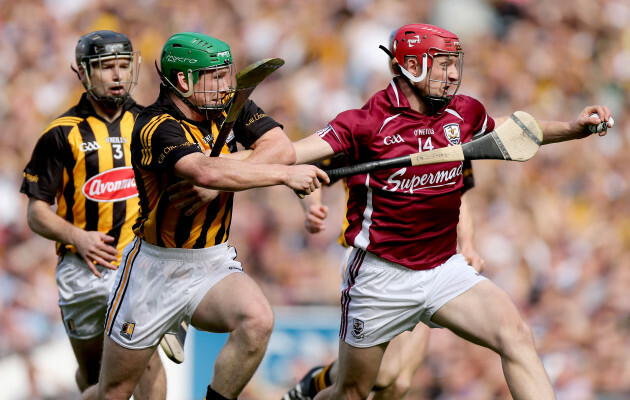 James Crombie / INPHO Paul Murphy on Joe Canning in 2012. James Crombie / INPHO / INPHO
"They were probably two of the greatest players in their positions, but as a team and panel, the heads weren't in the right place so you couldn't say that having Michael Fennelly or JJ would have reversed the score.
"Not to say that it was a blessing in disguise, that was maybe going to happen to us at some stage during the year. Some team was going to ambush us and at least  we had a chance to rectify it."
While Galway were toasting their success, they immediately put eye on the bigger prize. The county was in its 24th year without receiving a visit from the Liam MacCarthy Cup following heartbreaking defeats in four All-Ireland finals in the interim.
Murphy recalls undertones of an impending Kilkenny downfall in the aftermath of that defeat. That often happens when a giant falls in such drastic circumstances. Not everyone was so easily duped by that theory, but Cody didn't try to look away from the reality of it either. He spoke frankly to the media after the game, saying "We don't deal in excuses. Galway were better than us today."
The teams diverted down different roads in the knockout stages. Galway picked off Cork in the semi-final while Kilkenny got their firepower back against Limerick and Tipperary, drowning both teams out with four goals in each game. And so, the Leinster finalists circled back around to collide again in the All-Ireland final.
There were shades of the Leinster final about the early stages of the game. Again, Canning struck for goal in the opening 10 minutes and again, Kilkenny were struggling to score. They didn't get a point from play until the 17th minute. But Murphy says he had had no worries of a second drubbing. 
"We might have been cagey but it wasn't comparable to the Leinster final when we were so far off the pace. So, we were forewarned facing Galway. 
"In the second half, players were playing well and getting scores. We just weren't hitting the heights that we could have and I never felt that it was slipping from us. You weren't going to get sucked into the mentality that it was happening all over again."
A goal from Niall Burke in the second half was the starting point of a grandstand finish, bringing Galway back to within a point of Kilkenny. Eoin Larkin then won a penalty which Shefflin elected to put over the bar. Two crucial frees then followed for Galway; Canning missed the first one but converted the second to ensure the All-Ireland final would go to a replay for the first time since 1959.
"A ball came in before the penalty and I caught it," recalls Murphy.
"I looked up the pitch and Brian Hogan was shouting at me to pass it to someone else, and I drove it long. It landed in with Eoin Larkin and there was a penalty. Brian went from giving out to me to saying, 'Well done.'
"Joe missed a free then and you kind of felt bad because you don't want it to come down to that. But we felt that the last free was looking for a free (more) than a blatant foul. So that was the bit of solace we took."
And so, they were on for Kilkenny v Galway 3.0. Some of the build-up to the replay lingered on comments which Canning submitted to the media during a press event promoting the All-Ireland Under-21 hurling finals.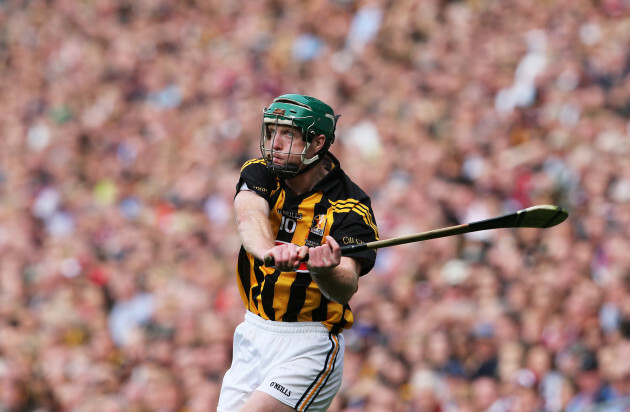 Cathal Noonan / INPHO Henry Shefflin in the drawn All-Ireland final in 2012. Cathal Noonan / INPHO / INPHO
He described Shefflin's conduct on the pitch as "unsportsmanlike" before adding that Galway should learn from their template. He also mentioned that JJ Delaney was angered by Shefflin's decision to score a point from the penalty instead of trying for a goal. Canning has expressed his regret over the remarks since then, but at the time, it triggered a mild tsunami.
Murphy, however, maintains that it didn't influence the squad at all.
"JJ was the last person to give out about anything. He was always quite positive. So, either Joe was misreported in what he said or else it was to try and distract us, but either way, it didn't really work. The only thing we might have taken from it was that we thought they were doing something to distract us. It wasn't a big thing and we kind of laughed it off."
At the end, it was Kilkenny who emerged as victors. They figured Galway out to claim a comprehensive win. A major factor in Kilkenny's success was the introduction of  debutant Walter Walsh.
A former Leinster underage rugby player, he was an unknown quantity. His selection came as such a surprise, that a sister of Walsh frantically tried to book a flight home from London the night before the game Standing tall at 6ft '5, he pocketed 1-3 to confirm the masterstroke of the Kilkenny management team.
"He had been hurling well. We had a strong panel and it was hard to break into the forwards. There was TJ, Henry, Richie Power, Richie Hogan and they were top quality forwards. Walter was on the U21 team at the time and obviously a big man, but he was youthful too.
"He was in Tadhg Furlong's class in school and they'd only lost the U21 the week before. Nobody really expected this no more than Wally. On the Friday night when they named the team, I wasn't expecting Walter to be in it. I wasn't even sure if I expected him to be on the panel."
Another installment of the Kilkenny v Galway rivalry beckons this weekend. Neither side has demonstrated their best form yet, while the round-robin clash between the teams ended in a thrilling draw. 
For Murphy, Kilkenny's injury doubts could be a telling factor in determining a winner. Adrian Mullen is believed to be ruled out for the rest of the season, while Mikey Butler, Martin Keoghan and Richie Reid have all been carrying knocks too.
"If Adrian Mullen is missing, that's a huge gap to have. Kilkenny got the foothold last year but a few of those injuries is a big thing for Kilkenny to ship.
"Galway have been warned by Dublin. They played really poorly in the first half, they came back in the second half. They can't go into a Leinster final playing that poorly. Very similar to us in 2012. We got a mind check there and that's what Galway got the last day. So they might be coming in in a strong position.
"It's extremely tight between them."
The 42 is on Instagram! Tap the button below on your phone to follow us!