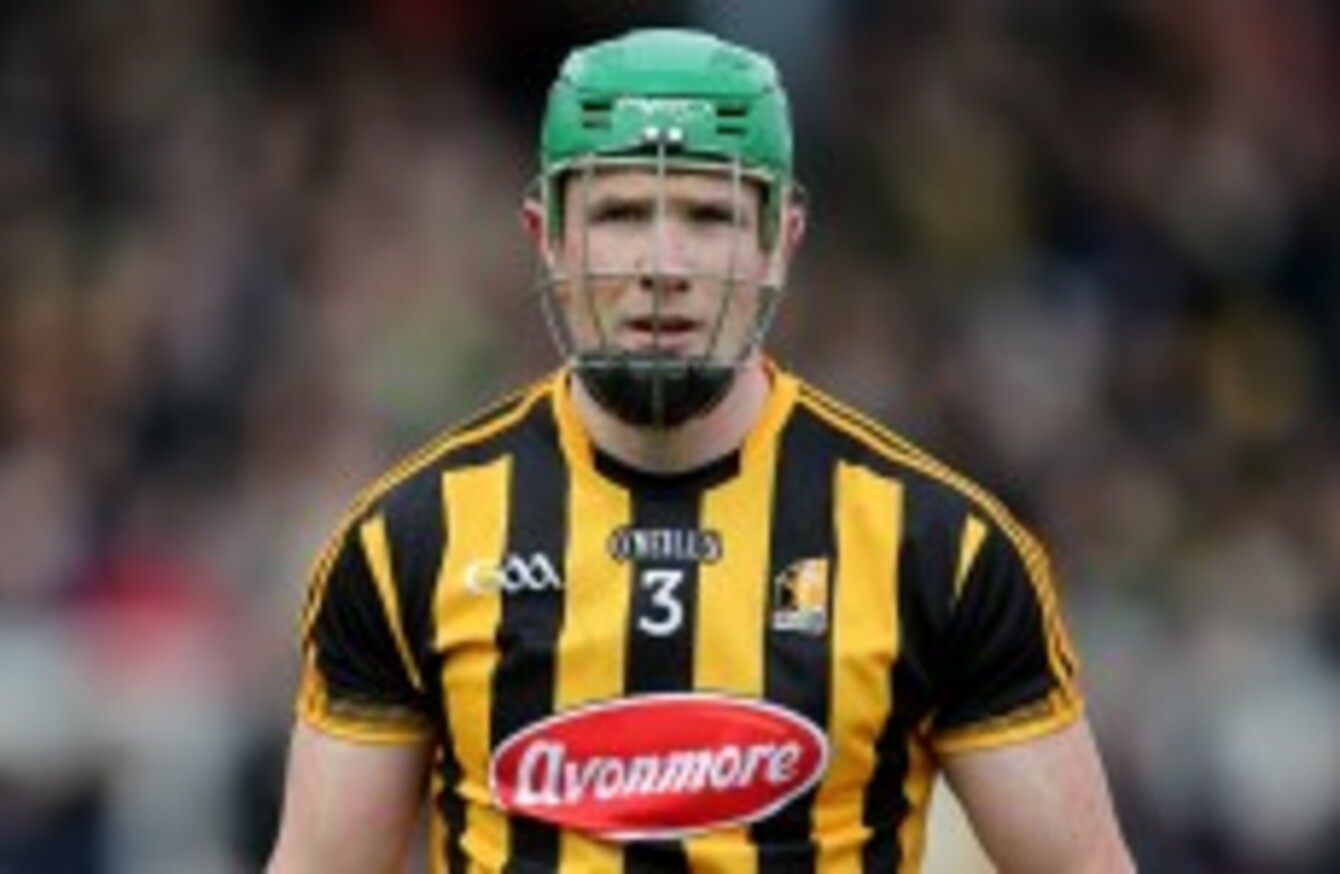 Paul Murphy isn't getting hung up on Kilkenny's retirements and injuries.
Image: Cathal Noonan/INPHO
Paul Murphy isn't getting hung up on Kilkenny's retirements and injuries.
Image: Cathal Noonan/INPHO
THERE HAS BEEN plenty of talk this year about the rate of flux in the Kilkenny senior hurling panel. 
Henry Shefflin, JJ Delaney, Tommy Walsh, Aidan Fogarty, Brian Hogan and David Herity were all members of last year's All-Ireland winning squad who have since retired.
Those waiting for Kilkenny to fall are pointing towards a perceived lack of depth in Brian Cody's panel.
But corner back Paul Murphy is having none of it, pointing out that of the aforementioned sextet, only Delaney started in last year's All-Ireland final replay victory over Tipperary.
And straight-talking Murphy, 26, doesn't see Jackie Tyrrell's injury-enforced absence from next Sunday's All-Ireland semi-final against Waterford as a major setback either.
Instead, Murphy insists, it's a chance for another squad member to step in and stake a claim for a regular starting place.
"I wouldn't call it a blow, a big change is what it is," Murphy insisted.
"Jackie is the most experienced player there. You know what you'll get from him on any given day, but we probably have three or four players fighting for his jersey the last while, and this is probably a chance for them that wasn't foreseen a few weeks ago.
"We wouldn't call it a blow, really, it's one of those things you know will probably happen during the year and it's a matter of who it happens to.
"It was unlucky for Jackie to happen ten days before an All-Ireland semi-final, it's unfortunate for him but we have to get on with it."
On the subject of retirements, Murphy is equally forthright.
"There is (change) from a leadership point of view," said the Danesfort man.
"You go into a dressing-room with Tommy, JJ, Brian Hogan, there was automatically leadership, Henry as well.
"The leadership has changed and other lads have maybe said a few words before a match.
"In terms of training that dynamic has changed too but we have only lost one player who started the All-Ireland final last year. From that point of view we're not fazed.
"The likes of TJ (Reid), Richie (Power), myself, we probably have to stand up and show what we've learned in the last few years but that's the only change."
Kilkenny also find themselves in the fortunate position where player defections are as rare as hen's teeth.
And who wouldn't want to stick around for the summer when Leinster and All-Ireland medals are up for grabs?
"We feel it's a great environment to be in, a lot of the lads in our system have done that, going off to the States and that's great, but there's nothing compares to training for an All-Ireland, the buzz…you can't recreate that in America.
"I'd encourage fellas to experience that if that's what they want, but fellas enjoy the environment when they're preparing for All-Ireland semi-finals and finals."
Murphy decides to pursue other activities in the off-season instead.
A keen fan of American Football, he's enjoyed a couple of trips to the US to watch live games.
"I got into it through Jackie (Tyrrell)," he reveals.
"It was on RTE when I was younger and on a couple of trips to America I went to a couple of games and got into it.
"Jackie and Eoin Murphy are massive into it, I couldn't hold a conversation with them about it. It's getting bigger now in Ireland.
"I've seen the Giants and the Eagles play twice, our team holiday coincided with those games, and we went to a college game in San Francisco as well. A lot of lads are into it now, just don't ask me any hard questions about it!"
Of much more immediate concern for Murphy, however, is the prospect of an All-Ireland semi-final against Waterford at Croke Park next Sunday.
And Murphy is impressed by the Allianz League champions, who bounced back from Munster final defeat against Tipperary to scuttle Dublin in the recent All-Ireland quarter-final.
"You can't not be impressed with Waterford this year, they're league champions and they were unlucky in the Munster final," Murphy agreed.
"When Dublin put it up to them the last day they had leaders to stand up, the likes of Maurice Shanahan and Kevin Moran.
"They've just been so consistent the last while. It was tough in Thurles the last day with the rain that came down but they still looked impressive. They did what they needed to do and did that very well."
Waterford's sweeper system will give Kilkenny plenty to think about but the Cats may adopt a similar set-up themselves.
If they do, Murphy insists that he will be ready to play the 'spare man' role, if required.
"If I'm free because that's the way Waterford play, fair enough, but the lads will tell us how they want us to line out," he said.
"If they want us to stay free with Waterford's system, we'll do that, but I haven't burdened myself with how Waterford are playing.
"If you're free you have to work twice as hard – the dynamic of not marking a man is that you should be able to get on more ball, and you're not likely to have a lad skinning you. I haven't really thought about it, that's the lads' job.
"It (spare man role) means reading the game, where the ball is going to drop.
"If you see a ball coming out of the other team's defence you have to read where it's going – 'this is probably going to land on our 45, I've to be over there and if I don't win the break I've to get in there and make sure the opposing forwards don't get a run in on goal'.
"That's the dynamic, you've to cover as much ground as you can. A lot of it is drifting, that if someone has the ball you're on hand to take it off them to clear it."