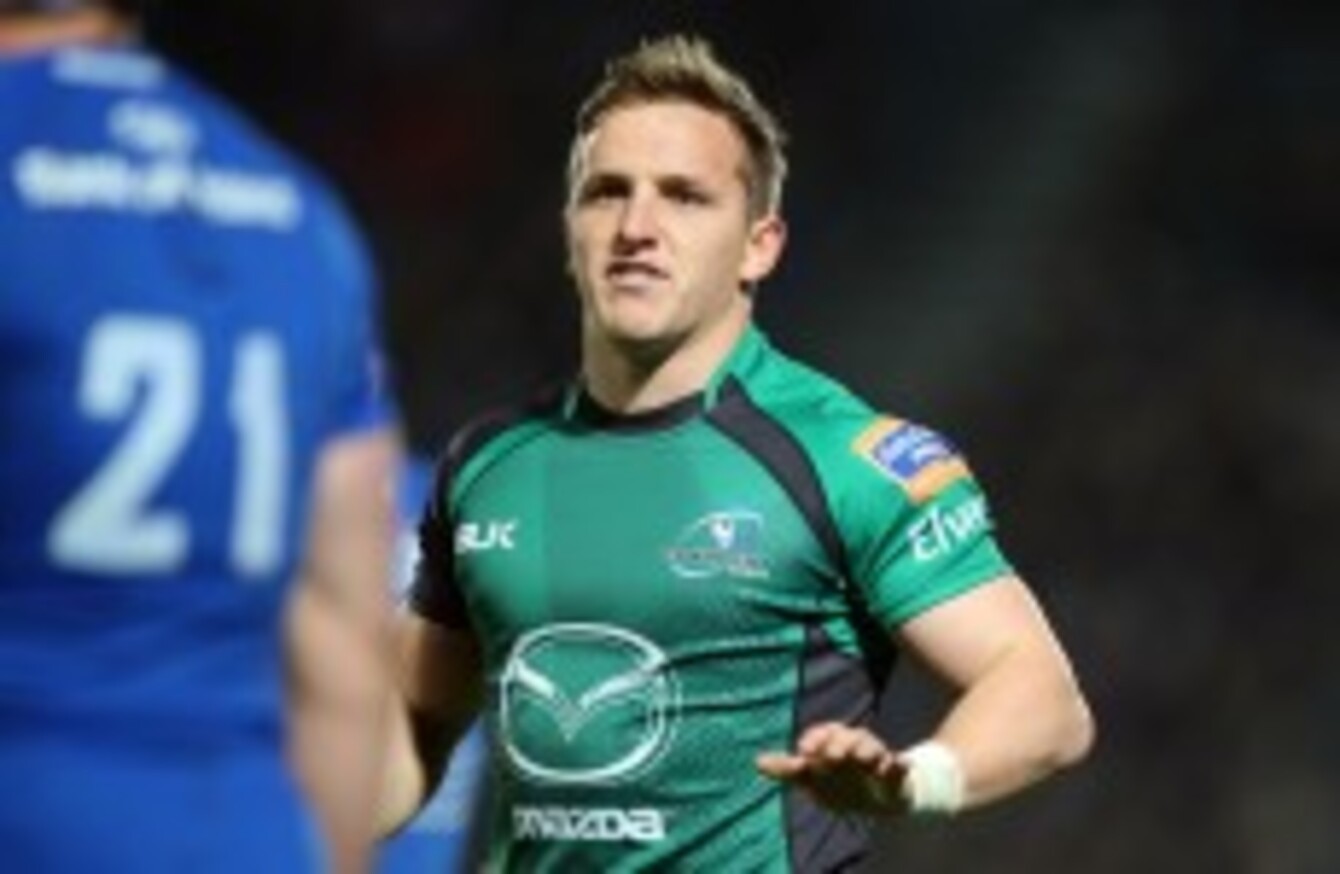 O'Donohoe was released from Connacht at the end of the 2013/14 season due to injury.
Image: Dan Sheridan/INPHO
O'Donohoe was released from Connacht at the end of the 2013/14 season due to injury.
Image: Dan Sheridan/INPHO
A FEW DAYS ago we spoke to former Munster and Ireland flanker Alan Quinlan about the struggle of adjusting from being a professional rugby player to an ordinary bloke.
It wasn't too bad for Quinlan since he had multiple media gigs lined up, but what about the less heralded players in Ireland?
Not everyone can get a lucrative national contract and enjoy an almost 20-year career – some have retirement forced upon them like former Connacht and Leinster scrum-half Paul O'Donohoe.
O'Donohoe was released by the western province at the end of last season after suffering nerve damage in his back following an injury against Zebre. There was little fanfare when he was let go – most of the coverage focused on the departure of Gavin Duffy and Dan Parks at the same time – but the day it was announced, a 27-year-old had to start again after devoting six years of his life to the professional game.
"It was strange because I had actually been thinking during that last season about life after rugby so I didn't take it as badly as some people might have," O'Donohoe said.
"I never really wanted to be one of those guys who play into their late 30′s. You see guys like that – even if they have been great players – they become disposable once they get towards the end of their careers."
O'Donohoe's career was split evenly between Leinster and Connacht, spending three years with each. He also had a decorated underage career, winning the Leinster Schools Senior Cup with Belvedere alongside Eoin O'Malley, Cian Healy and Ian Keatley as well as winning an U20 6 Nations Grand Slam.
O'Donohoe says he never saw himself as a 'career rugby player' and even though he didn't want to play for another ten years there were still struggles when he finished up – namely, how do you fill a whole day when you're once meticulously scheduled life all of a sudden becomes more unstructured than a Clermont counter-attack?
"You could almost be washing the dishes 24 times a day, you are just doing anything to fill the hours," O'Donohoe says.
"It is a hard thing to leave professional sport. You start once you leave school and it is all you really know until you have it pulled out from under you."
That was in the period directly after his retirement, but now his day-planner contains a lot more than just washing and drying. He is involved in business development with an entertainment company, Kyazoonga, and says he doesn't miss being able to call himself a 'professional rugby player'.
He can make his own schedule with work, something that is distinctly at odds to the regimented existence he left last spring.
"You are out on your own when you leave rugby," O'Donohoe said.
"It is not that nobody cares about you, but you don't have any coaches there to push you or the lads. When you are playing you are almost part of a small cult."
O'Donohoe also offers some advice to any other veteran players whose careers are winding down.
"Stay active in all aspects of life and have interests outside rugby," he says.
"Rugby is a great community but a small community. Don't get pigeon-holed as just a rugby player because it isn't the be all and end all."
O'Donohoe still keeps up with his old provincial sides and likes to see his friends doing well, but he's not a rugby junkie who needs to see every game to get a fix.
"I'm definitely not going to be tuning into some random Top 14 game," he laughs.
While he doesn't play sports for a living any more, the sportsman in O'Donohoe hasn't retired for good. Now, he boxes with his instructor Steve in a gym on Camden Street three days a week (maybe he can step up a weight class or five and give Quade Cooper or Sonny Bill a go).
The adrenaline rush of boxing could act as a surrogate for the one part of rugby O'Donohoe says he misses whenever he sees his old pals at the Sportsgrounds revelling in an upset victory.
"There is nothing in life that equates to the feeling after a big win," he says.
"That is the one thing I probably miss, that euphoric buzz after a monster win."