A HORRIFIC INJURY at the Rugby World Cup may have changed Paul O'Connell's plans but it has failed to derail his scheduled move to France.
The now former Munster and Ireland icon is facing surgery and eight months out of the game because of that painful hamstring injury suffered in the win over France last month.
The 36-year-old is set to join Top 14 heavyweights Toulon, though his departure to the south of France has now been put back to next month.
And more than worry about another operation and rehabilitation, you suspect O'Connell is more concerned about integrating himself and his family into life abroad.   
"They are incredibly excited," he says of his kids. "They don't care about my injuries at all. They just want to make sure we go. They are really looking forward to it. I'm a little worried about [son] Paddy going into school at five with no French.
"Everybody tells me they take to it very easily but I'm dreading his first day at school when I leave him in and he isn't able to talk to anyone and he hasn't a clue what's going on. But apart from that I'm looking forward to it and they are looking forward to it as well."
And though the lifestyle in the south of France may seem like a world away from heading back to Lahinch after Munster training for a dip, O'Connell insists there's plenty of similarities between the two places – despite the antics of eccentric president Mourad Boudjellal.
"Look I think he has created something incredible over there. He definitely is a different character but I've met him and he absolutely loves the club. Loves the area. I can see there's obviously…the way he does things isn't similar to the way Munster does things," says O'Connell.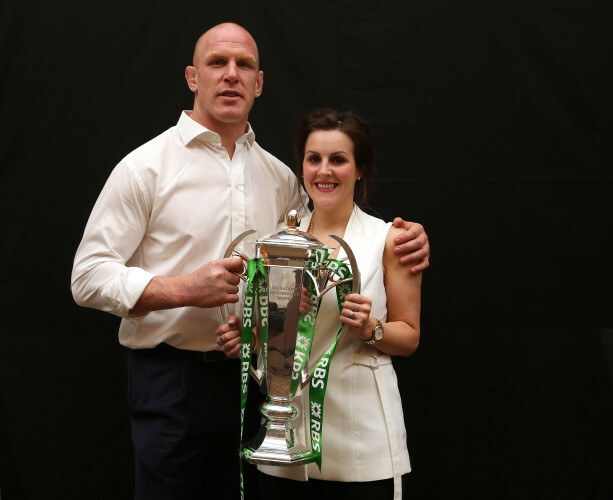 Billy Stickland / INPHO Paul O'Connell with his wife Emily earlier this year. Billy Stickland / INPHO / INPHO
"But there are similarities there between Limerick and Toulon and what the club means to the city and he's massive in that. He's massive into what the club provides for the city and what the players understand that. I can identify with that.
"The media stuff he is entitled to give his opinion. I kind of ignored that and look at what he's created. One thing I've done over the last few weeks is learn a bit of French so I look at the interviews Jonny Wilkinson has done and a lot of them are subtitled and a few documentaries are subtitled so I see if I can understand what he is saying and then look at the subtitles but the way he speaks about the club and Toulon…
"I think there is something very, very special there. It's definitely going to feel different from Munster. I don't pretend for a minute that it's going to feel the same as Munster but it's something I'm looking forward to experiencing.
"I think Irish players have this opinion that our big strength is that we are playing with the province or the club we grew up wanting to play for and there is no doubt about that.
"We'd always think how could you feel the same way about another club that you didn't grow up wanting to play for but you look at what Jonny Wilkinson has gone through down there, what a lot of the players have gone through down there, They really identify with the area and really identify with the club so I look forward to experiencing a bit of that."