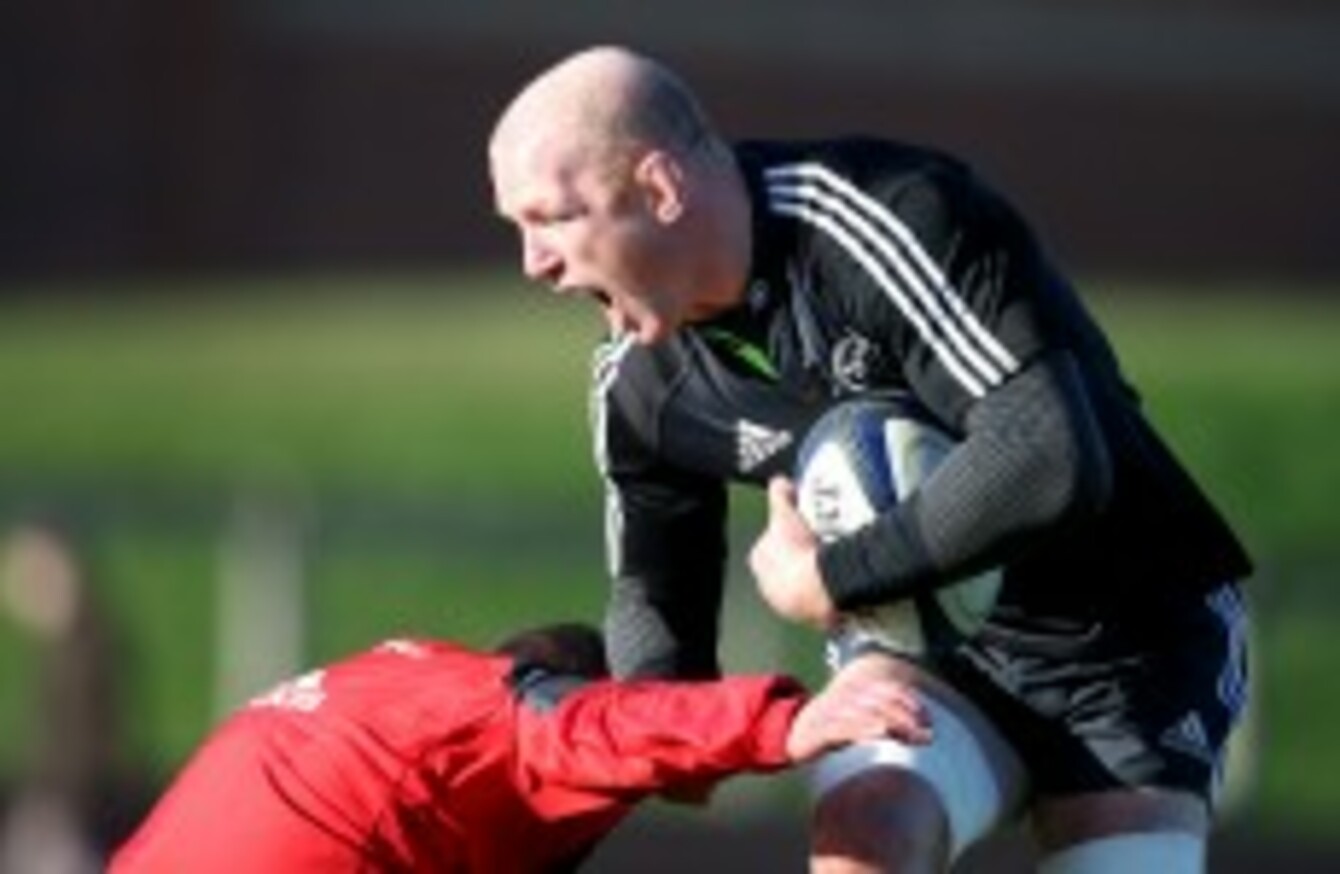 Image: Dan Sheridan/INPHO
Image: Dan Sheridan/INPHO
MAYBE WE'VE JUST seen one too many stout ads on TV, but when it snows in Ireland it's hard to escape thinking about the brilliantly black and white appearance it gives this wintry land.
Munster managed to get out and in from training yesterday before the white stuff began to tumble down. Never the less, their situation this week leaves no room for a slushy grey area and no room for error.
The southern province take on Saracens on Saturday afternoon in Allianz Park in a game that is likely to decide the European fate of both sides. Munster currently sit third place in Pool 1 of the Champions Cup, three points behind the Premiership side who must travel to Clermont on the final weekend of fixtures.
It's just the kind of back-to-the-wall scenario that Munster forged a reputation on over the past 15 years. Past glories, however, give no guarantees against a club boasting the kind of forward power and recent European pedigree that Saracens do.
Munster's own black and white formbook is also counting against them at present, most starkly illustrated by an inter-provincial win over Leinster, followed by defeat away to Connacht:
"Yeah it's frustrating," nodded a calm Paul O'Connell yesterday, "really, really frustrating.
You can't build on what you're doing if you're up one week and down the next. Up for a half a game the next week and down again in the second half.
"You need to string 80 minute performances back to back to back and unfortunately that's what we haven't done this year."
Down the hallway of the Castletroy Hotel, O'Connell would tell TV3 that this kind of fixture is an endangered species for him as he casts an eye towards a possible retirement date. The 35-year-old is clearly determined to enjoy whatever big game experience he can get his hands on. He's even looking forward to being refereed by Romain Poite.
The second row hasn't exactly forgotten about his sin-binning at the hands of the Frenchman in 2010, but he's seen more than enough of him since to know what to expect.
"Yeah, plenty of them," O'Connell laughs when asked about his 'ups and downs' with Poite.
"I've been reffed plenty of times since he sin-binned me that day against Northampton. He's a good ref, so I think we'll be okay – hopefully I'll be saying that after the game as well.
"I think one of the good things about him is that he's very strict on being legal in your entry into the ruck – that's the thing our video analysts have noted.
"We'd be hopeful that that will suit us, I think it was the 37th minute before we gave away our first penalty at the weekend against Zebre. It's something we pride ourselves on is our discipline, so it's great to have a world class referee like him refereeing at the weekend."
Besides, with Ireland's captain no longer captain of his province, O'Connell will have limited face time with the man in the middle. Save for a quick point about the line-out here and there, it will be Peter O'Mahony with the responsibility of being the conduit between poachers and the gamekeeper.
It's a familiar scenario for Munster: big game players, a big name referee and absolutely no margin for error. The prize though, is not the pinnacle of the club game, simply to revive the dream and keep it going for one more week.
"I suppose we've a tradition of qualifying from the group which probably puts a bit of pressure on the players to dig really deep and get results. We've been in a similar position to this before where it's looked impossible to qualify and we've managed to pull something out of the fire.
"Hopefully we can do that again and if we can get a win this weekend we've a chance – an outside chance – but it's a chance of qualifying."
Just give him a sniff.