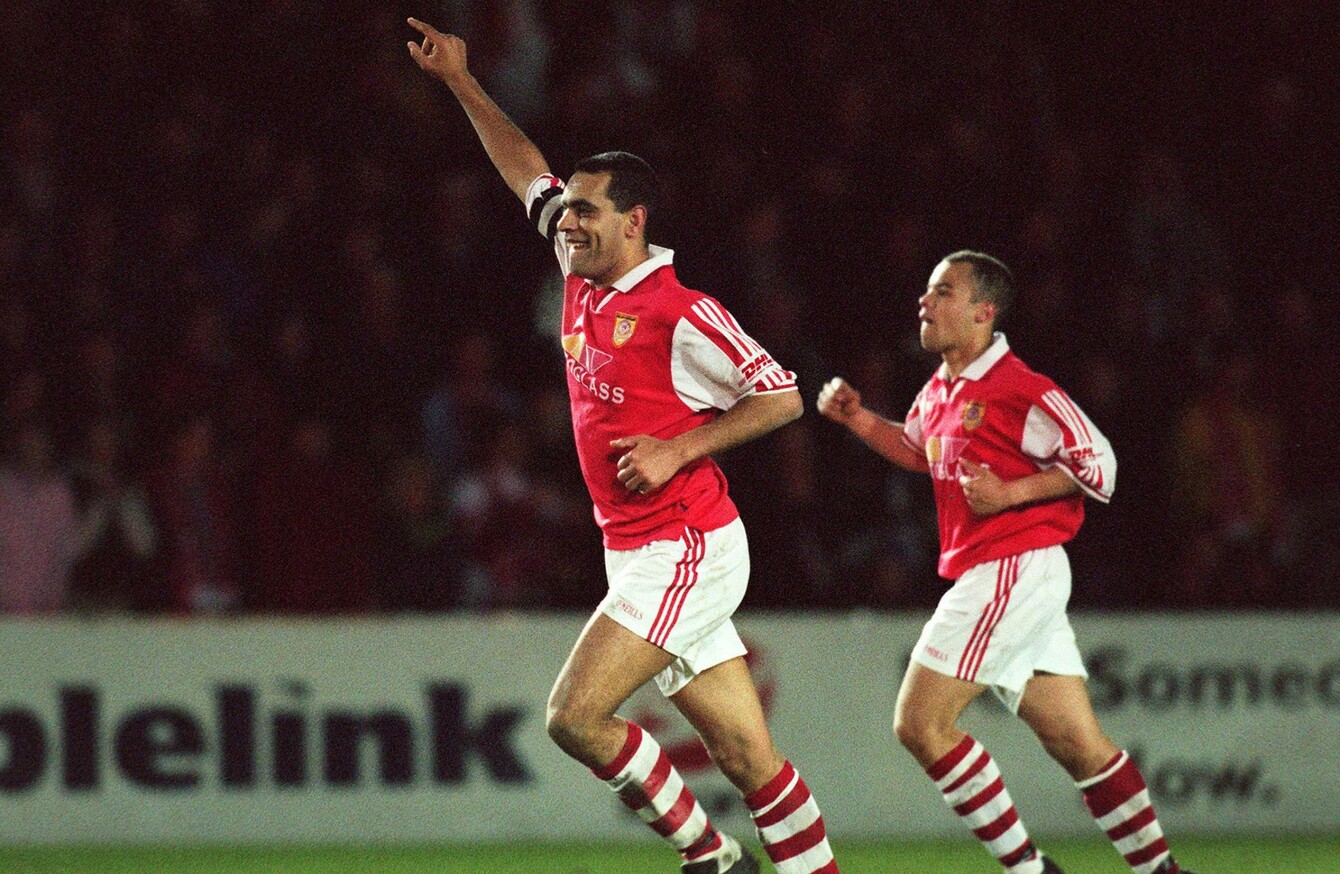 Osam celebrates scoring against Cork City in 1999.
Image: Patrick Bolger/INPHO
Osam celebrates scoring against Cork City in 1999.
Image: Patrick Bolger/INPHO
FOR THOSE WHO followed the League of Ireland throughout the 1990s, the unmistakable sight of Paul Osam dominating games from midfield would have been an all-too-familiar one.
A physically-imposing footballer who blended sheer power with immense technical ability, 'Oso' obtained legendary status at St Patrick's Athletic — where he spent his entire playing days with the exception of one league-winning season at Shamrock Rovers.
He would claim a total of five titles and two league cup medals during a hugely-successful career that spanned over 16 years.
But it wasn't always abundantly clear that Osam was destined to become one of the greats of the domestic game.
Born to an Irish mother and a Ghanaian father, Paul, his three brothers and one sister were brought up in the working class estate formerly known as Holylands on Dublin's southside.
As was the case with many children from that era, street football was the hobby of choice from a young age.
"Unlike today, growing up in the '70s as a young boy we always played in the streets," Osam tells The42. "That was our Playstation, Twitter and Facebook back in those days. It was a game of football in the local field and after school it would be onto the road."
Paul began his life in the schoolboy leagues with local side Leicester Celtic but bounced around a number of DDSL sides with spells at Stella Maris, St Joseph's Boys and Bushy Park Rangers.
Rathfarnham to Drumcondra was a camel ride back in those days!" he jokes, remembering the commute in his dad's car to Stella Maris' ground.
It may be hard to believe now, but Osam wasn't very big during his early teen years and played in a number of positions before eventually nailing one down.
"I wasn't tall at all but then just spouted up," he explains. "I think I woke up one morning when I was about 16 and I was 6′ 4"!
"I would have played in goal, left-back and left wing in those days. The midfield thing only came later on in my career."
A dispute with Joey's, who refused to let him leave to sign for Rangers, led to a two-and-a-half year absence from club football but Osam continued to play with his school side at Balinteer Community School.
And it was the work of Irish stand-up comedian Shaun Connors (real name Tom Reeves) that enticed him back. Reeves, the father of a school friend, called around to his house to encourage him to sign for Broadford Rovers U18s and succeeded — leaving with Paul and his parents "in stitches".
When the time came to move into senior football, Osam was keen to enjoy the social aspect of it and he joined Mount Merrion as "the standard wasn't too bad and it was a bit of craic".
Although he didn't play a huge amount during that period, a chance meeting with St Pat's assistant manager Billy Bagster was about to change all that. Bagster came along one evening in 1988 to scout two St Brendan's strikers in a match against Merrion, but it was another player that caught his eye.
19-year-old Osam, at centre-half that night, had the pair in his pocket from start to finish. When Bagster approached him in the pub afterwards, however, the teenager explained that he was flattered but not interested.
The very next day, Saints boss Brian Kerr made a call and persuaded him go down and take a look during pre-season. Lifts to training from experienced players Robbie Gaffney and Mick Moody worked a treat to help convince him and Osam soon realised Pat's was where he wanted to be.
He started out on the B team and credits Bagster with giving him great self-belief as well as an appreciation for structure and organisation. When the first team came calling, Osam initially lined out at full-back before being pushed forward into the left-side of midfield in a 4-4-2.
"I didn't find it hugely difficult," he says, of the step-up from amateur football. "I think I was technically good, that would have been one of my strengths. There is more to the game than that, but if you're got good technique you've got a chance.
"The physical aspect of it was a challenge and training is something I struggled with throughout my career — the fitness element of the game."
The youngster soon tasted success as Pat's beat Derry City to the title by three points in 1989/90. The Inchicore club went into decline from there, however, and financial issues saw an exodus of players and mid-table finishes in the league.
Having turned down a couple of lucrative deals, Osam decided it was time for a fresh start in 1992.
"I felt I needed to leave," he says. "It wasn't for financial gain but it had gone stale with Pat's and I needed a new challenge. Rovers was a big club and having grown up close to Milltown it was something I always wanted to do as a young boy."
Under the late Ray Treacy, he blossomed with the Hoops — at that point playing their home games in front of decent crowds at the RDS.
"He (Treacy) was great for me because he was a player's manager and he gave us the freedom to play.
"We had a very technical side. Peter Eccles was good as a player as you will see and he was centre-half along with Gino Brazil. They were two really good footballers and that was spread out throughout the team."
Enjoying his football again, he started every game until a cruciate ligament injury picked up against Monaghan United ended his season. Rovers would go on to win the league but it was "a bittersweet moment" and one of the lowest points in his career was to follow.
After surgery, Osam was retained by Rovers but didn't believe he had been treated well by the club. An offer from Derry City came in and manager Tony Doherty invited him to do his rehab with the Candystripes with a view to signing.
But while working his way back to fitness in Derry, the clubs couldn't agree a deal and he was left in limbo. Osam returned Rovers but didn't play for that entire season and a legal dispute ensued. The court eventually deemed him a free agent and ordered the club to pay the wages they owed.
After 18 months out of action, his availability paved the way for a welcome return to the Saints.
I was at a crossroads and when you're in situations like that you revert to type."
After getting over the initial discomfort in his knee, it was back to winning ways as they claimed the Premier Division and narrowly lost out to Shelbourne in the FAI Cup final after a replay.
Kerr then departed to take up a position as technical director and youth teams manager with the FAI, where he would oversee a golden age for Irish underage sides. 28-year-old Pat Dolan, who had been the club's chief executive, was a surprise choice as his replacement.
"Pat was great for me," Osam says. "He felt I was the talisman of the club and that gave me a lot of pride and belief."
A win away to Kilkenny City on the final day of the 1997/98 campaign saw Pat's pip Shels to top spot as their Dublin rivals lost out to Dundalk.
Source: seidodge/YouTube
With Dolan moving back upstairs, Liam Buckley took over the following season and, switching to a 3-5-2 formation, made it back-to-back titles for the club.
"We had a fantastic team," Osam recalls. "We all knew our own roles and responsibilities and we also knew everyone else's so there was no place to hide.
"The side had great players like Eddie Gormley, Martin Russell, Colin Hawkins, Packie Lynch, Stephen McGuinness, Trevor Croly, Willie Burke, Trevor Molloy and Ian Gilzean. Teams couldn't cope with us with the system we played.
Liam felt I could dictate the game and he played football that was more accustomed to the continent as he had played abroad. He saw me as a holding midfielder in a five. I really enjoyed it."
After wrapping up another league success in 1999, the Pat's skipper did a clean sweep of individual awards — winning PFAI, SWAI and FAI Player of the Year.
"Personal accolades are nice but I don't know where those trophies and medals are. They're material things but the memories are there everyday."
Admitting he found training and the physical demands of the game tough at times, Osam was able to make improvements to his own fitness as the years went on.
"My attitude wasn't great to training and I'll openly say that now," he admits. "Brian used to call me 'Johnny Forty Teeth' because I would be going to the dentist and missing training every second week!
"I wouldn't have been a great trainer and it was something I didn't really embrace until I got older when the importance of being physically fit was hammered into us under Pat.
"It was a different era and the league was changing with more professionals coming in. That was very good for me as I was forced to train and get fit.
"I had the best years of my career from around 28-33. I had the experience and I was at my physical peak in those years. I missed out on it early on and if it had been there I might have had a better career but, then again, I may not have played as long as I may have been burnt out by the time I hit 30."
Pat's won the league cup in 2001 (and again in 2003) but missed out on the league in controversial circumstances the following season as the club was deducted 15 points for fielding Charles Livingstone Mbabazi, who wasn't deemed to be registered.
Osam was given a testimonial match at the end of that campaign — with fellow Saints legend Paul McGrath even lining out to show his appreciation — and the midfielder would go on to play two more years after that.
When asked who his biggest rivals on the pitch were, he replies:
"Teams changed throughout the years and it depended on who was flying at the time. In the late '90s, we had great battles with Shels. Geogo (Stephen Geoghegan) was there, Tony Sheridan was back from England and they had a really good side.
"We were all friends off the pitch but it was really tense on it.
Going back through the years, the one player was Liam Coyle. He was the best player I ever played against by a country mile.
"He had injuries and problems with his knees but ability-wise was out on his own. I had the pleasure of seeing him up close during the little spell I had in Derry when I was training after my injury.
"I got to play with him in training and he was a fantastic player."
After retirement, he had decisions to make. Paul had worked in various jobs throughout his playing days but felt he still had something to offer football. Assuming coaching would come naturally to a player of his experience, he got involved with the Pat's U21s side before taking over as manager.
"When they finish, most players think they know a lot about the game so they will make a great coach," he says.
"I think I fell into that category but the difference between playing and coaching is immeasurable. I played under some really great managers in my time and learned different traits from them that, in hindsight, would have been more man-management than coaching.
I thought I was a great coach but looking back I hadn't got a clue. I had no idea how to coach, how to educate players and how to structure things but because I was a former player I thought 'I'll just tell them what to do'. I know now that's not how you coach. You've got to use tools to educate them.
"I was frustrated at the time because I couldn't understand how the players couldn't do what I could do. This could be something that a lot of ex-players feel."
Bray Wanderers manager Eddie Gormley offered his old team-mate the chance to join his backroom staff and Osam accepted. But it was only after taking a job as an FAI development officer that he began to open his mind and develop as a coach.
"When I went in there I saw that it had to be done in a structured way and there was terminology being thrown at me so I thought if I want to do this then I have to get myself educated and up-to-date with current methods of coaching," he recalls.
So he obtained the Uefa A Licence and got involved with the Emerging Talent programme. After working his way up through the ranks, Osam took over as Ireland U16s manager in 2015 but he is well aware that the self-improvement needs to be continuous.
"There were times I felt like packing in the Emerging Talent programme because I didn't think I could handle being a coach but doing the A Licence helped me get my teeth into it.
"Even now I know I have mountains to climb to become a top coach. Just because you've got a title doesn't mean you don't have to work hard and I'm doing that up to this day."
From speaking at length to Osam, it's clear that he has a refreshingly positive outlook on life. After the events of January 2013, you can understandable why he is intent on living in the now and a tattoo with that date on his arm reminds him to everyday.
At the age of 44, Paul suffered a heart attack while lying in bed beside his wife Regina.
"I was very lucky to survive," he reveals. "There were no warning signs, it's just a genetic thing I had. I wasn't aware of it and it resulted in my main artery being blocked, which almost led to sudden death.
"I was one of the 20% that this happens to who survive. I was very lucky in that regard and the biggest bonus was that there was no damage done to my arteries. They put that down to how fit and healthy I was."
Thankfully, he has since made a full recovery. He's on medication for high blood pressure but his heart is functioning normally.
"You're so vulnerable," he adds. "Garry Doyle wrote a great article about it and athletes feeling invincible when they retire. The furthest thing from your mind is that anything will happen to you.
"For the first six months I was wallowing in self-pity and feeling sorry for myself. 'Why did this happen to me?' After that, it kicks in that you don't take things for granted and look at them more in the now instead of putting them on the long finger. It's not going to go on forever and a lot of people don't think about that.
"That opened my mind and helped me with my coaching so these things happen for a reason. There's no point in growing old and having regrets. I won't have any because I'm living in the now."
Osam's teenage son Evan has followed in his fathers footsteps but, at 19, he is already trying to rebuild his career after a significant setback.
The defender joined Shamrock Rovers from St Kevin's Boys in 2013 and lined out for their U19s and B team before making a couple of first team appearances.
He enjoyed a loan spell at Shelbourne in 2015 and was named in the PFAI First Division Team of the Year but suffered a serious knee injury while on Ireland underage duty.
Fortunately for Evan, he is fit again and, after joining UCD at the start of this season, now plays regularly in the Students backline.
"It was a career-threatening injury, but he's back now," says Osam Senior. "I felt for him because he is a great professional. I look back at myself and how I was in training, then I look at him and he does absolutely everything to be a pro.
Shamrock Rovers were really good to him. They didn't have to but they looked after him for the whole year and paid his wage.
"They wanted him to stay and he did his pre-season there. I felt the best place for him to regain his confidence would be in the First Division because the pressure of playing for Rovers coming back from that type of injury wouldn't have been the best environment.
"He plans to go back and do a scholarship in physiotherapy in September. So the career path is similar to mine in that I'm a qualified physiotherapist. I tore my cruciate when I was young, he did the same. He's gone back to college , as did I. We both played left full-back too.
"Whatever is for him won't pass him and I firmly believe that."
The42 is on Instagram! Tap the button below on your phone to follow us!