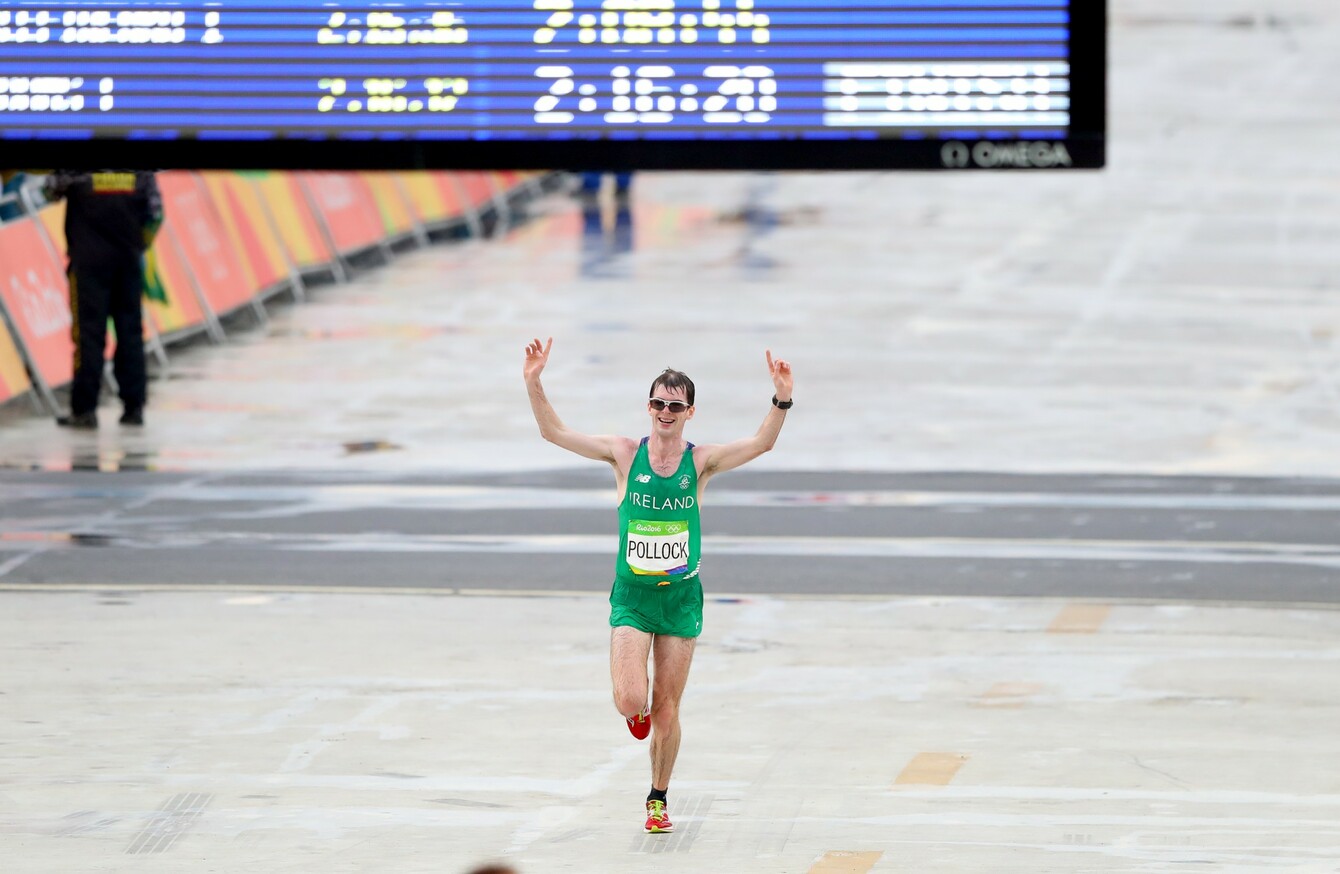 Image: James Crombie/INPHO
Image: James Crombie/INPHO
IRELAND'S PAUL POLLOCK produced a very strong finish in today's Olympic Marathon in Rio, jumping 64 places over the second half of the race to claim 32nd spot.
Pollock was selected for the event by Athletics Ireland despite finishing behind Sergiu Ciobanu in the crucial Berlin Marathon last September, and the Moldovan-born runner let his frustration at that injustice be well known.
However, the Holywood man went some way to justifying that decision and proving his injuries around that time had a major bearing on his performances with a time of 2:16.24.
The 30-year-old didn't panic when the opening 10km left him in 124th place and his first and second half splits showed great consistency as there was 1:08.09 on the clock when he reached the halfway stage in 96th place.
As others faded, Pollock stuck to his game plan and quickly moved through the field. On a slippy road in Brazil, he ended up just 7.40 behind Kenyan gold medal-winner Eliud Kipchoge, whose winning time was 2:08.44.
Disappointed with his 32nd place, Pollock said he was hoping for a top 20 position but had just left himself too much to do.
"I was a minute down on where I wanted to be at halfway but I knew I couldn't push any harder in that first half," he explained.
"The legs were working hard enough as it was.
"I had my own game plan and I stuck to that group of people I wanted to stay with. I stuck with them for the first half – it just so happened that they went that slow as well," he added, noting that conditions were "hot and sticky".
"But it's the same conditions for everyone and it wasn't terrible – you could run quite comfortably in it. It was just one of those days. I'm coming away just outside 30th position so I'm happy enough with that and the time wasn't too poor either.
"I know there's a couple of people in front of me who I would have wanted to be closer to. And I definitely think a top 20 position was definitely realistic… that was the first aim for today. I didn't get that, so from that point of things, I'm a bit disappointed.
SEE SPORT
DIFFERENTLY
Get closer to the stories that matter with exclusive analysis, insight and debate in The42 Membership.
Become a Member
"But, all in all, 32nd in the Olympics is an OK result and something to push froward from."
Kevin Seaward was the second Irish singlet home in 2:20.06 (64th) while Mick Clohisey, having led the trio early on, ended up 103rd in 2:26.34.
Both men were suffering and it was a heroic effort to even get across the line.
Despite 'perfect preparation' over the past four weeks in Brazil, Seaward fell ill with flu-like symptoms three days ago and, today said he was in a "bad place" by the third or fourth kilometre.
"It was difficult but the fact that you're running for Ireland in the Olympic Games helps. If it was a city marathon or something else, I can't say I'd be at the finish line," he added.
"You've got an Irish shirt on, you've got to do everything you can to get over the finish line. It's been tough mentally and physically."
Clohisey was equally frustrated.
"I wasn't right. I didn't have it at all. I threw in the towel. The only reason I saw it out was because my family came over, otherwise I would have jacked it in, I'd say," he said in short comments to journalists on the finish line.
Ethiopia's Feyisa Lilesa claimed silver a minute after Kipchoge crossed the line and Galen Rupp, a training partner of Mo Farah and 10,000m silver-medallist in 2012, won bronze in what is just his second Marathon ever.
With reporting by Sinéad O'Carroll in Rio