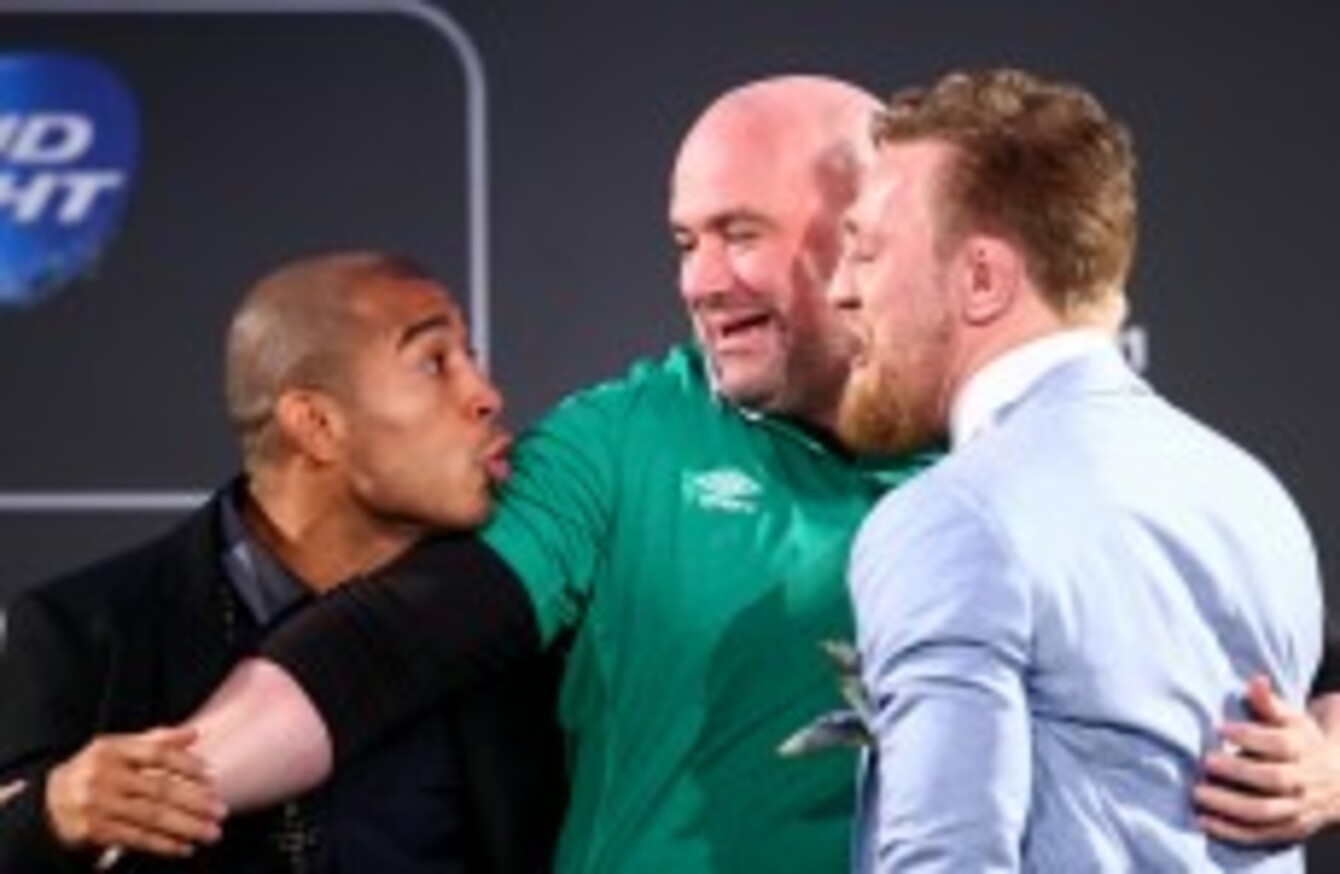 Jose Aldo faces Conor McGregor in Las Vegas on 11 July.
Image: Cathal Noonan/INPHO
Jose Aldo faces Conor McGregor in Las Vegas on 11 July.
Image: Cathal Noonan/INPHO
CONOR McGREGOR'S SIZE advantage could be the difference when he takes on Jose Aldo next month.
That's the verdict of McGregor's fellow Ultimate Fighting Championship athlete Paul Redmond, who's also currently preparing for an important bout of his own.
Redmond is scheduled to face Robert Whiteford in Glasgow on 18 July but — like everyone in the MMA world — he'll be keeping a close eye on events in Las Vegas seven days earlier.
UFC 189 at the MGM Grand will be headlined by the meeting of McGregor and defending champion Jose Aldo for the UFC featherweight title.
According to their respective UFC profiles, McGregor is two inches taller than Aldo. To the naked eye, however, that difference appeared to be even greater when the pair came face-to-face during a media tour earlier this year.
"Just looking at Conor and Aldo side-by-side, the size difference is phenomenal," Redmond told The42. "With Conor's reach, the way he throws his punches and combinations, I think that'll make it really tough for Aldo.
"I know Aldo has beaten everyone so far and beaten them well — he's been the champion this long for a reason — but I just think the size advantage Conor has could make the difference. It's a massive advantage for Conor, especially with the way he fights."
Redmond is a member of the Team Ryano gym in Finglas, while McGregor represents SBG on the other side of Dublin. There's a very healthy rivalry between the two gyms, with fighters from both camps often teaming up to train together.
Having sparred with McGregor on many occasions, Redmond is fully aware of what the featherweight title challenger is capable of.
"I know how hard Conor hits," Redmond said. "His power is unbelievable. They say you either have knockout power or you don't, but Conor has it and he's also phenomenally precise.
"I remember him catching me with a straight left on my eye and it snapped my head back. As it snapped back down again he caught me with the exact same punch in the exact same spot. You couldn't possibly have hit a more precise shot in the same spot. I was black and blue the next day.
"But he's a good all-rounder. People underestimate his wrestling and his ground-game. He's really good on the ground. He's no slouch there, really good takedowns as well. And when you get him down it's very hard to hold him there."
Redmond added: "I think Conor has what it takes to beat Aldo. He's not messing about and we've seen already how easily he's put good guys away. He's not just a flash in the pan, he goes out and does what he says he's going to do. I'd love to see him do it."