Updated at 08.00 
DURING THOSE MONOTONOUS months of painstaking rehab, Pauric Mahony must have played the moment out in his head over and over again.
How could he not?
Ten months after suffering a horrific leg break which cruelly cut his season short, the moment finally arrived.
His five minute cameo towards the latter stages of Waterford's league clash against Galway at Walsh Park marked the end of a long road to recovery for Mahony.
It was his first taste of competitive action since laying stricken on the turf in Dungarvan, with his leg disfigured, nearly a year ago.
Since then, he's had five screws and a metal rod inserted into his right leg and endured an intensive rehabilitation programme.
"It has been a long road, but it has finally come to an end," he says.
"It was more relief than anything else because I suppose there was times over the last 11 months where you'd question whether you'd ever get back to that level?
"There were times when you'd go training and early in the rehab you'd be like this is slow, how am I going to get through it? Jesus when is it ever going to come when I'm able to get back on the pitch with the lads?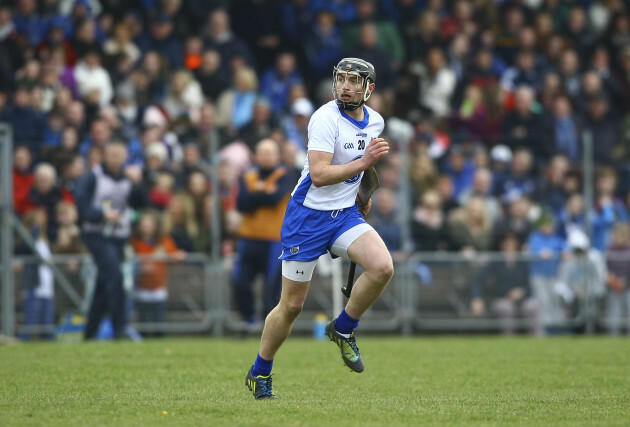 Ken Sutton / INPHO Mahony making his return. Ken Sutton / INPHO / INPHO
"But to be honest with you it takes a turn and you just kick on and before you know it you're back in a drill and then on the pitch again."
The moment he stepped foot on the pitch again must have been better than anything he had envisaged. The 23-year-old forward received a huge reception as he came on in the 68th minute.
His first involvement was an assist for Gavin O'Brien's late equaliser for the Déise.
"The goosebumps were going 90 that day," he recalls. "I was just delighted to get back on the field really, it was nice to get that reception.
"You would visiualise moment, you always think of the end result and I suppose that was the moment when I knew I had made giant strides over the last number of months.
"It's hard to describe really, it just comes at you fairly quickly and I know when Derek [McGrath] gave me the nod on the Friday that I was going to be involved on Sunday, I was like a child at Christmas, I just couldn't wait.
"I came on for three or four minutes and I probably played that over 50 times in the days before but it was kind of good to get that out of the way really because I'm just one of the other 30 lads involved now.
"I'm no different and don't want people thinking oh take it easy on him, my leg is 100% now."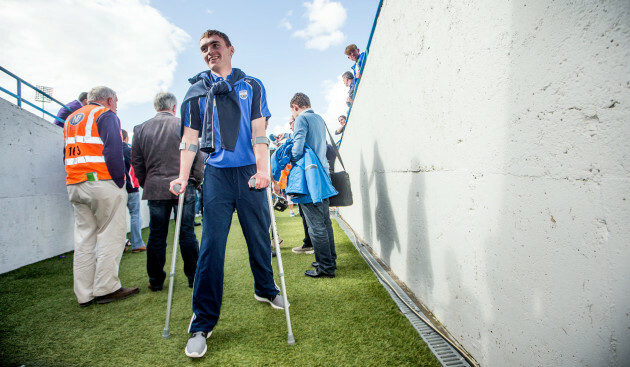 James Crombie / INPHO The forward was an ever-present at training and matches. James Crombie / INPHO / INPHO
It's been a long time coming. He was forced to remain patient as progress was as slow as it was painful.
Mahony started running before Christmas and his rehab intensified at the turn of the year. He remained in touch with the set-up throughout, attending training sessions in a watching capacity.
As he says himself, he wasn't serving any purpose but it allowed him to remain focused on the end goal.
"Because it is such a big part of your life I didn't just want to walk away from it either," he continues.
"I suppose with the access to the physios and trainers it was important that I kept going to training and matches. Just being around the lads, we obviously get on very well, just for the bit of craic. If you were sitting at home 24/7, you'd go off your head.
"I owe it to a lot of the lads in the set-up for what they've done for me during my rehab and even in terms of general well-being, the support they give you and the way Derek made me feel so part of the set-up. He obviously placed a lot of trust in me."
Mahony is pushing for a start in Sunday's league semi-final against Limerick in Thurles. Before his cruel injury layoff, the Ballygunner sharpshooter had been in the form of his life, firing 1-90 in Waterford's league campaign in 2015.
He was poised to announce himself on the championship stage before that fateful day at Fraher Field.
"Watching on at the games really is tough," Mahony admitted. You want to be out there, nobody likes sitting in the stand. Especially when I was going to all the training, but you aren't really any benefit to anyone.
"The club winning the county that was tough. I was obviously delighted we won it, but I found that very tough. That was the worst part of the whole injury.  I was delighted we won it, but I had no role over the whole year.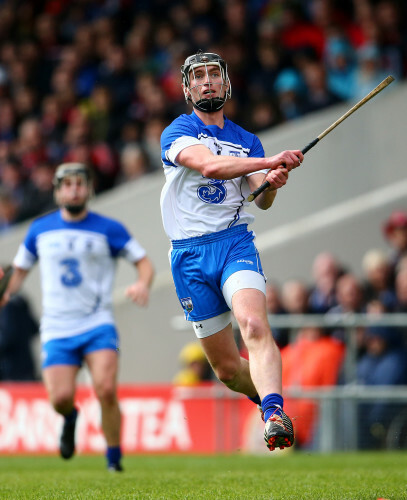 Cathal Noonan / INPHO Mahony will be hoping to help Waterford to a second straight final this weekend. Cathal Noonan / INPHO / INPHO
"At least with Waterford I won the league and I played in that, I had something to look back on from the year. It was a first medal at senior level for most of us. With the club it was obviously different.
Waterford are aiming to defend their national league crown after advancing from Division 1A with three wins, a draw and a defeat.
The quarter-final win over Wexford set-up this weekend's showdown with Limerick at Semple Stadium and for Mahony, it will be a welcome return to the big stage.
"I'm after playing four or five games with Waterford now, training matches and a game with the club. You wouldn't think about it going into challenges.
"The pace of the training games are high intensity, you are going from one drill, you don't have time to think about it. You are in there, it is up to yourself. I'm trying to impress the management as much as anyone else. I'm pushing myself to the limit.
"Obviously there is competition for places. It has gone up a notch since this time last year, that is only good for Waterford hurling."
Pauric Mahony was speaking at the announcement of Bord Gáis Energy's sponsorship renewal of the GAA Hurling U21 All-Ireland Championship for a further five years.
The42 is on Snapchat! Tap the button below on your phone to add!