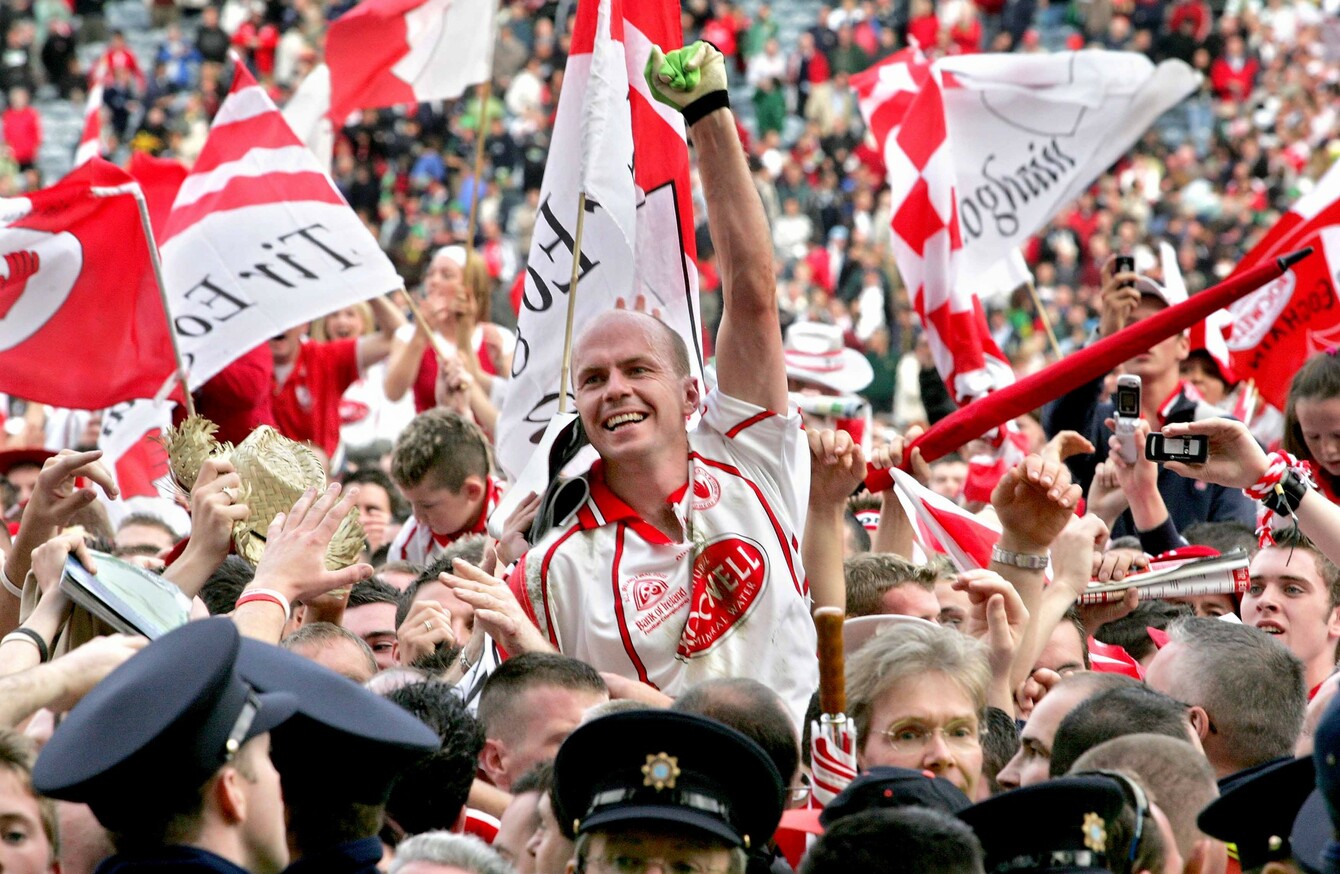 Canavan after winning the All-Ireland in 2005.
Image: INPHO
Canavan after winning the All-Ireland in 2005.
Image: INPHO
VERY FEW PEOPLE see the All-Ireland title going anywhere other than the capital this year, but Peter Canavan thinks otherwise.
Kerry are the only team in the last 25 years to win consecutive All-Irelands, a feat which no Dublin side has managed since 1976/77, but Jim Gavin's men are red-hot favourites to buck that trend this summer.
Canavan, who captained Tyrone to the 2003 title, believes that it's someone else's year.
"If an All-Ireland was easy retained, there'd be more teams doing it. There's been a lot of good teams this past 10 or 20 years.
"Winning an All-Ireland title brings various distractions. Whilst there's serious media attention focused on Dublin and rightly so, I do believe that they will be caught this summer.
"It's hard to retain it, history has proven that. You've that coupled with the fact that there are other counties who believe that they are getting closer to Dublin."
[image alt="Peter Canavan, Senan O'Connell, Jim McGuinness, Paul Earley and Brian Carney" src="http://cdn.thejournal.ie/media/2016/05/peter-canavan-senan-oconnell-jim-mcguinness-paul-earley-and-brian-carney.jpg" width="100%" height="3048" class="alignnone" /end]
Canavan does believe, however, that they will remain unchallenged in Leinster.
"It's hard to see any of the games in Leinster being competitive for Dublin. That's doing Dublin absolutely no favours.
"The National League, with games coming thick and fast, suits them. They're getting games on a regular basis and they're competitive.
"Ideally, (Jim Gavin) would want one, possibly two tough games in Leinster to prepare them for the quarter-final, but he's not even going to get that.
"And hence, a comment a lot of people make, the only measurement Jim Gavin can take with his group of players is when they're playing in-house games."
The 1995 Footballer of the Year and current Sky Sports GAA pundit sees Mayo performing well this year, and believes that they have the capacity to bring a long-awaited All-Ireland title back to the west.
"I think Mayo are best placed, for a number of reasons. They're in great physical shape, so much so that they've a choice of three or four midfielders.
What are they
really like?
Rare insights on sport's biggest names from the writers who know them best. Listen to Behind the Lines podcast.
Become a Member
"They have Diarmuid O'Connor, Young Player of the Year, they have Aidan O'Shea, one of the best players in the country, and I think this should and could be the year that he will really step up.
[image alt="Aidan O'Shea" src="http://cdn.thejournal.ie/media/2016/05/aidan-oshea-30.jpg" width="100%" height="2832" class="alignnone" /end]
"They've a bit of thinking to do to their playing style, but they have the playing pool there to do it. They will be energised by their U21s winning an All-Ireland title and those players will bring great confidence to the setup.
"In terms of hunger there should be more hunger in Mayo players, and I know there is in the supporters, than any other county in Ireland. They have a lot of things going for them."
In terms of his own county, Canavan is keeping provincial prospects to the forefront.
"A very realistic target is the Ulster championship. An All-Ireland title maybe would be a step too far for them in 2016, but they should be and I know they are targeting an Ulster championship.
"They're in the top four or five (teams in the country).  Not based on what we've witnessed this year in Division 2, I think you have to be realistic – they remain undefeated but they haven't played any of the top teams yet.
"But going on their performances last year, it was a very encouraging championship performance from the point of view that we got better with every game.
"A lot of players there don't have an Ulster medal and that's their ambition this time round.
"Tyrone wouldn't be looking at anything else other than going through the front door. If they were to get defeated, of course they'll regroup and attack the qualifiers the way Tyrone always have. But at this stage of their development, I think the hunger is there and certainly from a confidence point of view, the team needs to be winning an Ulster title."
Ahead of Tyrone and Derry's meeting in the first Ulster quarter-final this weekend, Canavan feels that the provincial championship is so competitive because of the quality of the players and "the derby effect".
"Take Derry for example on Sunday: James Kielt, Cailean O'Boyle, Chrissy McKaigue — exceptional footballers. Fermanagh last week: Tomás Corrigan and Sean Quigley, Eoin Donnelly. And Derry and Fermanagh wouldn't be regarded as close to favourites for an Ulster title.
"The other thing is then, the derby effect. When you play your neighbours, there's an added spice to the game. There's a really competitive edge.
"And with Tyrone and Derry, there usually is a really competitive edge, and I think we'll see that on Sunday."
The42 is on Snapchat! Tap the button below on your phone to add!