PETER CREEDON HAS ruled himself out of the running to succeed Brian Cuthbert as Cork senior football manager.
Creedon, a native of Roscarbery in west Cork, stepped down as Tipperary manager following the recent All-Ireland qualifier defeat to Tyrone.
But there's no chance of Creedon accepting the Leeside post any time soon after he took up a demanding new role recently.
Creedon is the former principal of Scoil Ailbe in Tipperary town but has now moved to Coláiste Dún Iascaigh in Cahir, a switch that will place even greater demands on his time.
And Creedon told The42 this afternoon that he would have stayed with Tipperary for another season if his schedule wasn't so packed.
Creedon took over in the Premier County following the resignation of John Evans after the 2012 Allianz Football League campaign.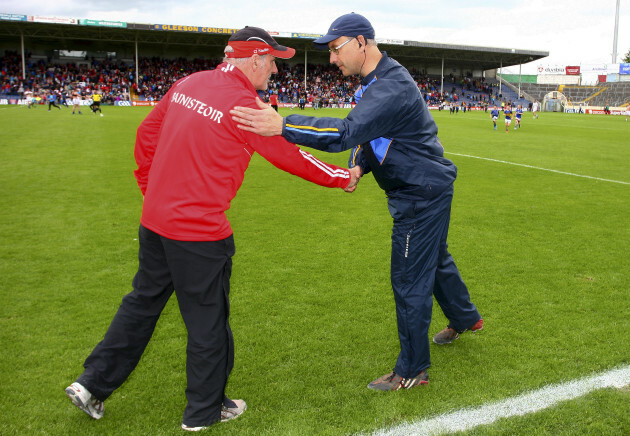 Ken Sutton / INPHO Peter Creedon stepped down after Tipperary's defeat against Tyrone. Ken Sutton / INPHO / INPHO
He guided Tipp to the last 12 of the All-Ireland series in 2012 and 2014 but stepped aside after the 12-point loss against Tyrone.
"It's nice to be associated with a job like Cork but if I had the time I would have stayed with Tipp for another year. That's where my loyalties are.
"I'm now principal at Coláiste Dún Iascaigh in Cahir and it will impact on my time.
"It's a big school with nearly 700 students. I would have liked to have done another year with Tipperary but it just wasn't feasible," Creedon explained.