TOP GOLFERS HAVE done the image of their sport a disservice in withdrawing en masse from the Olympics over the Zika virus, federation chief Peter Dawson said.
AP / Press Association Images AP / Press Association Images / Press Association Images
American two-time Major winner Jordan Spieth became the latest star to withdraw on Monday — meaning the top four in the world would not be in Rio — as the final list of 60 was unveiled by Dawson at Royal Troon, hosts to this week's Open.
"Speaking collectively there is no doubt that the number of withdrawals hasn't shed golf in the best light," said Dawson, International Golf Federation (IGF) president.
In his previous position as R&A chief executive Dawson had lobbied long and successfully for the International Olympic Committee (IOC) to restore golf to the Games after a 112 year absence.
"But we do understand why these individual decisions have been made," he said.
"Personally, I think there's been something of an overreaction to the Zika situation, but that's for individuals to determine, and there's certainly a great deal of concern about this issue inside the game of golf, no doubt about that."
Dawson revealed Spieth had phoned Ty Votaw, IGF vice-president to advise the organisers of golf's return to the Olympics that he would not be travelling to Brazil.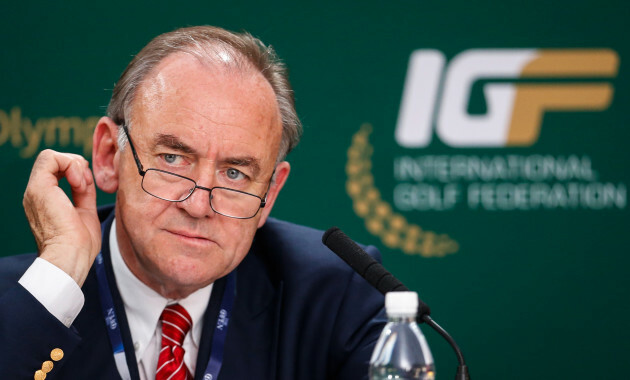 Danny Lawson Dawson was speaking at Royal Troon yesterday. Danny Lawson
"He (Spieth) called up earlier today [Monday] just before this press conference, and he's going to be addressing his reasons for choosing not to participate on Tuesday," said Dawson.
"But in the phone call, it was out of concern for the health issues that we've been talking about.
"I should say now that I don't think it's appropriate for us to discuss individual cases, especially as they're generally discussions have been taken on health issues."
IGF executive director Anthony Scanlon said the withdrawal of 17 of the game's leading male players — including world top four Jason Day, Dustin Johnson, Spieth and Rory McIlroy -– could impact on golf becoming a permanent fixture at the Olympics post the 2020 Games in Tokyo.
"In the Rio Games there are 306 events and the IOC will be reviewing each of those 306 events individually and then making a decision as to what events remain in the program for Tokyo (the 2020 Games) and beyond," said Scanlon.
"They've also made a strategic decision to allow organising committees to add extra events to that."
Scanlon supported Dawson's 'overreaction' remarks stressing it is winter in Brazil at present and the threat of the Zika virus is diminished.
"Within the golf course itself, we do have water and we're surrounded by that, but certainly the risk has diminished," said Scanlon.
"That risk is there, and that's a decision for each of the players to assess, and some have assessed it as a risk too high."
The42 is on Snapchat! Tap the button below on your phone to add!