HE NEVER WANTED to leave Derry City in the first place and in late 1998 Peter Hutton was back playing in the iconic red and white of the Candystripes following a brief departure which was not his own making. Far from it.
After captaining his boyhood club to its first Premier Division in eight years in 1996/97, only its second title since joining the League of Ireland in 1985, Hutton and Derry were riding the crest of a wave.
The following summer they had beaten Celtic 3-2 in Lansdowne Road. Climbing onto the team bus afterwards the captain turned to team-mate Gavin Dykes in sheer disbelief.
"We had beaten Celtic 3-2 in the Carlsberg tournament that summer in Lansdowne Road, and they went on to win the league that year," he recalls.
I remember sitting on the team coach afterwards going back to our hotel, turning around to Gavin Dykes and saying 'When is this going to end? This is surreal.' We had won the title the year previous and had just beaten Celtic. Everything just seemed to be going so well.
"We didn't start off the new league season great with a few bad results and we took a bit of a nose-dive. I was working at the time because we were part-time at Derry and one afternoon got a phone call from the manager Felix Healy.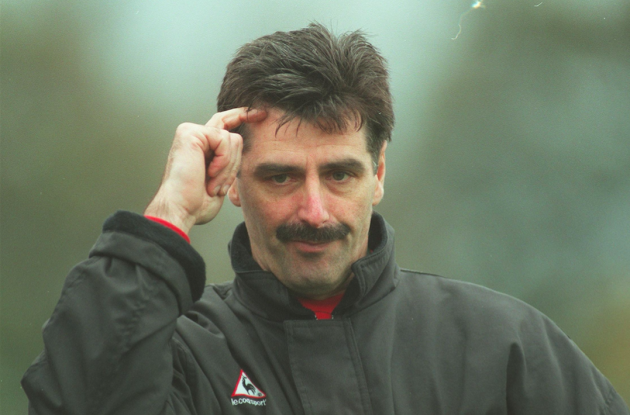 Former Derry City manager Felix Healy.
"Out of nowhere he said to me: 'Ronnie McFall is going to call you in half an hour, I've agreed to sell you to Portadown. They've made a fantastic offer and look Peter, I need to get three players in. I need to replace you, I need a goalkeeper and I need a centre forward.'"
Hutton sat in shock at the other end of the line.
"I told him I didn't want to go and I had no intention of going anywhere," he explains. "We had just won the league last year and I told him that I didn't want to leave Derry.
"He said 'Don't be like that, it'll be a good move for you.'
I kept telling him I didn't want to go, but he told me that Ronnie was going to call me in half an hour, that he'd made a good offer and that Derry had accepted it.
"He told me to talk to the man and when Ronnie called I just told him that this had come out of the blue and that I had no intention of leaving."
Though he could see his manager's point of view, the Derry captain had been backed into a corner.
"Ronnie said Felix had told him that I wanted to go, and I said that he was wrong.
"But when your manager says he doesn't want you and that he wants you to go, that he is bringing in other players, there's not a whole lot you can do about it.
"If you refuse and stay at the club the manager is hardly going to look favourably on you. So I went to Portadown."
Spending over seven years at Derry, growing up in the shadow of the Brandywell, having made his debut aged 16 and captaining the side to a league title a season previous, Hutton was out.
The player had been sold for an emergency fund of £40,000 which would serve to finance signings to keep Derry from falling further down the table in 1997.
Joining the Armagh side just before Christmas, Hutton admits, as he told his manager and Portadown boss McFall himself, he did not want to leave Derry. But he sucked it up. With the club making a rake of high-profile signings and challenging for the Irish Premiership title, he was willing to stick it out.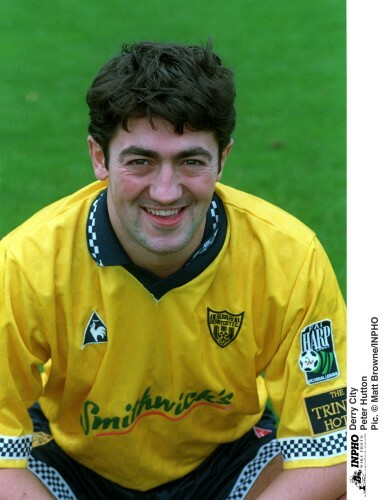 © Matt BrowneINPHO © Matt BrowneINPHO
But a Derry player born and raised in Cregan, playing in the Protestant-majority Portadown following the murder of prominent Ulster loyalist and former commander of the UVF's Mid-Ulster Brigade Billy Wright made a future at the club impossible for Hutton.
Manager McFall wanted to keep him for another season, but the player could not remain after experiencing the effects of the Garvaghy Road protests that year.
"Portadown finished second in the league and because of that the club had to cut back hugely as it wasn't cost-effective. They got rid of almost all of their Dublin players and big marquee signings.
Ronnie said he wanted to consolidate and keep me at the club and make me captain. But at that time it was the height of the Troubles — Billy Wright was just killed.
"I remember going up the Garvaghy Road during the protests for pre-season training. It was just not a great environment for a young fella from Cregan to be driving through.
"I remember one instance with myself and young Richard Clarke from Castledawson. I didn't know much about the Portadown area and how it was laid out. I knew one way in and one way out, and this time we came across a roadblock from the police.
"I pulled up to the roadblock and the police officer looked at me and said: 'Where're you going?'
"I told him I was trying to get to get home to Derry. 'Look,' he said, 'just back up a bit.'
"'Once I lift my arm," the officer said, 'you put your foot to the accelerator and drive through us. I'll get the rest of my police officers to part. Just you keep your foot to the floor and don't stop until you get to Derry.'
I swear to God," says Hutton, "when he put his arm up it was like the parting of the Red Sea. An avenue just opened up for me and Richard in the car behind me. As we were going through loyalists standing on the banks came rushing towards the car throwing things at us as we sped by.
"I rang Ronnie that night and said, 'Ronnie, I'm not coming back up there.'"
Hutton is the record appearance holder for Derry with over 600 games to his name. He joined the club as a 16-year-old from Coleraine and left twice. Once to Portadown when the decision was forced upon him, and again in 2001 when Shelbourne came calling.
Speaking to Hutton, now 44, you can't help but feel had circumstances been different he would have never left the club at all. After all, he was the one who forced the move to Derry through in the first place.
With Derry due to play Tottenham and Manchester United in a pair of high-profile friendlies in 1990, legendary Derry manager Jim McLaughlin wanted the teenaged Hutton to come aboard.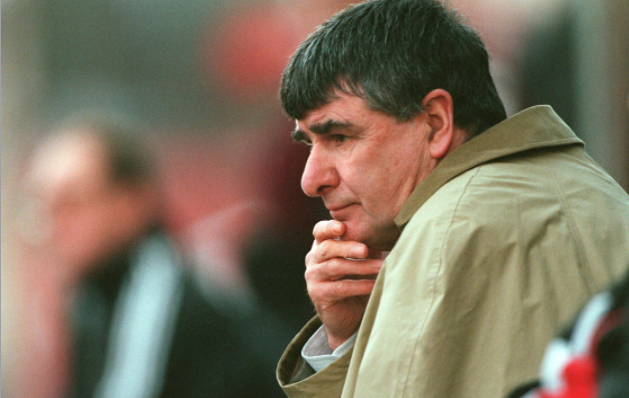 Jim McLaughlin gave Hutton his Derry debut in a friendly against Tottenham in 1990.
His club Coleraine, however, would not entertain the idea, with die-hard Tottenham supporter Hutton forced to take proceedings into his own hands — the prospect of playing against his idols hanging in the balance.
"At that time Jim McLaughlin approached Coleraine about me playing in a pair of friendlies for Derry against Tottenham and Man United that summer. Collaine said there was no chance, that I wasn't allowed to play," he says.
"As a Spurs fan, I took it upon myself to ring the Coleraine chairman, who was very friendly with my dad and who had played for the club for several years previously. But I rang pretending to be my father.
I explained to the chairman about how I was a Spurs supporter and about how I would be playing against my idols Gary Lineker and Paul Gascoigne and that if he let me play in the friendly I would see out the remainder of my contract with Coleraine.
"He believed me and thinking I was my father said 'Of course Peter, of course. I wouldn't want to do that to the young fella.' So as soon as I put the phone down I rang Jim McLaughlin and told him that Coleraine said it was okay for me to play.
"This was the day of the game. Jim said to me on the phone, 'Right, get yourself over here.' So I came on at half time against Spurs and played a part against Man United as well.
"It was fantastic. It was a wee bit mischievous, but it was well worth it."
Under the guidance of manager Healy, Derry came within a single point of winning the title in 1995. Needing a win on the final day of the season against Athlone in St Mel's, they could not get the three points, with Stuart Gauld missing a penalty.
Players described the dressing room afterwards as utterly desolate. Hutton would miss out on the league title a remarkable three times on the final day, experiencing it twice more under Stephen Kenny in 2005 and 2006.
But two years after the devastation of St Mel's, Derry cantered to the title in 1996/97 with a 24-year-old Hutton captaining his boyhood club to the league. Despite beating Gretna 5-1 in Scotland, holding PSG to a stalemate in the Brandywell in 2006 and playing them away in the glittering Parc des Princes, 1997 was the pinnacle of his career, he explains.
It was unbelievable. We had just missed out on the last day two seasons before in the last kick of the game down in St. Mel's Park against Athlone. With Felix we were on the crest of doing the double that year having won the FAI Cup too.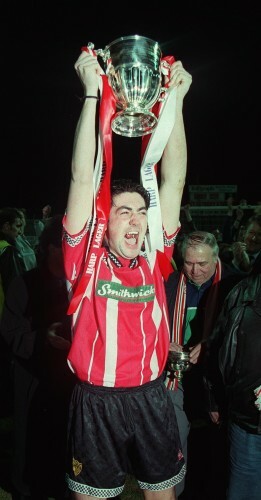 © Matt Browne / INPHO Hutton lifts the 1997 Premier Division title. © Matt Browne / INPHO / INPHO
"We were gutted by that but Felix went and reinforced the team with the Bosman signing rule. Guys like Tommy Dunne, Tony O'Dowd and Richie Purdie all came in.
"That helped us to establish a team capable of winning the league. We had Gavin Dykes and Stuart Gauld too, guys with real experience as well as young energy within the team.
As a young fella from Derry I'll still never forget when Felix decided to make me captain a few years previous. Someone said to me that I was the youngest ever Derry City captain.
"I think Felix wanted to change things up. He could have went for a lot of much more experienced people within the dressing room when Dermot O'Neill was leaving.
"He gave me the honour and at first I was shocked. But I really revelled in it and enjoyed it. It gave me a sense of responsibility and maturity in terms of my football. And then to be captain when we won the league was just the stuff of dreams.
"That season everything just seemed to click for me. I had started off as a young defender and then progressed to right back, and midfield and played left, right and centre under other managers.
"But under Felix he gave me that central role. It was a big decision for him to let Paul Doolin go at the start of the season. He went with me and Paul Hegarty in the middle of the park and that season everything just clicked and it was one of those where everything you hit goes in.
"I think I was made captain when I was just turning 21 a few seasons before. There were much more experienced players in the dressing room like Paul Curran and Stuart Gauld and Liam Coyle.
So Felix must have seen something in me and thought I would be able to take on the responsibility, which I was very grateful for but also shocked at the same time. There's no better feeling than to captain your hometown club."
Derry won the title by 10 points in 1997, after losing out two years before by just one. With pros like O'Dowd in goal, Hegarty and Hutton in midfield and Coyle up front, it was a blend of experience and youthfulness, with the team bond of a small squad also crucial to getting over the line.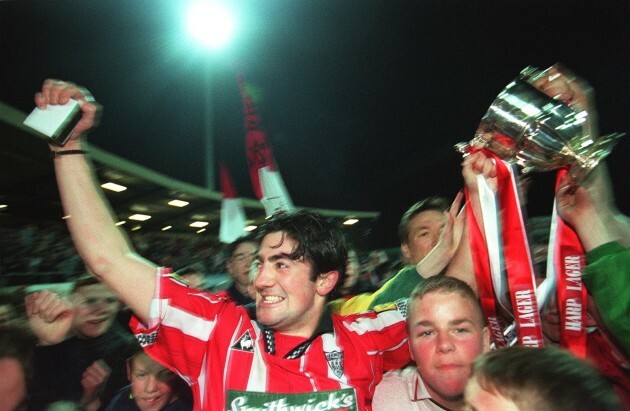 © Tom Honan / INPHO "He gave me the honour of being captain. It gave me a sense of responsibility and maturity." © Tom Honan / INPHO / INPHO
"We had a strong panel even at that time with the squads being a lot smaller than what they are now. But we had a really good work ethic," he says.
"The spirit and the camaraderie of that team was unbelievable. When we travelled to away games that year we actually travelled in two Ford Galaxies — we didn't even use a bus.
We had the four guys who were already down in Dublin. The other six of us who weren't living in Dublin went to away games in the two cars. So that really built a bond and closeness and camaraderie which was second to none."
Picking up both the PFAI Players' Player of the Year award and Soccer Writers' Player of the Year topped off a sensational season for the midfielder. He confesses that at that time it felt like success would come each and every season.
Winning the FAI Cup three times in his career, his first came two years earlier when Derry beat Shelbourne 2-0 in Lansdowne Road in 1995. Hutton got on the scoresheet, despite carrying an agonising injury.
"To miss out on the league a week previous we were all very, very down. But we just had to pick ourselves up because to get to any cup final is special.
"I had already lost a cup final against Sligo so I knew not to take this one for granted. We were going up against a very good Shelbourne team as well. It was a fantastic day but I went into it with a bad ankle injury and I was struggling to play.
"I had to get a pain-killing cortisone injection just before the final to numb the pain. Within the first 30 seconds Greg Costello absolutely clattered me and I might as well have not gotten the pain injection at all.
I was wearing one rubber-studded boot and one studded boot because of the pain of planting my foot on the ground. It was my mother's birthday as well and I told her that I would score beforehand. I had a bet on for us to win 2-1 and for me to score first at 25/1. So everything just seemed to work out.
"The adrenaline and the emotion gets you through games like that, especially cup finals. Mine was a left-footed finish, which I wouldn't be renowned for — I would be using it more for standing on.
"It just creeped into the corner and thankfully I had timed my run well. I could see Harry McCourt working down the left side and the Shelbourne defender had forgot to pick me up. I just ghosted into the box and tucked it away."
That taste for success led Hutton to Shelbourne in the summer of 2001. Dermot Keely was planning a project at Tolka Park which would see the club challenge for the title. Out of contract at the end of the previous season and with no assurances from Derry of competing, Hutton went to Shels and won the league.
I wanted to know where Derry were going for the future. I was out of contract and 28 at the time. I wasn't getting any younger and asked the club about my contract. Because I was a local it was sort of left in the air.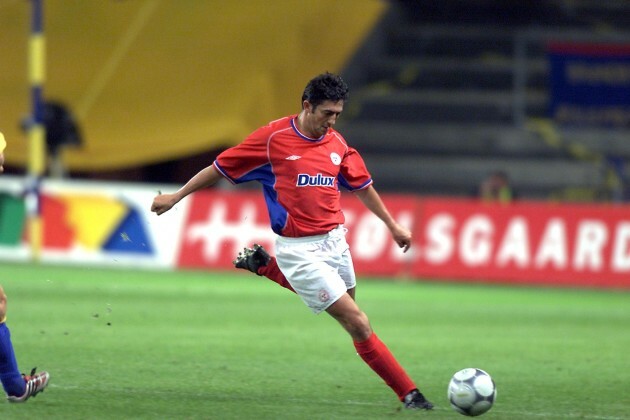 INPHO Hutton won the Premier Division for a second time with Shelbourne in 2002. INPHO
"The management had gone away on holiday and no-one had approached me about a new contract. Dermot Keely rang and said he wanted to sign me. He said he was signing a lot of good players and wanted to give the title a good go that year and try and win it.
"He said he wanted me to be a part of it, so I hung up on him and rang the Derry director Jim Roddy to tell him about it, leaving lines of communication open. He said it was up to me, he said I could meet Dermot and that it wasn't a problem.
"With that and the fact that I hadn't heard anything from our management I felt that I was worth more than that, so I met Dermot."
Similar to his experience at Portadown, despite considering Shelbourne's offer, it appeared that the decision had been taken away and made for him.
When meeting with Derry City to discuss the prospect of Keely's offer, a radio interview with Shels chairman Ollie Byrne in the background sealed his exit.
I went to meet with the Derry chairman to talk about all of this," says Hutton, "and as I was in his office it came on the radio that Ollie Byrne announced that Shelbourne had signed me.
"The FAI AGM was on and Ollie had done a radio interview where he said that I had already signed, which I hadn't. The chairman's wife came into the office and said 'Are you lying to us? You've already signed for Shels!' I assured them that I hadn't and that I had my integrity.
"But they just said they had to end this meeting because it had been reported that I had already signed."
Hutton won his second league title with Shelbourne and was back in the Brandywell again the following season where he won the FAI Cup for the second time in 2002.
The Inland Revenue debt at the club totalled close to £180,000 the following year, meaning it had to arrange a string of high-profile friendlies with Manchester United, Real Madrid and Barcelona to raise funds through gate receipts to keep Derry in business.
INPHO Hutton comes up against Andres Iniesta in a 2003 friendly. INPHO
The club survived financially and barely staved off relegation, winning the play-off against Finn Harps in late 2003.
Following the departure of Gavin Dykes in 2004, Hutton became player-manager at Derry before the arrival of Stephen Kenny, who would lead a title charge the following season, only to lose on the final day versus Cork City.
Hutton took on the responsibility of player/manager, but despite entering his 30s, remained focused entirely on his playing career.
"They offered it to me full-time but I wanted to continue on playing. It was an awakening for a lot of players when Stephen came in. In the initial first few weeks a lot of the players didn't know how to take him.
"At the time Stephen probably thought I was on my way out. At that stage I was focussing more on managing the team, rather than playing. I didn't select myself for a few of the games, because I think it is very hard to do both.
"Stephen was probably thinking that I was coming towards the end of my career. At that stage from a personal point of view I was just trying to show him that I still had a future at the club and that I still wanted to be a player.
A lot of people thought I was done and that I had had my day, thinking it was time for me to just go away quietly, whereas I had other motives and still wanted to win things and still had that competitiveness. I wanted to prove a lot of people wrong."
Exclusive Six
Nations Analysis
Get Murray Kinsella's exclusive analysis of Ireland's Six Nations campaign this spring
Become a Member
Hutton was far from done, winning the FAI Cup and League Cup as Derry missed out on the final day of the 2006 season on winning the treble. They would have been the first team since Derry in 1988/89 to achieve it, meaning heartbreak for Hutton who had now missed out on league titles three times on the last day.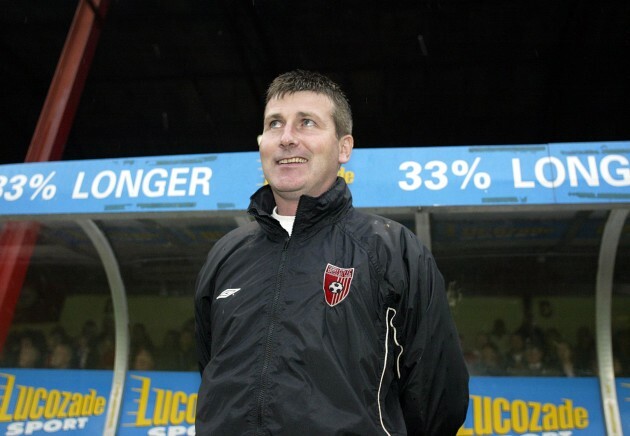 ©INPHO Stephen Kenny took charge of Derry in 2004, leading the club to second in 2005 and 2006. ©INPHO
"To miss out on doing it again for the first time in 17 years on goal difference was just heart-breaking. Especially in the aftermath, learning of the financial irregularities at Shelbourne."
But the club had experienced its highest of highs earlier in the campaign with a fairytale European run.
Beating Gothenburg in the opening round of the Uefa Cup in the summer of 2006, Derry went away to Gretna where they turned a goal deficit into one of the most remarkable results in the history of Irish sides in European competition, winning 5-1 on foreign soil, before drawing PSG in the third round.
"When we first heard we had got Gothenburg it was just like 'oh Jesus, here we go…,' "laughs Hutton.
The Gretna game was just completely and utterly surreal. To take 3,500 fans to Scotland… even the stewards in the ground were saying that Celtic and Rangers wouldn't take support like that.
"There was no animosity, no badness from anyone, just a jovial atmosphere. To go a goal behind and win 5-1… and the manner of the goals was real Roy of the Rovers stuff. Kevin Deery's two goals — if it was in the Premier League people would still be talking about them.
"Then to get PSG, that's what you dream about as a kid growing up. To hold them to a draw in the Brandywell and go over there was incredible. In the end you could see that they were a step above us and to be honest they could have won by more than 2-0.
But just to go to the Parc des Princes and bring thousands of Derry supporters with you, they're fantastic memories. The amount of supporters that the club gained from those experiences, that's what it's about at the end of the day, galvanizing people and giving them memories, and them becoming supporters because of those nights.
"The dressing rooms alone… in comparison with the Brandywell it was like night and day. You're sitting in these upholstered seats and there's marble everywhere in the dressing room. From the Brandywell it's a million miles away."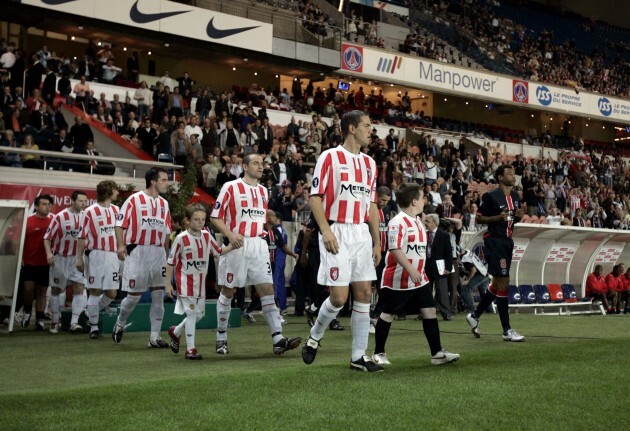 Donall Farmer / INPHO Derry City drew 0-0 with PSG in 2006 before losing the second leg in the Parc des Princes. Donall Farmer / INPHO / INPHO
Hutton made his final appearance for the club in 2009, with manager Kenny informing him that the club would not be offering a new contract the following season.
However following financial irregularities which saw Derry relegated to the First Division, Kenny went back on his decision, asking the 36-year-old to remain for a revival campaign to get back up to the Premier Division.
"We were coming to the end of the season and Stephen pulled me aside and told me he wouldn't be renewing my contract. At that stage I was 36 and knew I wasn't getting any younger," says Hutton.
But I still felt I had had a good year. I knew I wasn't that quick anymore and nobody can carry on forever, but I was still a bit taken aback. You almost get a bit emotional, but it's just part and parcel of life as a footballer — you can't continue forever.
"I knew I was going to be going and got that into my head. Then the financial irregularities came in and we got demoted. Stephen contacted me then and told me that he wanted me to stay and to lead the team for promotion back into the Premier Division the next season.
"But at that stage my head was in a different place. I had resigned myself to be leaving and everyone knew I was going, so I felt it was a good time to make the break."
Applauded off the Brandywell park for his final home appearance against Bray Wanderers, 'Pizza', as he is nicknamed, made a further 39 appearances at Cliftonville before taking on another new challenge at Finn Harps, where he enjoyed a spell as manager.
Taking the reins as Derry boss in 2014, Hutton admits that while it was yet another dream realised to manage his boyhood club, the demands of playing and managing remain entirely different, bringing the club to an eighth place finish and an FAI Cup final before being dismissed following a poor start to the 2015 campaign.
"A lot of people thought it would be a natural progression, but it is a huge commitment. I had my eyes open when I was at Finn Harps about the commitments that are required. It was a huge honour to be made manager of your hometown club, without a doubt. I really enjoyed it, even if you do make mistakes.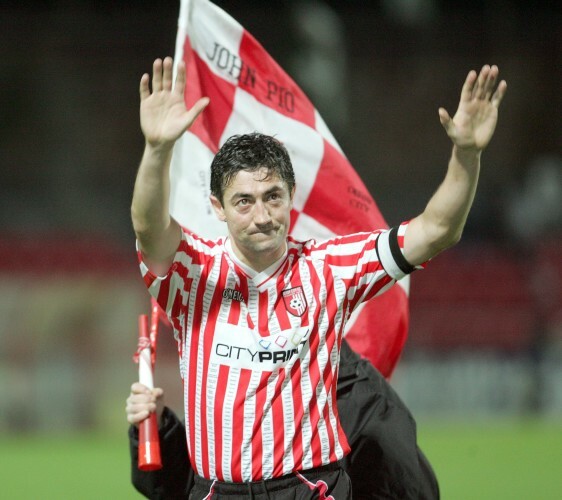 Margaret McLaughlin / INPHO Hutton waves goodbye to the Brandywell during his final appearance for Derry City in 2009. Margaret McLaughlin / INPHO / INPHO
"But managing is completely different from playing. Completely and utterly different.
"Because we didn't get European football in 2014 the decision was made that they were going to consolidate the following year and to grow some young players. We had a very young team at the time, maybe too young in hindsight.
"It was disappointing, obviously. It's never nice to be let go, especially because of the nature of the game in that it is so public. But that's part and parcel of football, it's how it is."
Hutton is currently scouting for both the Irish U18s and U21s and despite not considering a return to management immediately, is enthused by the idea of coaching at youth level, with his family his number one priority following so many years dedicated to the game.
When I was manager of Derry it did have a negative impact, especially when you have a young family. It was hard and you never want to put them in that type of situation. Football is there to be enjoyed and it shouldn't be negatively affecting your family.
"Because of that I'm sort of happy to be out of that role at the moment.
"I would be interested in getting back involved in terms of the coaching side of things. I feel that it's always important for footballers to give something back. If a career has been good for them, it's important that they give something back."
Considered as one of the club's greatest ever players, Hutton remains the last ever Derry City captain to raise the Premier Division title. Born and raised in the shadow of the Brandywell, he entrusted another Cregan native with the armband when appointed manager.
The death of Ryan McBride in March sparked a litany of emotional tributes to a player described as undisputedly warrior-like on the pitch, even though quiet away from it. Hutton says McBride was a clear choice to lead his side, seeing parallels between himself and the defender as quiet leaders.
He wasn't overly vocal in the changing room as a captain, but neither was I. I don't think you need to be that way, it's about how you go about talking to people and how they perceive you as a leader.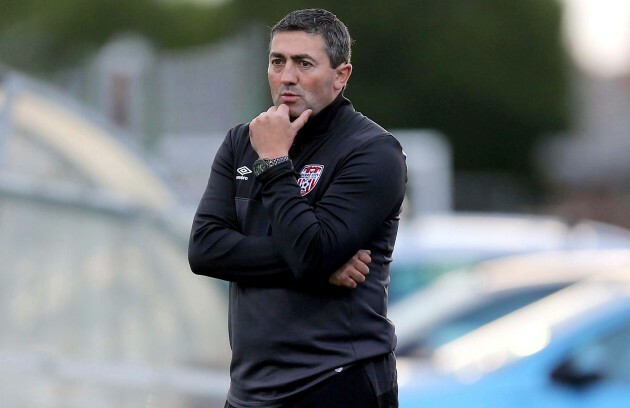 Donall Farmer / INPHO Hutton led Derry to the FAI Cup final during his first season in charge. Donall Farmer / INPHO / INPHO
"He led by example, more than anything, with his will to win and desire for Derry City and his drive to always do right on the field. He would give everything for the club and that's what you want in a captain. That's the example you want your captain to lead by and that's what Ryan did.
"He was very young and very raw. He was a centre back like myself and you just knew he was going to get better, because centre halves will naturally develop with that experience over time.
Giving him the captaincy was just reinforcing that responsibility. He was a natural leader and by making him captain I was just trying to bring that out in him a little bit more.
"He was a very humble young fella and would never be singing his own praises. It was about trying to instil that belief in himself as much as anything. If every player that took to the field was like Ryan, you would never have a worry as a manager."
Hutton says having the responsibility of a young family means a return to management is unlikely in the near future, despite turning down offers in the last year.
He admits that managing Derry to a league title would be a pinnacle moment, and a fitting way to round off a career that has been nothing but loyal service to the club.
With endless highs and a share of lows which make the taste of those victories even sweeter, he maintains that lifting the Premier Division 20 years ago was a surreal high beyond comprehension.
"It eclipses everything," he says. "We've had some great nights in Europe but winning the league is your bread and butter. It makes all those nights training in the dark and in the wet and in the rain, missing birthdays and weddings and Christenings worthwhile.
"Captaining your hometown club to the title — nothing surpasses that."
The42 is on Instagram! Tap the button below on your phone to follow us!