"HUH? DID I miss a joke or something?"
Tommy Dickson / INPHO Tommy Dickson / INPHO / INPHO
The laughter wasn't expected as Peter O'Mahony sat answering serious questions seriously following his Captain's Run at the Aviva Stadium.
The joke wasn't much of a joke. More of a quizzical look from defence coach Andy Farrell that prompted a swell of giggles when the skipper had jumped in to answer a question posed Farrell's way about the quality of Garry Ringrose.
Go on then so, Pete:
"I think he's a fabulous athlete. Watching him play for Leinster over the last couple of weeks he doesn't look like a huge man, but God he can hit hard.
"He carries hard, he's good around the breakdown, he's strong… I'm really looking forward to playing along side him tomorrow."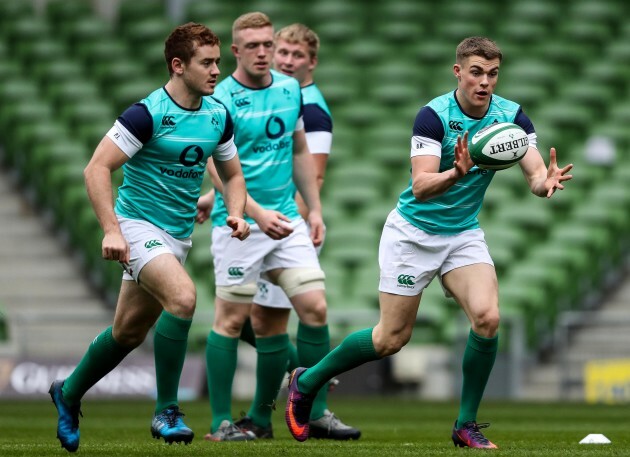 Tommy Dickson / INPHO Tommy Dickson / INPHO / INPHO
It feels a long time since O'Mahony was in Ringrose's position (longer than four and a half years): preparing for a somewhat overdue international debut after going from strength to strength at provincial level.
Tomorrow, he captains Ireland against Canada. It's a first for the Corkman, but only on home soil. He's been there and done it before, leading the tour of North America after Rory Best was called up to the 2013 Lions tour.
He's not the slightest bit fazed by the responsibility, no need to get soppy about it. Just acknowledge the honour and get on with the job.
"You never take it for granted anytime you get selected in an Irish team," O'Mahony said with the blood still pumping from the traditional pre-match session.
I'm a very proud Irishman and I'd certainly never take it for granted, but when you get picked as a captain it's always very special and it's a huge honour and I'm looking forward to it."
When they take a step back and look at the November series as a whole, players might agree that some jerseys, some caps, are worth more to them than others. A number in the squad to face New Zealand next weekend must be a great big black target for every international, but this close to a Test – especially against a touring second tier side – short-sighted focus is obligatory.
"I've been picked as captain, now I've got to go and lead through my performance. Days of shouting and roaring are long gone. You've got a leadership group there who have met once over the last week, there's other guys who drive it.
Tommy Dickson / INPHO Tommy Dickson / INPHO / INPHO
"Young guys there have enough they have to worry about, so we've got to go out and put down a performance tomorrow that will make others around us feel good and play well. That's all we're worried about as a XV."
Facing world number 18 Canada tomorrow brings an inevitable level of expectation from a nation who just put 40 points on the World Champions. New caps, combinations and fresh faces will not make hitting the ground running a straightforward task. O'Mahony does a fine job of talking up the visitors for the experience in their side, but also hopes that a midweek hit-out against the All Black-conquerors will have warmed this experimental side up sufficiently to ensure the gulf in ranking is displayed on the field.
"The guys who have played in the week against New Zealand were training against us during the week, they trained hard, tested us in defence, tested us in attack and the guys came through really well and were very impressive.
"There's a lot of pressure from the media and the public, but I think they're ready."
If you have the answers, why hold back?