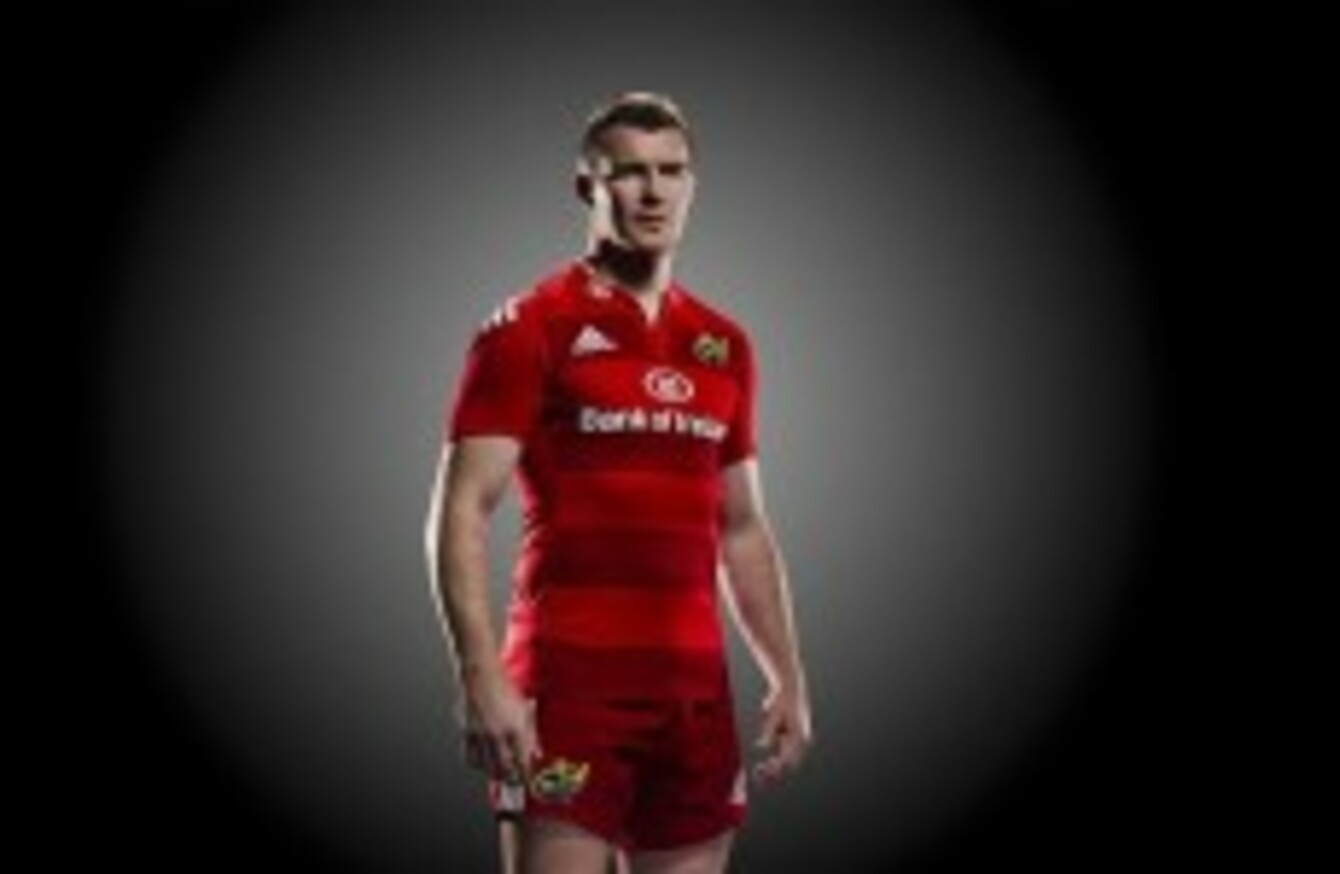 Peter O'Mahony in the new adidas Munster ERCC jersey.
Image: adidas/SPORTSFILE
Peter O'Mahony in the new adidas Munster ERCC jersey.
Image: adidas/SPORTSFILE
PETER O'MAHONY HAS not had a fun time over the last five and a half months, relatively speaking.
The 25-year-old Munster captain was one of Ireland's standout players during the 2014 Six Nations, but had his season cut short by a dislocated left shoulder in his province's Heineken Cup quarter-final victory over Toulouse in April.
Surgery was required, with O'Mahony and Munster deciding that they might as well fix his troublesome right shoulder while they were at it.
The Corkman had been having issues with the labrum in that right shoulder for a 12-18 month period prior to dislocating his left shoulder.
Terminology: The labrum is a cartilage disc attached to the socket of the shoulder. The labrum aids in maintaining the stability of the shoulder — helping the shoulder to stay in its proper place.
O'Mahony explains that such a niggle was not worthy of halting his season alone, simply the type of battle wound that most professional players carry at some stage.
"It [his right shoulder] got quite loose; it semi-dislocated maybe six, seven or eight times, so it would be quite sore for a few weeks after it," says the Munster captain. "You're playing and managing yourself week-to-week, but that's the life of a rugby player these days.
"You're always managing yourself, managing pain and injuries. There's no point in taking a week out with every niggle, because I don't think there'd be many of us left in Ireland if we were carrying on like that!"
However, when the left shoulder dislocated against Toulouse and he had no option but to go under the knife, O'Mahony suddenly had a long-term period on the sidelines ahead, the perfect chance to also fix that labrum.
Two for the price of one, so to speak, even if the operations were separate. Having both shoulders remedied also meant a longer period of rehab for the back row.
"Obviously, shoulder [injuries] are a regular enough occurrence with rugby players, but to get two done in the space of three weeks is different," says O'Mahony. "I think it probably adds a little bit more time because you're rehabbing two rather than one and it's very time-consuming."
Inactivity
So how does a player build himself back up after a unique double shoulder reconstruction? It begins with humbling inactivity, when family and friends play a key role.
An image of O'Mahony with both shoulders thickly bandaged, rendering him almost incapacitated, is not too far from the truth.
"You've a month of, not quite being bed-ridden, but you're pretty much useless to anyone," explains O'Mahony. "You've to have all your food cut up and you've people waiting on you pretty much the whole time.
"After that month, you [still] can't run – walking is about the most exercise you're going to get. It is frustrating, I'm certainly not the kind of guy who likes lying around and being on the couch. It kind of messed with my head a little bit more than some people, but that's part and parcel of it."
Movement
After that initial period of inactive recovery – O'Mahony says " you'd surprised how fast the body reacts and the body heals up" – there is encouragement to get the joints warmed up and the focus on building a decent range of movement starts.
"The surgeon would be telling you to get it out and getting movement in it as much as you can. Nothing major at first, but just getting a bit of movement in it. There are no weights, you're just leaving it hanging and taking its own weight would be enough at that stage."
Once O'Mahony's shoulders had adapted to actually supporting themselves and began to feel more comfortable, Munster's coaching staff moved him onto a progressive plan to increase strength and that all-important rage of motion.
Little did the former PBC student know that a broom stick would become one of his closest companions.
"You start back just having one hand on a bed, just doing a figure of eight with your hand. Then you start with the stick of a sweeping brush, working on that range and different things, with the brush at the end cut off. That was kind of my best friend for a few weeks.
"The old broom went everywhere with me for a few weeks. Then you're back into bands [thera-bands] and light weights, plenty of different exercises, and all multiplied by two in this case. Because it's such a big injury, you're quite focused on it."
Add some plates to that bar
With all going according to plan, O'Mahony was able to add weight to the various exercises and return to a more regular gym plan with Munster in recent months.
For a man determined to use his period on the sidelines to add power and lean mass, this has been a happy side effect of his recovery from surgery.
"I've been tearing into the gym stuff. That's been going on for a good 10 or 12 weeks and I've been ripping into it, so that's been really enjoyable. We've a couple of young guys in the gym in Cork that are chomping at the bit and eager to get stuck into the gym. It's been refreshing to train with them and have the craic with them."
Back onto contact
O'Mahony is now moving into the contact stage of his rehabilitation, a crucial test for the work that has been undertaken over the past months. Will he be out on the pitch taking slow, simulated tackles on each shoulder?
"It's not even that," answers O'Mahony. "It's maybe just falling on the mats in the gym at first, falling and getting used to landing. You're taking very light bag hits, very low grade, very simple stuff.
"Then you're progressing up to catching a ball as you're falling, so you're landing on a shoulder, then on to very, very light simulated tackling and then pushing on to hitting a bag reasonably hard. It is a long process, because shoulders do take a lot of impact."
Alongside those contact elements, the back row has also been centrally involved in the skills sessions, line-out training and other technical portions of the squad's regular schedule in recent times.
The best news for Munster and Ireland fans is that O'Mahony is now nearing a return to playing. His initial target of lining out against Leinster at the Aviva Stadium early next month is unlikely to be reached.
Instead, Munster's medical staff are hopeful O'Mahony will feature against the Scarlets on the 10th of October. The player himself is leaving the final decision up to those with a deeper knowledge of the issue at hand.
"To be honest, it's up to the physios really," says O'Mahony. "I feel very good, but the ball is totally in their court. I'm listening to them and if they reckon the Scarlets is the game for me, that's the one. I'm taking orders at the moment!"
********************
Peter O'Mahony was launching the new adidas Munster ERCC jersey that will be worn on-pitch for the first time on October 18th away to Sale Sharks and is exclusively available from Life Style Sports stores and online at lifestylesports.com.
As official retail partners of Munster Rugby, all season ticket holders get 10% off at Life Style Sports, in-store and online.