PETER QUEALLY HAS never been reluctant to test himself abroad, but he could have been forgiven if he decided to seek home comforts after a frustrating experience last year.
His 16-fight professional career, which began in 2012, has played out across seven different countries. As well as Ireland and the UK, the 32-year-old has shared the cage with opponents in South Africa, Poland, Italy, Russia and Kazakhstan.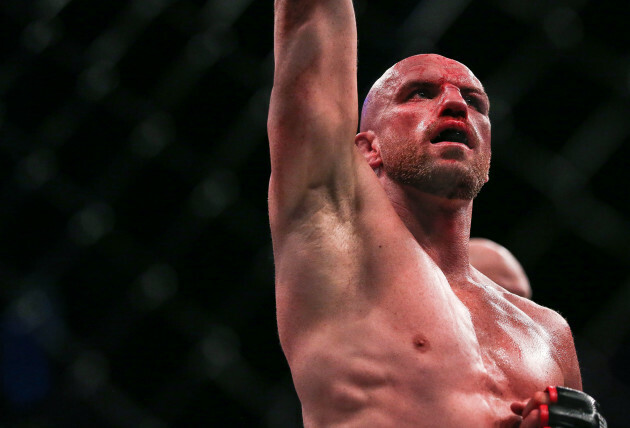 Gary Carr / INPHO Gary Carr / INPHO / INPHO
A visit to the latter in November to face home favourite Kuat Khamitov initially resulted in a majority-decision defeat. The Russian judge seated cageside scored the fight as a draw, but his colleagues — both of whom were Kazakh — gave the nod to their compatriot.
The outcome was deemed dubious enough to ultimately be overturned to a draw, but the experience didn't deter Queally. Last weekend he was on his travels again to compete for the Fight Nights Global promotion in Russia. This time he made sure that the input of the judges wasn't required.
"I had no bother going back over to fight for Fight Nights again," he insists. "It's a great promotion. The judges this time were all Russian and my opponent was Armenian. We made sure it was a different situation, although the judges didn't matter in the end anyway."
David Khachatryan lost only three times in his 27 outings as a professional prior to his clash with Queally. He had never been dispatched inside the distance. Queally changed that last Saturday, knocking out the 30-year-old after less than four minutes of the first round of their lightweight contest at the Express Arena in Rostov.
It was a long overdue stoppage victory for the Waterford native, who saw all 15 of his previous fights last the full duration. Nevertheless, he took his record to 11-4-1 in emphatic fashion, his right hand lifting Khachatryan off his feet before referee Jan Vobornik stepped in.
"I'm delighted. From the preparation to the fight itself, everything went really well," Queally explains. "Getting the finish is a weight off me, to be honest. It's been a while coming.
"It was annoying because I feel like I fight in an exciting way and people have been entertained by my fights, but you'll always have the fuckers who could point to the fact that I hadn't finished opponents, no matter what I was doing. But that's them shut down now. They can't throw that at me anymore."
It was a resounding win for Queally, in spite of his opponent's protestations over the stoppage. Khachatryan insisted that he was still in the fight, and while admittedly there was something slightly clumsy about the manner of the referee's intervention, the likelihood is that he merely spared the defeated fighter some additional and unnecessary damage.
Many in attendance weren't impressed, however, which made for a tense aftermath. Queally, along with wrestling coach Sergey Pikulskiy and team-mate James Gallagher, subsequently had to be escorted to the changing rooms and back to their hotel.
"I was completely in control of the fight and it wasn't a controversial stoppage at all, in my opinion," he says. "You can see from the replay that he was out. The fight was only going one way anyway.
"There was a lot of booing afterwards, people in the arena were going crazy because they thought it was a quick stoppage. Bottles and coins were being launched into the ring, and then people — a 50-strong mob — started trying to get into the cage.
"In fairness to my opponent, people online were giving out and saying he left when I was being announced as the winner, but he actually didn't. He went out to try and calm the crowd. I think their anger was probably aimed mainly at the ref, but I still had to get a military escort, which was crazy."
He adds: "Fighting abroad in these places, I think I'm just used to that sort of intimidating environment by now. People always tell me I'm a mad bastard for fighting over there but I never see it that way. I've done it a few times now so it almost feels normal.
"I do actually enjoy kind of being the heel, so to speak, so I probably get a bit of a kick out of it. There's pressure when you're fighting out there, but there's also pressure — even if it's a different kind of pressure — when you're fighting at home in the 3Arena. Pressure is all part of fighting at this level."
In terms of earning a good living from fighting, Peter Queally is now enjoying the most prosperous spell of his career while contracted to Fight Nights Global. Yet he doesn't need to cast his mind back very far to recall a time when he believed that success and fulfilment as an MMA fighter could only be attained under the umbrella of one particular promotion.
In the summer of 2016, an opportunity to fight for the UFC finally appeared to be within reach. While he was in Las Vegas helping Straight Blast Gym team-mate Conor McGregor to prepare for his rematch with Nate Diaz, Queally put his name forward to fight at UFC 202 against Tim Means, whose original opponent Sean Strickland was forced to withdraw after sustaining an injury a fortnight before the bout.
Last hard sparring done. Russia get ready, Ireland is coming 🇮🇪 pic.twitter.com/bB5DnoXxPv

— Peter Queally (@peterqueally) May 1, 2018
Queally was being considered for the fight, to the extent that the promotion requested his passport and other paperwork. However, his prospects of achieving his dream of a UFC debut were ultimately dashed. Concerned that Queally would not have sufficient time to secure a visa to compete in the US, the UFC opted to look closer to home for a new opponent for Means.
By now, Queally has moved well beyond wondering what might have been. As the landscape in MMA continues to evolve, the UFC is no longer the only show in town. It undoubtedly remains the dominant player in the global market, but the growth of other promotions has provided more opportunities for professional fighters.
For a guy like Queally, it pays to be a big fish in a relatively smaller pond. He headlined last Saturday's Fight Nights card ahead of a light-heavyweight title bout between ex-UFC pair Fabio Maldonado and Nikita Krylov. Queally will continue to keep his options open, but he's no longer transfixed on one destination.
"They [Fight Nights] are putting a lot of faith in me so I'm obviously moving the needle for them," he says. "The fight before the last one was in a 12,000-seater arena in Kazakhstan which was completely sold out, and so was the one last weekend. They're good shows to be part of.
"The reality for me now is that I'd probably be taking a significant pay-cut if I went to the UFC. That's not to say that I've closed the door on the UFC or another promotion, but I'm really happy where I am now. For me to leave, it would have to really make sense. I'm not begging to go to the UFC anymore. I don't care, I'll stay here if I need to.
"MMA is so different now. Before, you couldn't earn a living unless you were in the UFC. In a lot of cases now, depending on your situation, you can earn more outside the UFC. Other promotions are giving fighters good careers. Even two years ago that wasn't the case.
"If the right offer comes in from somewhere else, of course I'll consider it. There have been big offers from other promotions which I haven't taken. I couldn't be happier with Fight Nights right now but we'll see what the future holds."