Losing
PETER RYAN REMEMBERS the precise moment his life changed forever.
"It was the start of 2010 and I was playing a challenge match. One of the lads was bottled up and hand-passed me the ball. I was in the pocket. I threw up the paw and it missed my hand. I said 'There's something up here'."
He was right.
"I booked an eye test for the following Saturday. I covered one eye and reamed off all the letters. I covered the other eye and I couldn't see the board.
A bit of panic was setting in. They didn't know what it was. I had three, maybe four months of being tested for everything. Even what they were ruling out was scaring the shit out of me. I was going for brain scans. 'Is it a tumour?' Was it this? Was it that? It was brandishing around medical terms that you don't want to be hearing at 19/20 years of age. The world is a lot scarier when you don't know what you're dealing with. I was cracking up for a few months – purely down to the not knowing."
Eventually, there was a diagnosis: Leber's hereditary optic neuropathy, a rare, genetic form of vision loss. Doctors sat down with Ryan and explained that he'd never go fully blind and that, because it passed from female to male, he'd never pass the disorder onto his children. That was the extent of the good news.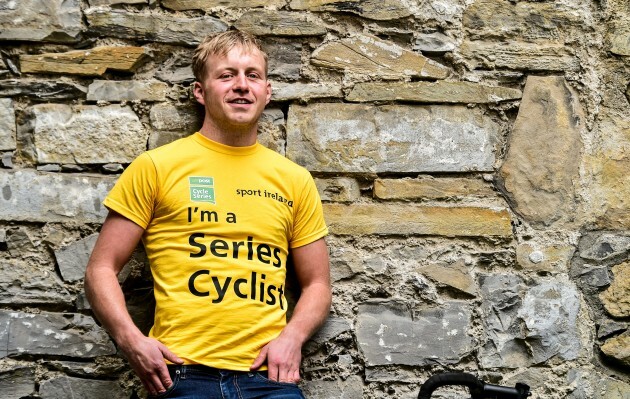 Ramsey Cardy / SPORTSFILE Ramsey Cardy / SPORTSFILE / SPORTSFILE
Inevitably, it wasn't much consolation. A minor with the Tipperary hurlers, he was a talented athlete but also a young man. He had a social life. He had just started driving. His life was just beginning. And it had just been snatched away.
"I remember that I was the only one in the room that wasn't actually crying", he says.
That wasn't because I didn't want to cry. Subconsciously I said, 'Right, I'll be the one to put on the mask'. And that's how I went about my life for the next few months and years. I was pretending things were better than they were. 'Ah, sure it's grand'. 'It is what it is'. 'Shut up – I don't want to talk about it'. Utter, utter denial."
By the autumn, he was down to 8% vision. Bit by bit, his world had been picked apart. His sport was gone, his job as a plasterer was gone. Any semblance of independence was no more.
"I was trying to adapt. Jobs were being taken away, taken away, taken away. Then you're completely stripped. And there's no pamphlet. Also, I'm not fully blind. I had something to hold onto and that was maybe worse in one way because it kept me in denial for longer. I was trying to hold on to something I was rather than what I am. If you had used the words 'blind' or 'visually impaired', I would've ran a mile because I wasn't either of those things. I was Peter. That only made life harder."
Having endured a massive personal trauma, Ryan brushed it off. He refused to acknowledge it. He continued to try and live his life the same way. If he faced the problem, that meant there was one. For a long time, he lived in a world of make believe.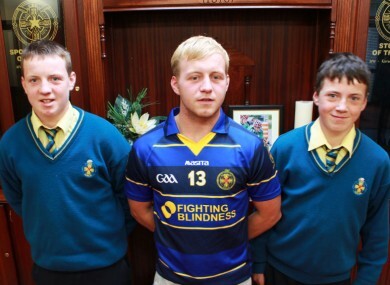 Peter, pictured in 2013, with his brothers Conor and Denis during a Fighting Blindness fundraiser.
"I use audio technology on the laptop and my phone now. I needed it after about six months but it took me two years to actually get the stuff. I had a touchscreen phone and the only thing I could do on it was ring the last dialled number. But I was happy enough going around, taking a chance – completely crazy shit. In your head, you've rationalised that that makes more sense than asking for help. I had my little brothers texting for me. That was all part of the denial and the lack of acceptance."
Wasting
Around town, Ryan was treated differently too. No longer 'Peter', he was 'the blind lad' instead. Still, when people asked how he was, genuinely caring about his well-being, he shrugged off the interest. He had some general phrases at the ready, designed to appease those doing the inquiring and to move the conversations along as quickly as possible.
But, rather expectedly, he finally broke. Eventually, the weight of everything became too much.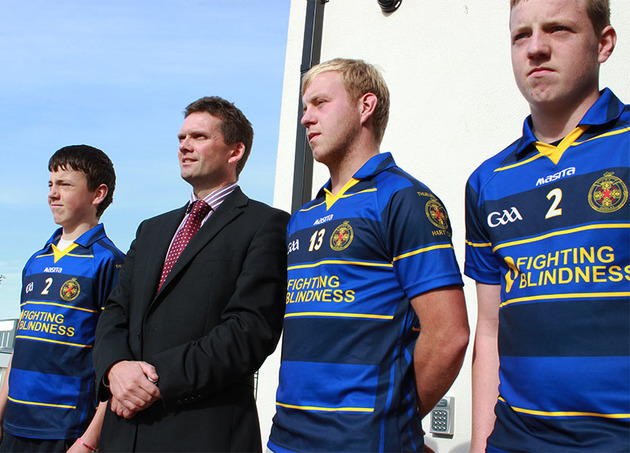 Peter, alongside his brothers and Thurles CBS principal Tiernan O'Donnell.
"Looking back, my life was a very simple one", he says.
"I had my sporting life, I had my working life, I had my social life. When two of the three were taken away, I was down to the social. I had my big list of things I couldn't do and going out and being one of the boys was one of the few things I thought I could still do the exact same.
I could go to a pub and I could drink and I just fucking drank the shite out of it, really. That was my coping mechanism, without a doubt. And it came to a head. I couldn't stay on the route I was on. It was literally killing me."
Ryan drank himself into oblivion. But it was his blindness that saved him. He went to counselling to deal with his alcohol problem but he needed to address what he'd been hiding from for years.
"Was I an alcoholic and this problem just brought it forward or was I a young lad who had a life-changing event and used drink as a coping mechanism? I don't know. I don't really care. I don't drink anymore. It wasn't just a Eureka moment. but I know that giving up the drink was the best thing I ever did as regards trying to re-piece my life. If I stayed doing that, I was going to end up old and bitter and buying myself a sheepdog and that was all I was going to have – resentment towards everything. Dealing with things, I thought 'I'm 22 – this isn't terminal and you have a lot to offer if you just get the best part of yourself out again' because I hadn't shown it for a long time."
Getting
Ryan wasn't just talking to a stranger during his counselling sessions. He was talking to another person who suffered from sight loss. There was a common bond. There was an empathy. There was an understanding. He felt he could, at last, talk about real things.
There's a difference in my head between acceptance and what I thought acceptance was. Me and my one-liners isn't acceptance. Acceptance for me now is that I think it's shit. I hate the condition. But these are the cards I've been dealt with and by God, I'm going to make the most of them because the alternatives are limited. I have good days and down days. But everyone has the very same going on. It's about getting out of that selfish mentality and just seeing life for what it is.
The counselling was step one in that – just saying things out loud. Saying real things out loud. I'm from rural Ireland. I didn't know anyone who was visually-impaired. I had no network of people. I had finally met someone who got it. The amount of times I had heard 'I can only imagine'…No. No, you can't."
Ramsey Cardy / SPORTSFILE Ramsey Cardy / SPORTSFILE / SPORTSFILE
Ryan was coming to terms with being different. Still, more than anything else, he didn't want to be defined by it. He knew he longed for sport. But he knew he needed to refine his way of looking at it. It was about getting back out there. There was no long-term plan.
"I just wanted to get back into being competitive and not being patronised. I tried playing some indoor soccer with my mates and you'd get the ball and no one would tackle you. That's not what I wanted.
I wasn't thinking of the sport but thinking of what I was getting out of it. Half of me wanted a smelly gear bag again, to bring it home and say 'Mam, wash that'. I have four other brothers. I just wanted to be the same. I don't think I'm a blind sportsperson. I think I'm the other way around. I was always a sportsperson and now it just so happens that I'm blind.
I went up to UCD, not long after the London Olympics in 2012. It was a Paralympic open day and I had no agenda. I wanted to find these four other lads that I was going to play soccer with and become renegades! I just wanted to find something I could enjoy."
Ryan had never owned a bike. There was no need. He lived across the road from the soccer pitch and a five-minute stroll from the club. His life was green fields, nothing else.
But that day in Dublin, he spent a lot of time at the cycling stand. They liked what they heard. Ryan had been an accomplished athlete and was hungry. They asked him to go for a test three weeks later and their attention was piqued even more. In December 2012, he was put on a fast-track programme. Within six months, he was national para-cycling champion.
Having
Peter Ryan remembers the precise moment his life changed forever.
"I remember the first competition I went to. There still would've been an element of selfishness about me. I remember thinking I was the only visually-impaired man in the world and then fellas are flying past you in wheelchairs. And there's someone else with one leg or one arm. Or there are three lads in tandems and one has a stick. I didn't have a stick. You had to get out of your own head.
Everyone in life has a story. This is my story but it doesn't make me special. I don't think my problem is better or worse than someone else's. A problem is a problem. It's how you're dealing with it is the antidote. My support network was my answer. That's what made me who I am – not the condition.
Everyone was always there for me even though I pushed them away enough of times. I made life hard for my family. For the second half of my bad spell, they didn't know how to handle me. Today, I'm pouring a cup of tea and if it overflows, it's your fault. And tomorrow, if you go and offer to pour it for me, I'm mad as well. There was no right or wrong and I must have been an absolute pain to be around. I'm very happy with the place that I'm in but it wasn't an overnight success."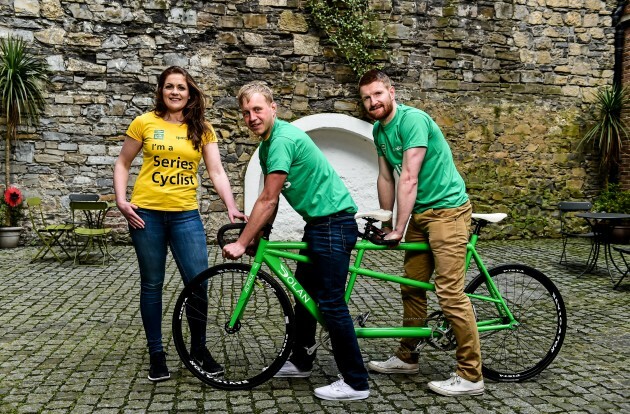 Ramsey Cardy / SPORTSFILE Peter, pictured with Fiona Coghlan and Richie Power - two other ambassadors for the An Post Cycle Series. Ramsey Cardy / SPORTSFILE / SPORTSFILE
Cycling has pushed him. It has reignited his life. Because of it, everything has started again. The determination is back. The drive to succeed. The normality. But it has taken time.
"In many ways, winning the nationals in 2014 was the worst thing that happened me because I fell into that lull of it being too easy. I've often played badly and won a hurling or soccer game. I've often played well and lost. Cycling? No. You rock up to a start line and if you play badly you're going to lose. If you play well, you're giving yourself the best possible chance of a result. I got a few hidings in the summer of 2014 and I said to myself, 'Right, Peter. You're either going to do this or you can give up because there's no craic in getting bet'. I absolutely hate getting bet. I'm the worst in the world for it. I come from a big family and you nearly have to eat the biggest dinner just to be the boss. Giving up wasn't an option and I kicked into gear at the end of that summer. I got on the Irish team for last year's world championships. We only had one slot, I got the nod and I came eighth."
The bike is different from anything he's ever known. It has quirks and idiosyncrasies. And Ryan has a partner to contend with, a pilot – Seán Hahessy. It's a crucial relationship.
"They don't get the credit they deserve. My story is romantic – I've lost my sight – but Sean is an unbelievable cyclist on a solo bike as well. It's not Community Games stuff. To be competitive internationally, I have to be of international standard and he has to be of international standard. The bond that you have completely adds to it. I have to know what he's thinking. When we're absolutely balls out in the middle of a race, there's not a whole lot of talking going on. If there's a sharp turn coming up on the right, it's communicated through the peddles.
I come from a team background and cycling is seen as an individual sport but tandem isn't. It feeds into what I like about it. I have someone to not let down. There's something more going on than just yourself. The bond we have…we're almost like brothers at this stage. I've seen Sean more than my girlfriend since January. I've seen him more than my mother."
This week, Ryan is in Lake Garda for the world championships. He's hoping a solid performance there will confirm his place at the Rio Paralympics though he won't know for sure until June.
Just a few years ago, he was desperate to live a fantasy – a made-up world where nothing was wrong and everything was fine. He's ruthless and realistic now.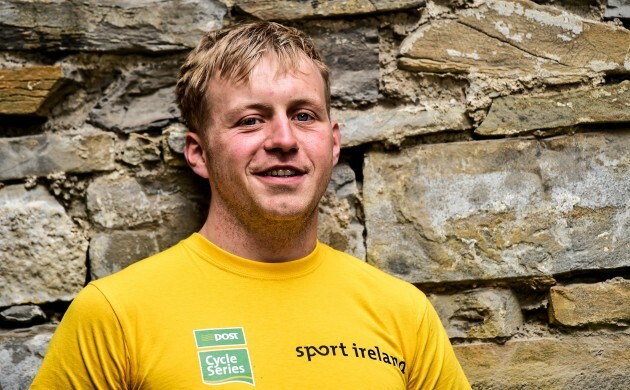 Ramsey Cardy / SPORTSFILE Ramsey Cardy / SPORTSFILE / SPORTSFILE
"I loved what I did and genuinely thought I could never replace it", he says.
"But I appreciate what's going on now. I'm not the type of person to say 'Everything happens for a reason' or 'Look at me now' because there's nothing I'd love more than to go for a few pucks with my brothers. Just the simplicity of that. But if I got my eyesight back in the morning, I'd stay cycling.
When I was at my low ebb, I could see for a radius of half a metre – both literally and metaphorically. I thought I had nothing going for me. The list of what I couldn't do was just getting bigger and bigger. Watching people do what I did – it was sheer jealousy. I didn't know how I was going to turn it around because there was nothing wrong with me – nothing to turn around. My family made me who I am. They stuck with me. But at the end of the day, it had to be me. They couldn't make me do anything. God knows they tried for long enough.
I have shit days. I have great days. So does everyone else. That keeps me going – the sheer fact that I'm not special for my story. It's just my story."
And it's a remarkable one.
Peter Ryan is an ambassador for the An Post Cycle Series which sees five events take place around the country between May and September.
For more information on how to sign up, check out www.anpost.ie/cycling.
The42 is on Snapchat! Tap the button below on your phone to add!