WHEN CONNACHT DEFENCE coach Peter Wilkins is speaking about his area of expertise, he continually comes back to the "behavioural" element of it.
Wilkins, an Englishman who broke into top-level coaching in Australia and came to Connacht via a two-year stint with Edinburgh, is passionate about his craft and the western province have been benefitting from his work this season.
Now in his second campaign with Connacht, Wilkins' work is beginning to bear encouraging fruit.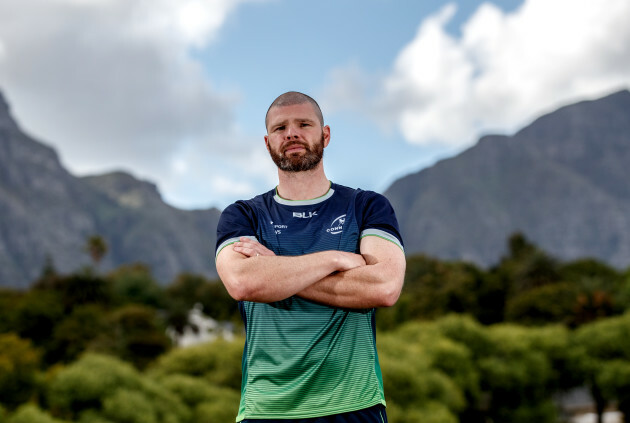 James Crombie / INPHO Wilkins and Connacht have been in South Africa for the past fortnight. James Crombie / INPHO / INPHO
Coming into today's clash with the Cheetahs – a serious attacking threat – in Bloemfontein [KO 3pm, eir Sport/Premier Sports], Connacht's defensive record in the Guinness Pro14 makes for impressive reading.
Only reigning champions Leinster have conceded fewer tries and points than Connacht, while Wilkins' review of the opening block of the season up to early November showed Connacht were averaging more defensive turnovers per game [9.3] than any other team.
Wilkins admits that Connacht were inconsistent defensively last season, hinting at real progress at times but also releasing defensive pressure on the opposition on other crucial occasions.
This season, Andy Friend's team have found a promising defensive pitch so far.
"If anything, we've simplified the systems we're using, simplified the language we're using around stuff like tackle technique and the defensive breakdown, but we've put extra emphasis on the behaviours and the attitudinal stuff around defence," explains Wilkins.
"Where we have been relentless is pulling out good examples of work rate off the ball, double efforts, guys chasing down lost causes. As a coaching group, I think that's something we've focused on since the start of pre-season when Andy came in.
"Our catchphrase this season is, 'There's always a solution until someone stops working' and the boys have really bought into that."
Wilkins spent a large portion of last season working hard to improve the physicality of Connacht's defence and has clear evidence of how that has improved.
When he joined, one in 10 of Connacht's tackles were 'dominant,' whereas that now stands at one in four tackles.
"For us, dominant means we've changed the direction of the ball carrier," explains Wilkins.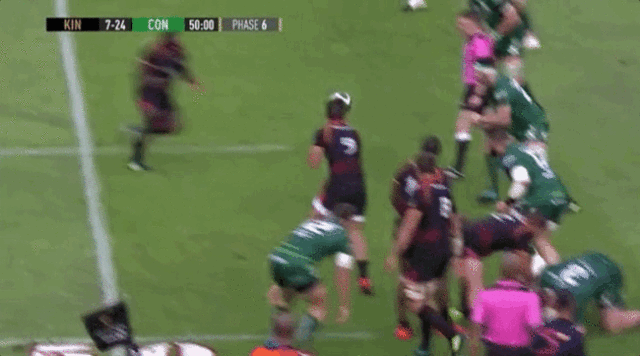 Click here if you cannot view the clip above
While the physical side of the defence grew, Wilkins continually came back to that "behavioural" aspect – how hard players were working off the ball, how quickly they got off the ground, how tuned in they were in covering team-mates' mistakes.
"We want to be a team that fights for every last scrap and so, even in our pre-season trial games, we were cutting video clips to show the players and trying to celebrate the moments when they did chase down lost causes," he says.
"I remember in Brive in the pre-season, we conceded a try in the first 20 minutes but it was an example because we had Conán O'Donnell, the young prop, chase back 50 metres to stop the Brive player from scoring under the posts, and Cian Kelleher came across from the far wing.
"We didn't prevent the try but they were little moments to demonstrate the difference in attitude and a new-found resilience."
Wilkins recently showed the Connacht players statistics from the English Premiership, focusing specifically on Exeter Chiefs, who are considered to be a good defensive team.
The stats indicated that Exeter's tackle success was the second worst in the league at that time, but they were simultaneously the best team in England at preventing linebreaks.
Correctly, Connacht's players suggested that this was because Exeter's players were working so hard to cover mistakes by their team-mates. Connacht have bought into that mindset wholeheartedly.
Wilkins has enjoyed the arrival of Friend as head coach this season, particularly with the former Australia 7s boss so keen to have tempo in all aspects of Connacht's game.
Tempo isn't a word traditionally associated with defence but Wilkins has embraced it, with one marker of Connacht's defensive success being that their tacklers are back on their feet before the opposition scrum-half has passed the ball.
"If you're set first in defence, ready before the attack are ready, you're going to be in a better position and defending will be easier," says Wilkins.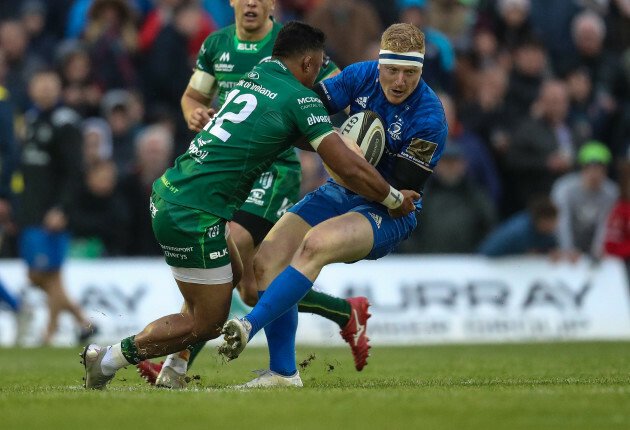 Inpho / Billy Stickland Bundee Aki tackles Leinster's James Tracy. Inpho / Billy Stickland / Billy Stickland
"It's probably taken me a few seasons to figure out the best way of coaching that and having a relentlessness that the standards required are in place to achieve that.
"It affects a few different areas, whether it's speed off the ground after a tackle, the speed to achieve the correct spacing we're after, speed to work in the backfield to cover kick space, linespeed is the most obvious one but even bringing a greater intensity to that."
Wilkins' obvious hunger to improve Connacht's defence is typical of a coach who has had to work hard for every bit of progress in his career.
A native of London who studied in Durham University, Wilkins never made it as a professional player, meaning he struggled for top-level opportunities as a coach until he took a risk in moving to Australia to work with Queensland Rugby in 2007.
Initially working in coach education at a community level, he advanced up the ranks to become an analyst for Ewen McKenzie's Reds in 2011, the year they won Super Rugby.
The role expanded to include skills coaching before Wilkins became the Reds' defence coach, and what was intended to be a six-month learning stint in Queensland ended up being eight years.
He returned to the UK with an Australian wife and two Brisbane-born sons, joining Edinburgh and helping them to strengthen their defence under Alan Solomons, before Connacht came calling two summers ago.
A short visit into Joe Schmidt's Ireland camp in November of last year in between the South African and Fiji games, seeing how Andy Farrell and the rest of the Ireland staff work, was another important stepping stone for Wilkins.
"People talk about the intensity of Ireland's environment, but the biggest thing that struck me was how relentless players and staff are at driving the standards that are required and expected," he says.
"That's not news to anyone but seeing the small details and day-to-day preparation, how they generate that intensity, was a big turning point for me.
"You have ideas of how you might do it but to actually see a group doing that really well and really consistently was hugely beneficial to me. I suppose I was able to put a Connacht slant on it and it's something we're starting to put into practice."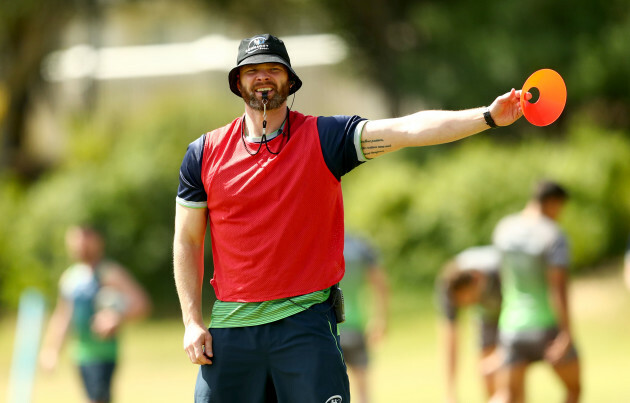 James Crombie / INPHO Wilkins at Connacht training in South Africa. James Crombie / INPHO / INPHO
Among the positives for Connacht's defence in recent months has been their success in turning over the opposition, although it isn't just about their breakdown work.
In fact, Wilkins has been pushing his players to be more selective in attacking the ball on the ground post-tackle, leading to a wider variety of defensive turnovers.
"Before I came to Connacht, they had a really big emphasis on the tackle contest and getting a low tackle focus to allow players to jackal and pilfer the ball," says Wilkins.
"I've probably actually spent more time getting guys to leave the ball alone than go for it, ironically. But we've worked hard to improve our decision-making and when you look at some of the best defensive sides in Europe, they're very disciplined in terms of knowing which balls to go for and which not to go for on the ground.
"The great thing is that winning turnovers has actually maintained. Some of those turnovers are coming from having numbers on feet, having really positive linespeed and good collisions at the end of that linespeed.
"It's not all guys getting over the ball and jackling. It's about getting balance in where we're winning turnovers, with [forwards coach] Jimmy Duffy and the set-piece we're getting turnovers there too."
Wilkins has come up with a fascinating defence rating system for Connacht, streamlining their key defensive markers into one overall score out of 10 for each game.
They have hit highs of 8.6 against Bordeaux in the Challenge Cup and 8.0 against Ulster, while disappointing themselves with a 6.4 against Glasgow in their opening game of the season.
"I've been quietly obsessed with trying to find a way to get that perfect measurement or single number that sums up how you've defended," he explains.
"Essentially, we look to measure areas around our work rate, our connections in defence and also around our tackle entry, then we run those numbers through an equation that takes into account the points we've conceded and that gives us our number out of 10.
"It was a bit of a project last season and it turned out to be really accurate in reflecting the defensive performance.
"Looking at the numbers this year, it's not only aligned with our performance but it has tied in really neatly on what we've focused on in defence that week."

Subscribe to our new podcast, Heineken Rugby Weekly on The42, here: