HOW ON EARTH did it come to this? Fourteen international footballers, representing their country, themselves, their team-mates and future generations, left to fight for their rights; for respect, for dignity, for equality and for fairness.
Donall Farmer / INPHO There was a large turnout for today's press conference in Liberty Hall. Donall Farmer / INPHO / INPHO
The frustrations of the women's national team at the general treatment of the squad by the Football Association of Ireland (FAI) had been no secret, but this was a deeply disappointing, and startling, day.
Nobody could have quite envisaged what developed on the first floor of Liberty Hall this morning as members of the senior squad, flanked by their representatives from the Professional Footballers Association of Ireland (PFAI), made a last-ditch attempt for improved treatment from the FAI.
Attempts to secure a €300 match fee and their own kit for travelling to away games, or a gym membership and access to a nutritionist, had proved futile over the last two years; all the concerns had fallen on deaf ears.
So this, airing their grievances in public and standing united for what they believe in, was the last resort.
It was clear from very early on that they did not want to be here but they had little choice.
There was an uneasiness, a nervousness and an edge to proceedings. Concern was written all over captain Emma Byrne's face, and when it was her turn to speak on behalf of the squad, there was visible emotion too.
"What we are fighting for here is equality," she said. "We are fighting for the future of women's football."
Byrne is the leader of this group on the pitch and she has been the voice of the team off it, but even she, with over 100 international caps and one of the most-decorated goalkeepers in the game, struggled to put the situation and how it was affecting the players' performances and, more significantly, livelihoods into words.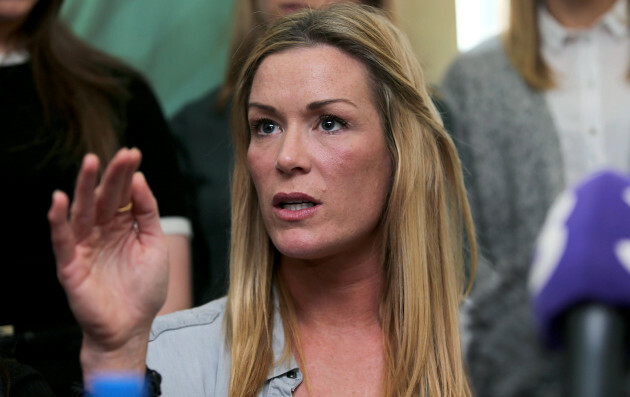 Donall Farmer / INPHO Ireland captain Emma Byrne. Donall Farmer / INPHO / INPHO
With Stephanie Roche, Karen Duggan and Aine O'Gorman either side of her and the rest of the players — with 550 international caps between them — standing behind, it was a powerful image on a landmark morning.
But it was obvious they did not want to be here. Liberty Hall is a storied building, the venue of many momentous days in Irish history, but it is no place for footballers. It shouldn't have come to this.
Yet then again the revelations made about the quite astonishing levels of treatment the players have been subjected to are not all that surprising. The battle for fairer treatment in women's sport is a perpetual one, it seems.
With each passing minute of a press conference which ran for close to an hour, came more remarkable developments; the FAI's unwillingness to engage with the PFAI, the loss of earnings from employers during time with the international squad, the sheer lack of respect shown for the players in making them change in airport toilets and the fact they share tracksuits with underage teams. That's only scratching the surface.
"It's a huge honour to play for your country but there comes a time when you have to think of yourself," Duggan admitted.
You can only take so many holiday days from work or sacrifice a month's wages to go on a training camp before something has to give.
"I know players who have had to sacrifice and make a decision," Byrne continued. "I know some players made the decision that they cannot play anymore. This is about the women being able to turn up to play for their country without having to worry about bills and their mortgage."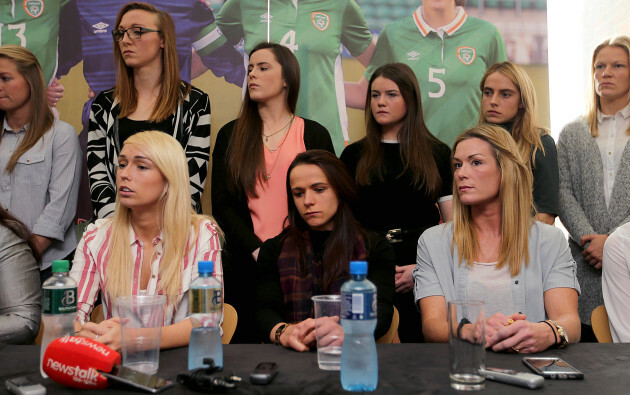 Donall Farmer / INPHO The players spoke about the conditions they're expected to perform under. Donall Farmer / INPHO / INPHO
In turn, Ollie Cahill and Stuart Gilhooly of the PFAI outlined the timeline of events and then came the details of the correspondence between the FAI and the players after going public and a boycott of next Monday's game against Slovakia were first suggested.
"It's worse when you're hearing it first hand, trust me," Byrne added, once PFAI solicitor Gilhooly had read out the extraordinary emails from the FAI during the last week.
"We've probably had a few tough phone calls to take over the last few days with these threats but I think as a group it's something that we stand strong about."
The message, whoever held the microphone, was patently clear: the current conditions are not good enough and it is now up to the FAI to address the issues outlined by the squad; the ball is in their court and there is an incredibly easy solution to it all.
But the association continue to miss the point. In their statement shortly after the press conference, the FAI said they had invited the players in for discussions and that there are 'clear and tangible offers for the payment and compensation of members of the squad' on the table.
At the heart of the issue, however, is the FAI's refusal to engage in any shape or form with the PFAI despite the players making it clear that that is the way they want to proceed.
"We're very determined to get this sorted this week and it's in the hands of the FAI," Byrne underlined. "We're leaving it with them, and with our PFAI representatives. We don't want to have to deal with this."
They shouldn't have to deal with it. Surely the 'demands' of the players — access to gyms, nutritionists, their own kit, more home-based training sessions and match fees — are a given at international level. The absolute basics. The fundamentals, regardless of whether it's a men's or women's team.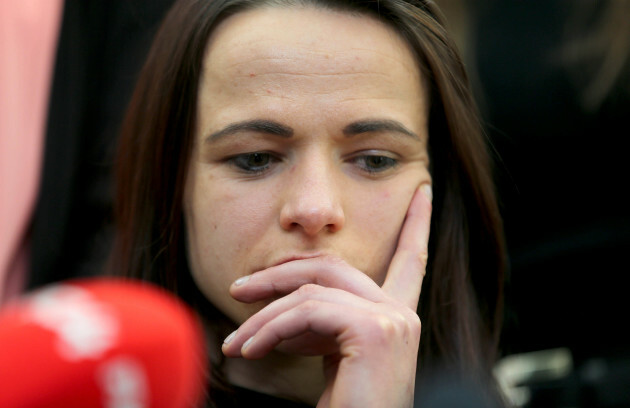 Donall Farmer / INPHO Defender Aine O'Gorman. Donall Farmer / INPHO / INPHO
The Ireland squad were due to assemble ahead of Monday's friendly against Slovakia tomorrow but whether that fixture gets played or not is uncertain and is likely to be until John Delaney or someone in the FAI picks up the phone and agrees to hammer out a resolution.
What the players are asking for is not unreasonable. What they had to do today was. Explaining how they are forced to change in airport toilet cubicles was 'humiliating and embarrassing', but it had to be done. It took incredible guts to stand up there in front of dozens of media and fight for what they believe, and know, they deserve.
"We regard this as the Roy Keane moment for the international women's team," Gilhooly said. "Roy Keane as we all know famously made a stance and things changed after that…but there's a difference here.
"Every one of them is here. Every one of them is saying that this is not good enough."
The42 is on Instagram! Tap the button below on your phone to follow us!