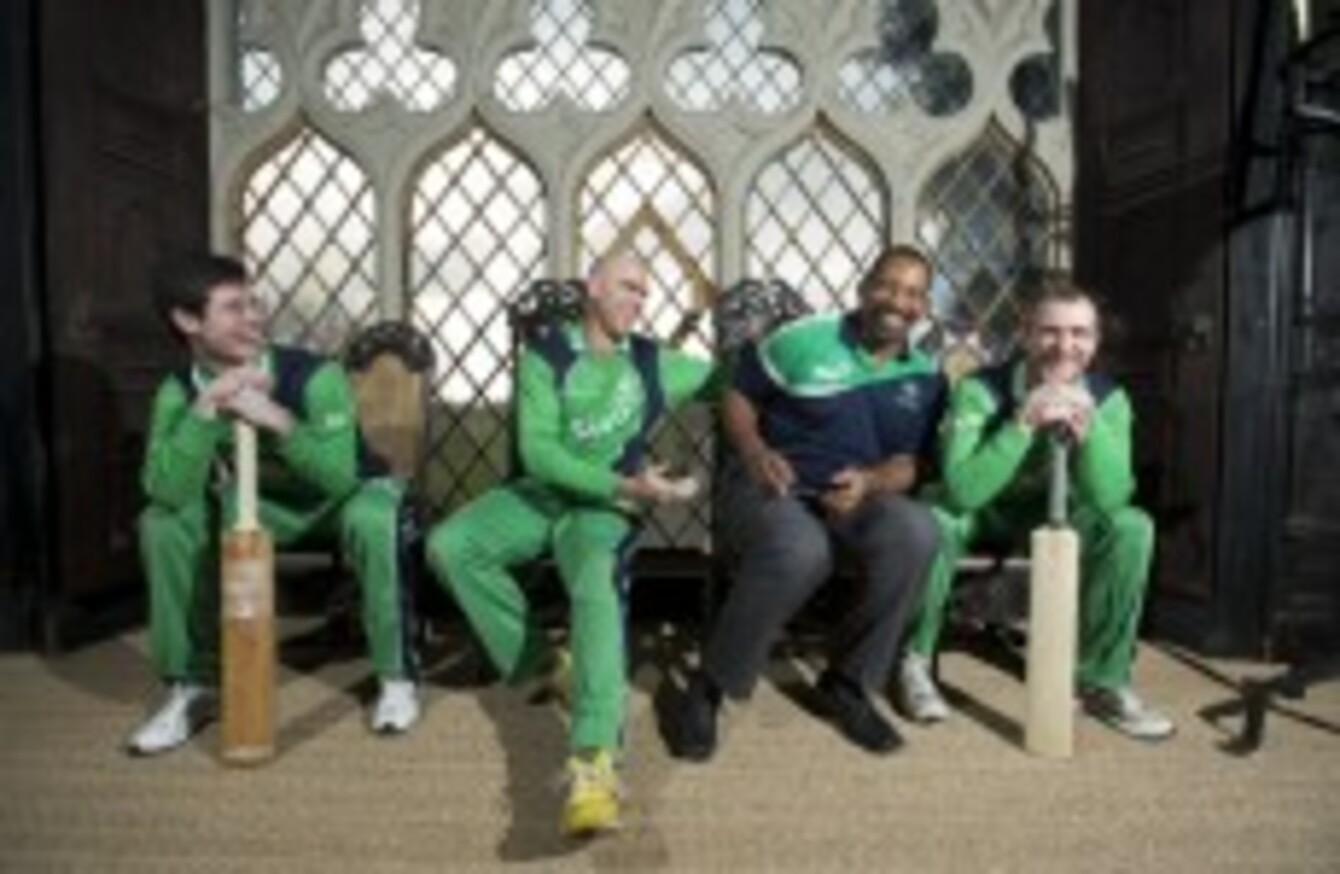 (L-R) George Dockrell, Trent Johnston, Phil Simmons and John Mooney at the launch of the 2013 RSA Challenge between Ireland and England on Tuesday.
Image: INPHO
(L-R) George Dockrell, Trent Johnston, Phil Simmons and John Mooney at the launch of the 2013 RSA Challenge between Ireland and England on Tuesday.
Image: INPHO
PHIL SIMMONS WON'T babysit Ireland's top cricketers if they are tempted to pursue Test ambitions with England.
But the Ireland coach hopes that recent gains on the international stage will help keep his players focused on their future together.
England's eagle-eyed selectors will get a closer look at some of Simmons' rising stars when the neighbours meet next September for the one-day RSA Challenge in Malahide Castle, which was launched this week.
In August fast bowler Boyd Rankin became the latest cricketer to follow Eoin Morgan's lead and move across the water in the hope of building a Test future. George Dockrell, one of the country's hottest young talents and ICC Associate Player of the Year in 2012, has spoken before of his Test dream though the Dubliner would much rather if the opportunity came with his native country.
Simmons knows that international success, such as Ireland's win at the World T20 Qualifying tournament in the United Arab Emirates, can be a double-edged sword if his players start to turn heads with their performances.
"You can't be against someone who wants to further their career by playing Test cricket," he tells TheScore.ie. "It's a case where you take them both together: success is going to make your players noticeable and therefore you might lose one or two.
"It's not something that you think about while you're doing things. You have to push the ICC so that we want to get to a place where we can't lose our players any more, but we're not there yet."
He adds: "I'm not a babysitter. If it's a case where you feel that's your future, all I can do and all Cricket Ireland can do is show you where we're going, where we want to get to, and that we want you to be a part of it.
If you decide that you don't want to be a part of it, that's your choice. We wish you well and hope that you succeed in what you want to do.
As a non-Test playing nation (Cricket Ireland's aim is to get full Test status from the ICC by 2020), Simmons knows that his players' opportunities in international cricket are limited.
If any of them can land contracts in the high-profile — and big money — Indian Premier League or Bangladesh Premier League, he'd be all in favour.
"If my players are playing in that, they will know that they're doing well on the world circuit.
In playing that they will get more experience which is something that we need. We play half as much international cricket as the other countries, so we'll be getting players playing more Twenty20 cricket which is good for us.

The other part is that when you go to the IPL, you know that you're up there, you can make a good living and you don't have to go anywhere else for that.
After the Christmas break, Ireland are back in action when they return to the UAE in March for the InterContinental Cup and World Cricket League, the latter of which doubles as a qualifier for the 2014 World Cup.
Ireland currently lead the WCL by two points from Scotland, and though the top two teams will qualify, Simmons insists that he's only interested in topping the pile.
We have six games and that's going to be at the top of our list. It's something that we have to make sure that we seal. If we can seal it by July, that would be good.

Anything I go into, I like to win. If it's a case that we come second, yes we'll qualify, but it won't be as fulfilling as winning the whole thing outright.