OSCAR PISTORIUS' FAMILY today condemned a new book alleging that the amputee Olympic sprinter beat his girlfriend Reeva Steenkamp with a cricket bat before he killed her three years ago.
The book claimed to reveal fresh evidence of an argument between the couple — in contrast to Pistorius saying that he mistook Steenkamp for an intruder when he shot her through the door of his bedroom toilet.
Pistorius told his trial that he used the bat to smash open the door after he realised he had shot Steenkamp by mistake at his house in the South African capital Pretoria.
"It is totally absurd to suggest that the State Prosecutor… would have overlooked any evidence that could prove that Oscar used his cricket bat for anything other than bashing open the door," the family said in a statement.
This is yet another attention-seeking, money making exercise — this time by two citizens with detective fantasies (who) manufacture sensational nonsense theories."
The Pistorius family said it had been forced to deny the allegations after the book received widespread media attention.
Pistorius, 29, was first found guilty of culpable homicide — the equivalent of manslaughter — but his conviction was upgraded to murder last year after a state appeal.
Pistorius, who is on bail, appeared in court this week where a judge said his sentencing hearing would be held in June.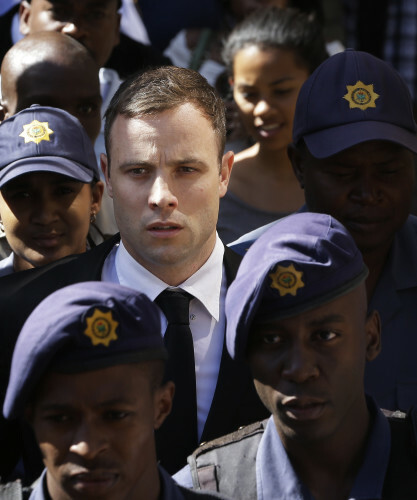 AP / Press Association Images AP / Press Association Images / Press Association Images
The double amputee faces a minimum 15-year jail term for murder, which may be reduced due to time he has already spent in prison.
He denied killing Steenkamp in a rage and, during his trial, sobbed in the dock as details of his lover's death were examined in excruciating detail.
The42 is on Snapchat! Tap the button below on your phone to add!