THE DUST HAS long settled on Ireland's Grand Slam season and the provinces are in full swing for the new campaign.
Almost all of the star names who made the difference in Twickenham, won in Australia or lifted silverware for Leinster are back in their boots and playing meaningful matches again.
As November approaches though, fans will undoubtedly see instances where their province must choose between selecting their recognisable strongest XV for the upcoming inter-provincial derbies or saving them for a European clash.
In its simplest form, the IRFU's player management programme is a limiter on match minutes for around 90 professionals on this island.
In the Aviva Stadium yesterday, the union's head of strength and conditioning Jason Cowman explained the thought process behind the programme. In his presentation, Cowman included a sample slide where one player among a long list had fallen foul of the spreadsheet formula and turned to red the cell containing his minutes played.
As a rule of thumb, Cowman splits the season into three phases — from September kick-off to November, November to Six Nations and Six Nations to the season's end  — for each player, staff determine an ideal workload for that player in a given season and the allotted minutes are then spread over the three phases.
Cowman admits that minutes are not necessarily the most scientific measure of player efforts given the speed and impact data that can be tracked on GPS. However, he adds, "it's the most common language. And matches require the most recovery from after exposure."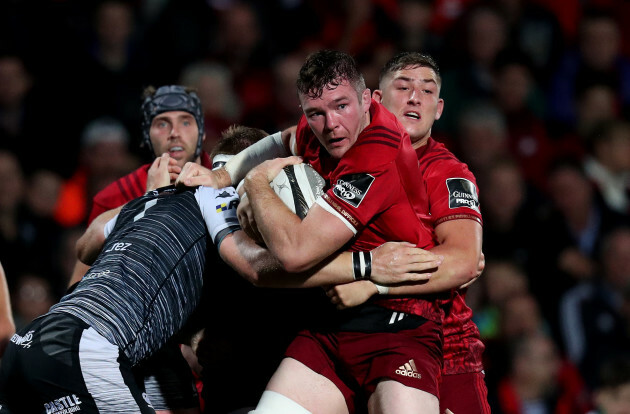 Inpho / Billy Stickland Inpho / Billy Stickland / Billy Stickland
Ordinarily, players will not reach the red flag point. Having put time and effort into determining the theoretically perfect workload with consideration for medical history, training age, previous season's workloads and position leading to a number of minutes somewhere in the region of 1800 to 2100 minutes. That would equate to 22-26 full 80-minute matches in a season.
Of course, the spreadsheet doesn't determine all in the player management programme, once the plan is laid out, there are continual discussions to be had around where a player can be made available for his provincial coach.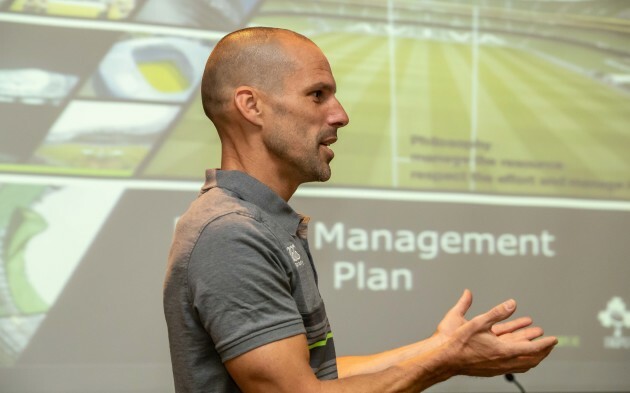 Morgan Treacy / INPHO Morgan Treacy / INPHO / INPHO
"I'd go to Joe, we'd then go to fitness coaches around the country and talk about what we'd consider good rationale for each player.
"Joe would do the same with the coaches, he'd have conversations around the rationale of starting a player at this time, for this amount of games, whatever it may be.
"Every single week there is ongoing conversation. A coach might say he'll shift a player this way or that way. Joe and the coach will have a conversation and come up with what's best for the player, the team and Ireland."
"I might say four weeks out from the end of phase one: 'hey, this guy's red, or he's going to be red if he plays the next three games, what's the plan'. 
"(The response comes) 'Oh I spoke to the coach, he's not going to play this weekend'.
Exclusive Six
Nations Analysis
Get Murray Kinsella's exclusive analysis of Ireland's Six Nations campaign this spring
Become a Member
The majority of players in the country won't be involved in international rugby of course. The structure and schedule of the Pro14 means that natural breaks built into the season. Invariably, those gaps are filled by Test matches though, so Cowman and the IRFU must 'fabricate' those rest windows for the contingent of internationals.
Frikkie Kapp / INPHO Frikkie Kapp / INPHO / INPHO
"It's like anything, if there are seven days in a week, we work for five and rest for two so that we can regenerate and rest so that we can be as productive the following week. We're making sure they get degrees of rest throughout the season so they can perform when we want them to perform."
"They get a four-week extended period (off-season) at the end of the summer tour and then they come in to play in (Pro14) round two. By right, they should be playing in round four, basic sums tells you. But they come in week two or three and they'll all be playing by week four.
"They have two weeks off during the Six Nations. But they're goosed, they've had two Test matches in a row and they're absolutely shot in that third week.
"That's why we dump in a regeneration week after the November Series and a week after the Six Nations, when their workload has been the most significant and they've been in a high-stress period.
That's why around Christmas we give them a period off, we give them a week off at the end of November and at the end of the Six Nations. But to be honest, we're still chasing rest. They still don't get the same degree of rest as the other guys while being expected to perform in bigger games, more intensity and higher expectations."
In a World Cup year, Cowman is acutely aware of the Test match toll that awaits the players under his watch in Japan. The turnaround times between pool matches roll off his tongue.
"Seven, six, five-day turnaround," he says wearily before he questions the limitation of 31 players in a World Cup squad.
On their own tours (with considerably shorter schedules) the IRFU travel with a minimum of 32 players, and even then injuries will dictate that 15-on-15 training sessions are difficult to put together.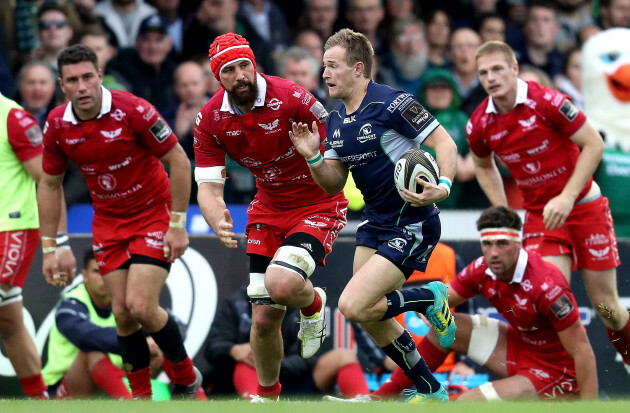 Bryan Keane / INPHO Bryan Keane / INPHO / INPHO
"We'll utilise the 31 players who will travel, but it would be great to have 34.
"If we're serious about managing resources, why is it 31?"
Cowman is certainly serious about managing Ireland's playing resources and throughout his time yesterday he returned to point out the effort levels being put in by internationals in the most punishing of environments.
"It's a massive toll. Out of respect for the effort, let's manage our expectations around how often we expect them to do it."
The42 is on Instagram! Tap the button below on your phone to follow us!