SPRINGBOKS DIRECTOR OF rugby Rassie Erasmus says he has not spoken to the IRFU about succeeding David Nucifora in a high-powered role in Irish rugby and won't be making a move to Ireland.
IRFU performance director Nucifora is expected to move on from the role next year and rumours had suggested that Erasmus could be in the running to replace him, but the Springboks boss has now confirmed he has not been in contact with the Irish union.
Current Springboks head coach Jacques Nienaber is joining Leinster after the World Cup, but Erasmus won't be making the move to Ireland.
"No, no," said former Munster head coach Erasmus.
"There have been no talks, there is no truth in that.
"I'm not sure where it started but I have not chatted to them. I'm definitely not following Jacques."
Meanwhile, Erasmus said out-half Handré Pollard, who was yesterday called into the Boks' World Cup squad as an injury replacement, won't play against Ireland this weekend in Paris barring unexpected injuries. 
The highly-experienced Pollard, who made his comeback from a calf injury for club side Leicester Tigers last weekend, was added to the South African squad as a replacement for hooker Malcolm Marx, whose tournament was ended by a knee injury.
However, Erasmus said Pollard won't feature on Saturday in the crucial Pool B clash against Ireland, meaning Manie Libbok is set to start at number 10 again.
"He definitely won't be selected for this week unless we get two or three injuries," said Erasmus of Pollard.
Springboks assistant coach Deon Davids confirmed that influential second row Eben Etzebeth is on course to return from his shoulder injury to play against Ireland.
Etzebeth's fitness would be a major boost for the Springboks. Even though they have lots of formidable options up front, Etzebeth remains a pivotal figure in the second row.
"The previous press conference, we mentioned that Eben was out for seven to 10 days, it's now seven," said Davids. 
"He's reacted well last week with his return to training, so yes he'll be in contention this week."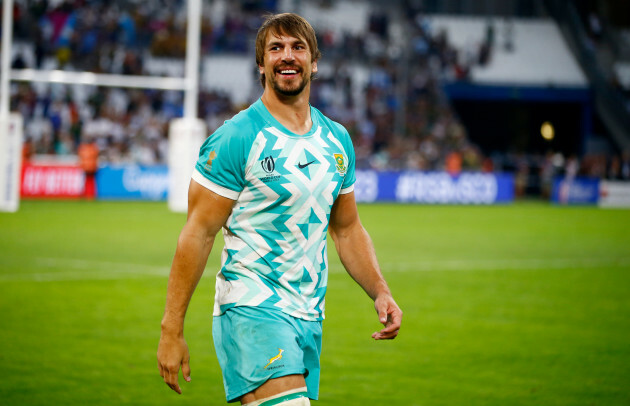 Steve Haag Sports / Steve Haag/INPHO South Africa lock Eben Etzebeth. Steve Haag Sports / Steve Haag/INPHO / Steve Haag/INPHO
It's a boost for the Boks, but Erasmus is certain they face a hugely difficult task against Ireland this weekend.
"We are playing the number one team in the world and if you don't defend well, they are a well-coached side and the whole game from set-pieces to attack and defence and they have got some very serious players," said Erasmus on today's online briefing.
"For us, it will be important to be on par at every department, setpiece wise and in our own attack.
"For us to play against the number one team in the world and go as far into the tournament, then this is one of the games we understand that we need to be on our best in all departments."
Johnny Sexton will captain Ireland again this weekend and Erasmus is in no doubt as to how important he remains for Andy Farrell's side at the age of 38.
"He's a hell of a vital person, in my opinion," said Erasmus. "When I was at Munster, I only beat him once, I think it was the December game at Thomond. Whenever Johnny's in the team, a lot of things happen and not just as a player.
"It's his aura and his presence. For a man at 38 to still score tries like he scored this weekend [against Tonga] and the previous time we played them, he grubbered through and out-sprinted one of our guys, so as long as he's physically out there, which he is, there's no doubt about him.
"The aura about him, it's exceptional not just for his own team but very intimidating for the opposition."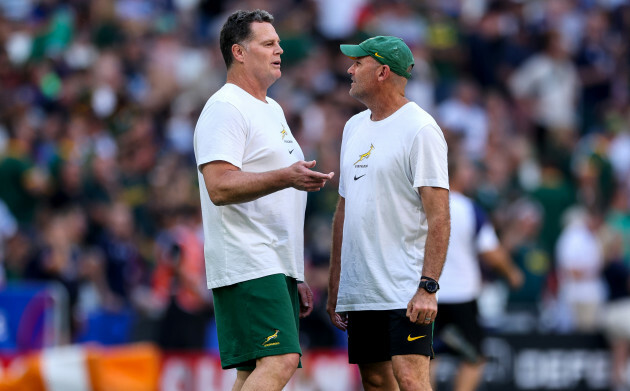 James Crombie / INPHO Erasmus and Jacques Nienaber. James Crombie / INPHO / INPHO
As for the Springboks, Erasmus said they are considering using a 7/1 split of forwards and backs on their bench for this clash with Ireland.
The South Africans first used that split in their final World Cup warm-up game against New Zealand and Erasmus said they could go that way again.
"7/1 is definitely an option and we are considering that," said Erasmus. "I think there is a lot of teams doing really innovative things. We saw a lineout this weekend, I think it was Portugal, a fantastic old-school lineout.
"I think sometimes when you do things you did many years back, people see it as innovation but it's just stuff that you remembered that worked way back. Obviously the 7/1, a couple of years ago the 6/2 was very new to people, a lot of teams are now doing 6/2.
"If you go 7/1, you have to have players like Kwagga Smith who is used to playing 7s or able to play against Fiji and guys in one-and-one situations. But then again, you've got Johnny Sexton and Conor Murray, or I'm not sure which nine will play, that can exploit you when they get it in the air and every area of the game.
"But yes, I think the other thing we can do this is really try and beat Ireland at what they do really well which is a beautiful attacking game, with a solid defensive system and technically they're a really sound team.
"I don't think there are any weird tactics that will help us with this game."