TOMORROW PORTLAOISE GAA club focus on matters on the field.
Competing in Leinster is something they are accustomed to. St Vincent's obstruct their path in O'Connor Park in Tullamore as the club chase their eighth senior provincial club football crown.
They underlined their dominance recently in Laois as they picked up their seventh county title in a row. Thriving in Leinster would round off a thoroughly satisfactory 2013 season.
It's also helped keep their minds occupied from tough and emotive issues. Their recent quarter-final against Longford Slashers was postponed after attacker Adrian Kelly's mother died suddenly. Former club manager John Mulligan has battled serious illness. While three years ago, one of their great playing prospects Peter McNulty died suddenly.
All the time, there has been a financial cloud hovering over Portlaoise. The proposed sale of their club grounds next to O'Moore Park in 2009 collapsed at a time when they had already been advanced the money to purchase a new site at Rathleague. They have been mired in serious debt since, a victim of the country's economic crisis.
Gaelic football has been the balm to their wounds.
"It's the one thing that has kept us going away from the drudgery and heartbreak that has happened off the park", says manager Mick Lillis. "Without it, you'd say that lads might go on the beer for 12 months. It has just kept the club together. It has created a bond that will be together forever for the young lads."
Solving their problems is not easy.
"We owe the money to an investment company in Cork, Firestone", outlines Lillis. "We owe them something like €7.5m but they owe something like €295m so we're only about 3% of their actual debt. So we're not priority. They have so much stuff to sort out so we're sort of on the long finger.
"Firestone had the most incredible plans for that place but because of the whole downturn everything went belly up. They wanted to sell it then to some investor, an Arabian guy living in London.
"He was willing to buy it but not for the money they wanted. So it fell through. We can't pay it off. It's just a physical impossibility. We don't have the means. There will have to be a write down of some sort."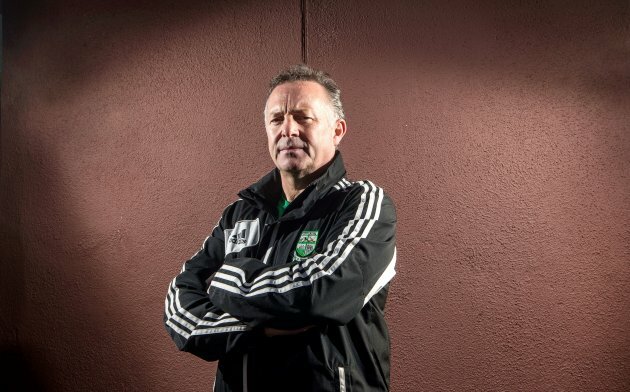 Portlaoise manager Mick Lillis
Pic: INPHO/James Crombie
There is no finger of blame pointed within the club.
"To be fair to all the lads that initiated the programme, everything they did they went through Croke Park. They were doing something that they knew ultimately didn't make huge sense – they were buying before they sold.
"But they went to Croke Park with it, Croke Park said, 'go, do it'. That was the advice they got. They took the chance on it but it was a chance and obviously it has backfired."
Lillis assesses the future prospects.
"There is an inevitability that we will vacate our old club behind O'Moore Park. In the new club, we have eight full size pitches but we have no infrastructure  aside from prefabs.
Exclusive Six
Nations Analysis
Get Murray Kinsella's exclusive analysis of Ireland's Six Nations campaign this spring
Become a Member
"That cannot change until our debt has been dealt with. The banks and Nama are very slow to deal with so we're kind of in limbo. We're training on the new pitches. Most of the lads just come togged out. For the last few weeks we've been back training on the old pitch where we have lights."
The financial constraints have hit the club's senior side this year.
"At the start of the year, our budget to look after the senior team was zero. That was it. 'You're in charge of the senior team lads, you have no money to work with, off you go. Anything you need you raise the money yourselves, that's it, we have no money'.
"The lads put in a few quid themselves each week to play. They run their own players' fund. Anything we need, whether we need a DVD analysis, say, the lads pay for it. We're on a shoestring."
Yet in the face of adversity, they have ploughed on. The prize beckons them in Tullamore tomorrow.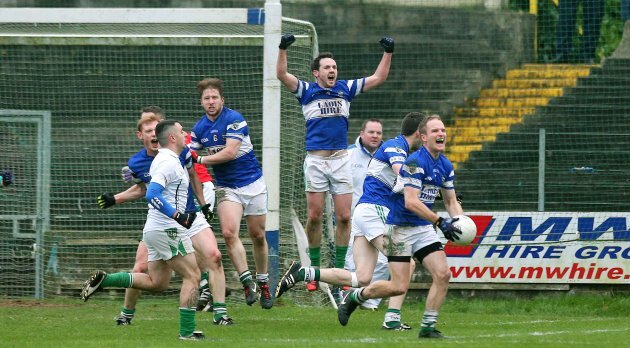 Portlaoise players celebrate their semi-final win over Moorefield
Pic: INPHO/Lorraine O'Sullivan