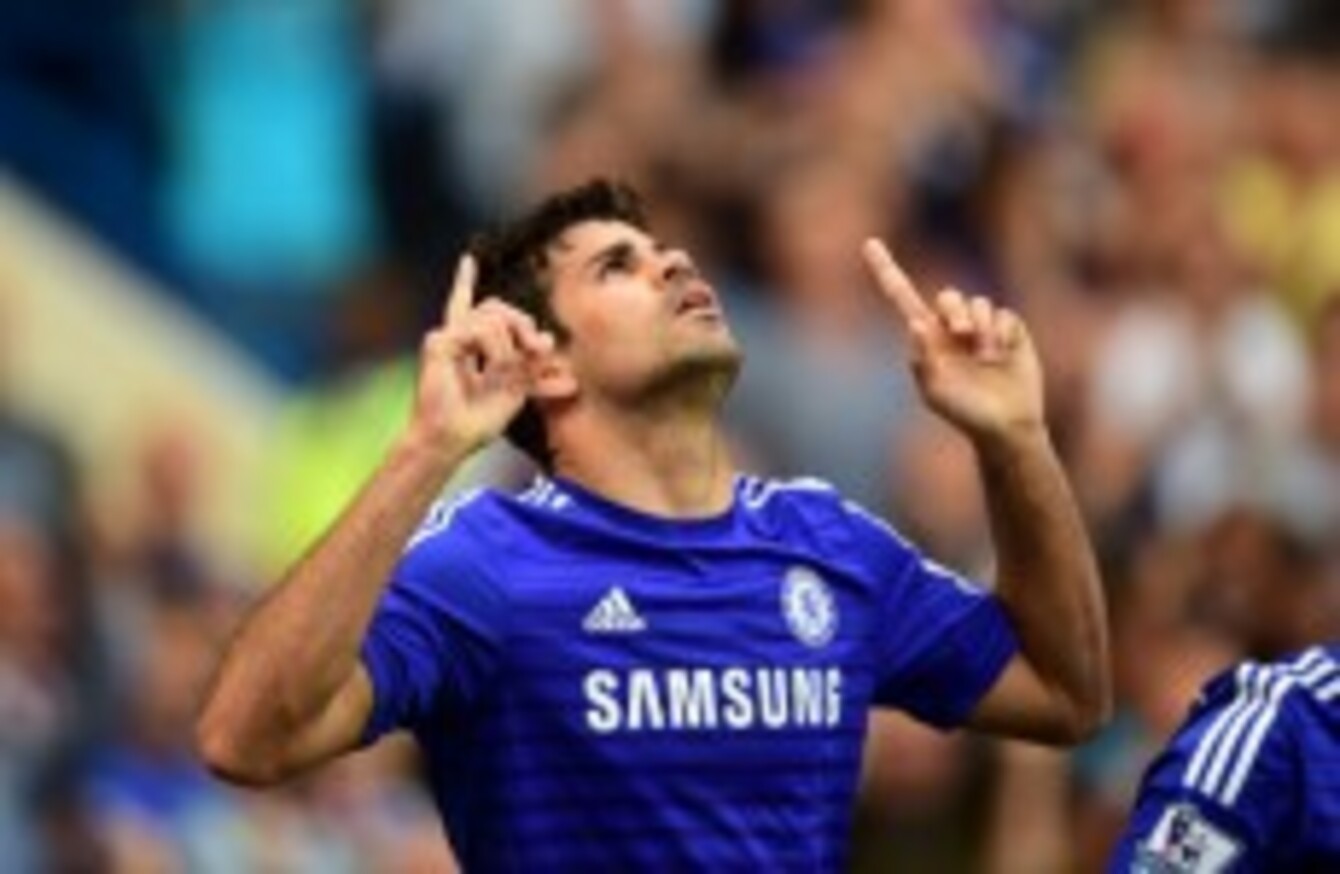 Can Diego Costa continue his hot start?
Image: Adam Davy
Can Diego Costa continue his hot start?
Image: Adam Davy
IT IS WEEK three of the Premier League season and we have five more bets that might just win you money, depending on whether a series of events fall in our favour. Already, it looks like Chelsea and Man City are the two teams to beat, so if you can find value in any markets with either, it would be wise to consider backing them.
1. Diego Costa to be first goalscorer against Everton (4/1)
Costa has started strongly, scoring in both of his games so far. And while neither goal was spectacular, don't you just feel that this Chelsea team is set up to create reasonably easy chances for the Spaniard? He might not be the most mobile but Costa can finish.
Source: Premier League Master/YouTube
2. Romelu Lukaku to score anytime vs Chelsea (9/5)
Sorry to pick two goalscorers from the same match, but Lukaku looked lively against Arsenal last weekend, and the possibility of the "new Drogba" scoring in front of the old Drogba and the manager who allowed him to leave is definitely worth a bet. Lukaku will have a chip on his shoulder and will want to prove that The Special One made a big mistake in allowing him to walk out.
3. Over 3.5 goals in Man City vs Stoke (13/10)
Man City could roll out of bed with a hangover and still score three at the Ethiad. They have been so clinical in their two games, that it is very possible they could go over this total on their own. But like the Liverpool game last Monday, you still have the possibility of Stoke bagging a consolation goal to boost the overall total.
4. Burnley to win or draw against Man United (13/10)
Manchester United couldn't even win this fixture with Alex Ferguson and a far superior side a few years back, so what possible chance do they have now? That was a joke, but seriously, Man United haven't shown anything so far that would give you confidence in backing them. If you still think they are shaky, you can get alright value here. If you are really courageous, you might even back Burnley to win at 5/1.
5. Swansea, Man City -1, Chelsea to win or draw, Sunderland to win or draw (5/1)
Swansea have looked very composed so far and are at home to West Brom, Man City are a juggernaut at home, Chelsea might go the season unbeaten, and QPR looked so bad against Spurs that it would be ridiculous to expect them to beat anyone, even at home to Sunderland. A tenner wins you a nice even 50. You will thank me later.