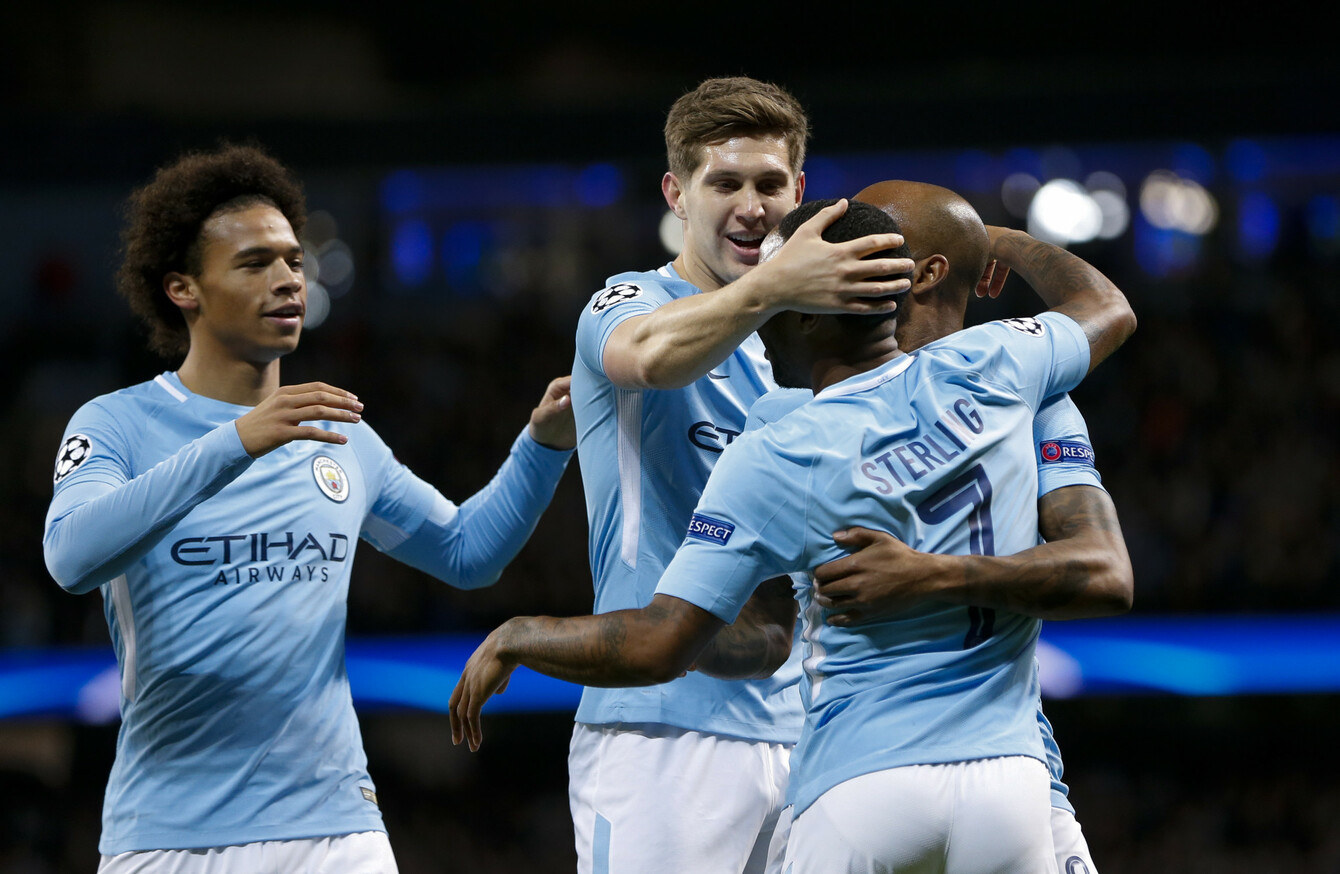 Man City players celebrate a goal during their midweek Champions League win over Napoli.
Image: Xinhua News Agency/PA Images
Man City players celebrate a goal during their midweek Champions League win over Napoli.
Image: Xinhua News Agency/PA Images
1. Is the title down to a 2-horse race already?
DESPITE ONLY EIGHT games having been played, the bookies' odds would suggest the Premier League title is now down to a two-horse race.
Man City are at 3/10, United are 9/2, while third-place Tottenham are 16/1.
The others who might have been considered contenders at the start of the campaign are deemed rank outsiders already — Chelsea are 20/1 having already found themselves nine points off City, while Arsenal (55/1) and Liverpool (50/1), currently sixth and eighth in the table respectively, are perceived as even bigger long shots.
Meanwhile, fourth-place Watford, who have exceeded expectations with a phenomenal start, are 750/1 and probably rightly so if their 6-0 thrashing at home against City last month is anything to go by.
So if the bookies are to be taken seriously, City and United are the only two teams with a strong chance of challenging for the title.
Yet, despite their much longer odds, Tottenham have impressed in recent weeks, winning four of their last five Premier League matches, and earning a creditable draw against Real Madrid in the Champions League during the week.
History also suggests City or United fans cannot afford to get too complacent.
At this point last year, City were top, with eventual champions Chelsea in fifth.
Similarly, in 2015-16, the Etihad outfit were top after eight games, with Leicester, who were fifth by that stage, going on to sensationally claim the title for the first time ever.
Pep Guardiola's side are currently two points clear at the top, but teams have blown far bigger leads before. The most famous example is the 1995-96 season, when with 25 games played, Newcastle were nine points ahead of Man United with a game in hand, yet still managed to lose the title by four points ultimately.
So as formidable as City (and to a lesser extent United) look currently, it feels premature to write off their rivals just yet.
2. Are Liverpool set to rise to the big occasion again?
With Tottenham drawing at Real Madrid during the week and winning four of their last five league games, not many English top-flight sides would go into a game fancying their chances against Mauricio Pochettino's in-form team.
Spurs have dismissed early talk of a Wembley hoodoo, with recent wins over Dortmund and Bournemouth on home turf, albeit they remain far off the consistent, free-flowing brilliance of their White Hart Lane displays last season (they were unbeaten and won 17 out of 19 games there in 2016-17), as their players continue to adjust to the bigger pitch and less fervent atmosphere.
Yet having lost to Chelsea at home already this season, Tottenham now face their second significant Premier League test at Wembley.
Before the recent draw with Man United and loss to City, Liverpool's record against the top six since Jurgen Klopp took over was exceptional.
Having often struggled against the weaker teams, wins last season against rivals including Tottenham, Man City, Chelsea and Arsenal ultimately played a big part in ensuring the Reds just about scraped into Champions League places.
They had a better record in this regard than any other rivals, with a 1-0 defeat against Man United in January 2016 Klopp's only defeat against top-six opposition before this season.
Of course, a 0-0 draw at home to Man United last week and a 5-0 loss to Man City at the Etihad last month has lessened optimism around Anfield considerably and would indicate the top teams have perhaps figured Klopp's side out and adapted to counteract their tactics accordingly.
Sunday's clash will therefore go some way towards indicating whether recent setbacks were mere blips or a sign of more serious problems for the Reds.
3. Will Shane Duffy return to boost Brighton?
Up until last weekend's game with Everton, Shane Duffy had played every minute of Premier League action for Brighton this season.
Up against his former club, however, there was much concern among both Seagulls and Ireland fans as Duffy went off injured in the 73rd minute with a groin problem.
Since signing for Brighton near the start of last season, the 25-year-old has established himself as a key player for Chris Hughton's men.
It is less likely that they would have failed to hold their lead late on at Goodison Park had the Derry native been on the field, while the 10 goals that the 14th-placed side have conceded is less than any of the teams below them and one of the main reasons why they are currently out-performing better-resourced sides such as Everton and West Ham.
For more than a year now, Duffy has also been a crucial component of Martin O'Neill's Irish side, earning the man-of-the-match accolade in their vital defeat of Wales earlier this month.
Provided the young centre-back plays, Martin O'Neill will likely be among those watching on with a keen interest tonight, with Duffy expected to be a key figure in the Boys in Green's two-legged World Cup play-off against Denmark next month.
4. Can Watford continue remarkable form?
Watford travel to Stamford Bridge in Saturday's early kick-off with a surprise two-point lead over Chelsea in the table.
The 15 points they have claimed so far represents the Hornets best-ever Premier League start, with Marco Silva, who was appointed as boss in the summer, making an immediate impact at the club.
Chelsea will still be considered favourites, though Watford's chance of emulating Crystal Palace (who stunned Antonio Conte's men last week) should not be dismissed.
As striker Troy Deeney pointed out last week, there are more talented and technically adept teams than his side in the Premier League, but as Leicester proved two years ago, a well-organised outfit with a clear gameplan can go a long way in the English top flight, despite obvious limitations in other respects.
With Chelsea looking sub par of late particularly with key players N'Golo Kante and Alvaro Morata absent through injury, their opponents — who were a Championship side less than three years ago — might just add to the 10 points from 12 that they have picked up on the road so far this season.
While the London club have looked disillusioned at times this season owing to the uncertainly surrounding Antonio Conte's future and rumoured problems at boardroom level, the exact opposite appears to be the case with Silva's men.
Their heart and resilience along with a degree of luck got them over the line against a fragile Arsenal team last week, while the fact that five of their 13 goals this season have been scored after the 85th minute is telling.
5. Results, not style, is what will ultimately define Mourinho's United
There was much negativity surrounding Man United's overtly defensive tactics, as they gained a 0-0 draw against Liverpool at Anfield last week.
The performance was nothing new, as United's recent away record against the top sides shows.
Moreover, since Jose Mourinho took over, the Red Devils have been involved in more Premier League draws than any other side with the exception of Southampton.
Louis van Gaal was frequently accused of playing "boring" football during his tenure as United boss, and the same accusation can at times be leveled at his successor.
However, for all the dissatisfaction Mourinho's methods have prompted, a case can be made that for the most part, he is improving the club's fortunes.
The trophies they managed to obtain last season represented clear progress following the period of relative footballing stasis once the Alex Ferguson era ended.
And were it not for an incredible run from neighbours Man City, Man United would be top of the league right now. Indeed, if they beat Huddersfield on Saturday, they will set a new club record of 23 points from their opening nine Premier League games.
Consider Mourinho's big achievements in the past — winning the Champions League with Porto and Inter, the Premier League with Chelsea and eclipsing arguably the best Barcelona side in history to win the La Liga title.
On all of these occasions, he frequently reverted to a deeply conservative approach in big matches — even at a club of Real Madrid's stature, he was known for his pragmatic ways.
So Mourinho is unlikely to change the formula that has brought him so much success anytime soon, and should he become the first United manager since Ferguson to lift the Premier League trophy, the majority of Red Devils fans won't care about the odd negative display.
Premier League fixtures (all games kick-off at 3pm unless stated otherwise):
Friday
West Ham v Brighton (8pm)
Saturday
Chelsea v Watford (12.30pm)
Huddersfield v Man United
Man City v Burnley
Newcastle v Crystal Palace
Stoke v Bournemouth
Swansea v Leicester
Southampton v West Brom (5.30pm)
Sunday
Everton v Arsenal (1.30pm)
Tottenham v Liverpool (4pm)
Subscribe to The42 podcasts here: