Updated 2.56pm
SKY SPORTS HAVE dumped Andy Gray and Richard Keys from tonight's Monday Night Football show in the wake of their sexist comments about Premier League official Sian Massey, according to the Mirror this lunchtime.
Champions Chelsea go to high-flying Bolton tonight. The pair usually host the high-tech MNF programme together.
Here's the audio of the pair's ill-judged comments, in case you haven't heard it already.
Yesterday, Keys brazened it out when he introduced the pre-game show for the Blackburn and West Brom game.
In fact, the hirsute-handed anchor seemed to offer a defiant message to those calling for his head with a clunky intro:
But this morning, the heat seems to be increasing on the long-serving pair. Keys' sister Susan was interviewed on Radio FiveLive earlier and almost offered the 'he's not that type of player' cliche so beloved of Sky guests: She said:
"Its a bit of banter, he has three sisters and a daughter, he has the greatest respect for women.
Football's a tough world, he's a consumate professional, it was a bit of banter, perhaps we are all getting a bit precious.
The FA gave their wholehearted backing to assistant referee Sian Massey following the remarks by the duo.
The pair commented on Sian Massey's appointment for the game between Wolves and Liverpool at Molineux on Saturday, when they believed their microphones were switched off.
They agreed that female officials 'don't know the offside rule' with Keys adding: 'I can guarantee you there'll be a big one today. (Liverpool manager) Kenny (Dalglish) will go potty.'
Massey crucially made a correct borderline call in the build-up to Liverpool's first goal at Molineux. Watch the controversial goal here.
An FA statement read: 'The FA has made real strides in encouraging both male and female match officials to enter the game at every level, and will continue to offer every encouragement to all officials within the football family to progress to the highest levels possible.
'We are proud to have some of the world's best match officials, both male and female.
'Overall the number of female referees in England (Levels 1-8) stands at 853 and climbing, and all of our female match officials act as fantastic ambassadors for the game. They have our wholehearted and continuing support.'
Keys also went on to remark on comments made by West Ham vice-chairman Karren Brady in The Sun on Saturday morning about the level of sexism in football by saying: 'See charming Karren Brady this morning complaining about sexism? Yeah. Do me a favour, love.'
Brady yesterday told the Guardian that she was appalled but not surprised by the comments. "It is absolutely abhorrent that gender is the only consideration when talking about female officials.
I am very interested to see what the bosses at Sky Sports think of this and then we will know whether sexism goes to the top of the game or not."
Sky Sports last night said Keys and Gray apologised for their comments.
They released a statement which read: 'The comments are not acceptable. They were not made on air but we have spoken to Richard and Andy and told them our views and they have apologised and expressed their regret.'
"The comments reported are not acceptable," Sky said. "They were not made on air but we have spoken to Richard and Andy and told them our views. They have apologised and expressed their regret."
Rio Ferdinand weighed in with a comment to his Twitter followers earlier: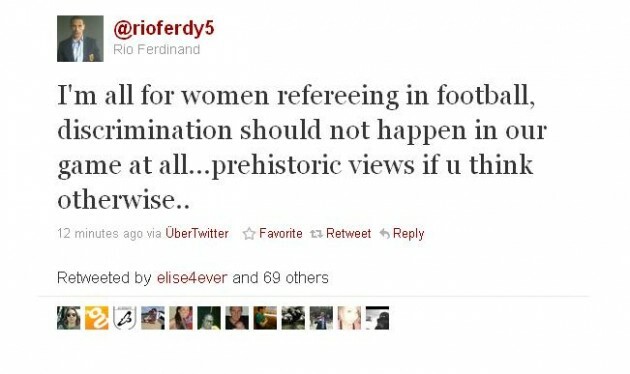 Earlier, at his Merseyside press conference, Anfield boss Kenny Dalglsh – father of TV presenter Kelly Cates of course – put Sky's Vinny O'Connor on the spot, asking him if he was okay with female reporters attending the briefing.
Do you think the two boys should be sacked?