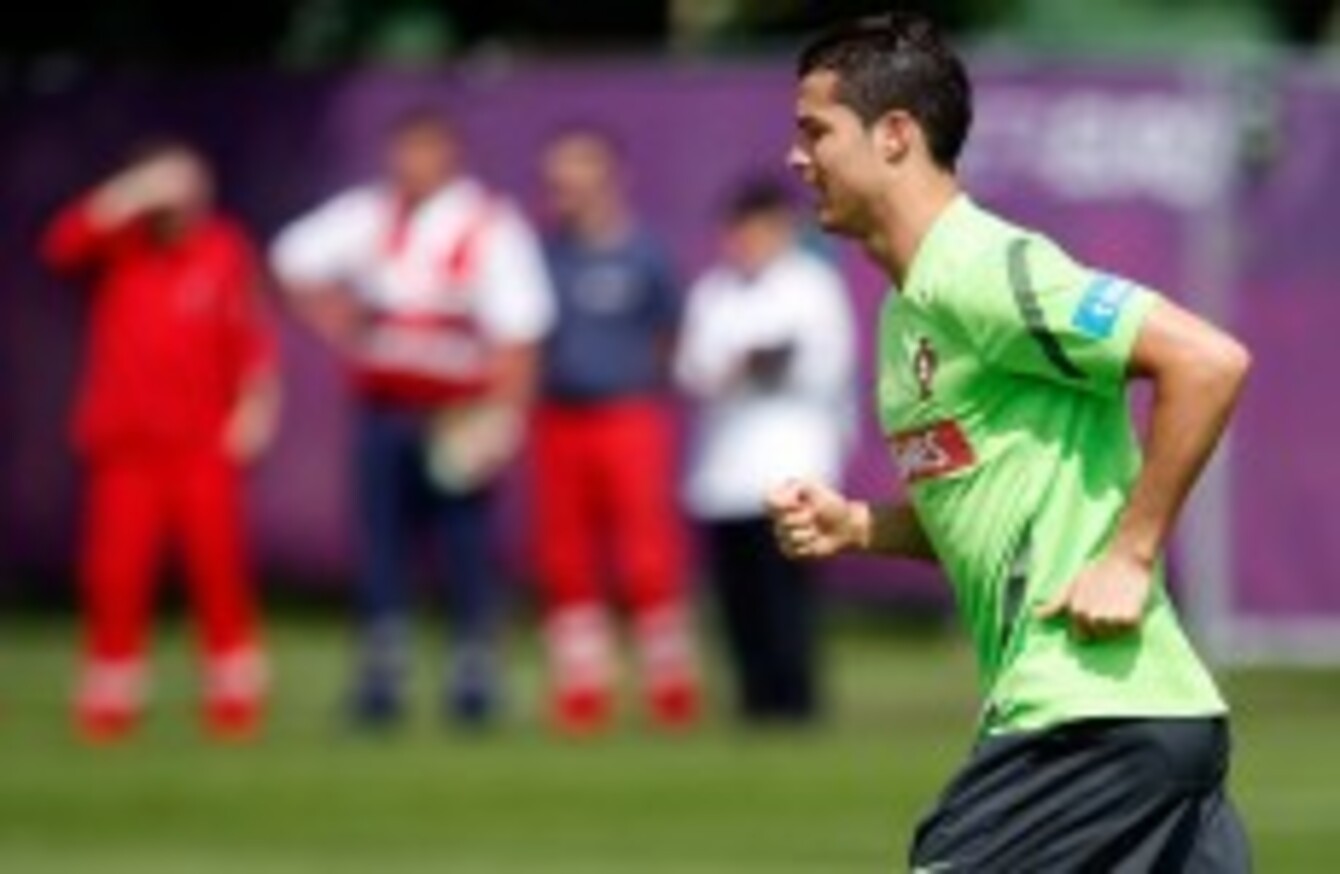 Team captain Cristiano Ronaldo is out through his paces during a Portugal training session.
Image: Armando Franca/AP/Press Association Images
Team captain Cristiano Ronaldo is out through his paces during a Portugal training session.
Image: Armando Franca/AP/Press Association Images
THE CZECH REPUBLIC will look to put a halt to Cristiano Ronaldo and his Portuguese side's growing momentum and book their place in the semi-finals of Euro 2012 tonight.
It will be the third meeting between the two sides in the last five championships, with each side having won one apiece — the most important belonging to the Czechs in the 1996 quarter-finals on their way to losing to Germany in the final.
Paulo Bento's Portugal have have got where they are thanks to their team ethic amd after seeing Ronaldo finally click into gear in Sunday's game against the hapless Dutch to score both goals in the 2-1 win. While he dedicated the brace to his son, also called Cristiano, on his second birthday, the 27-year-old Real Madrid superstar adopted the same line as his team-mates.
That line is essentially that there is no cult of personality — hence no talk of Ronaldo as an individual — which explains why the team circled the wagons in the face of what they saw as unjustified criticism and translated that into victory.
The Czech's outstanding goalkeeper, Petr Cech, acknowledges the Portuguese are favourites and the team is made up of more than just Ronaldo.
"They are among the world's top 10 teams. It's a team full of personalities and outstanding players and they play very well. Against the Netherlands on Sunday, they were excellent up front," said the Chelsea number one.
"They also have enough experienced players. The team has matured and it's really strong."
But Cech still said the only one his team-mates had to watch all the time because of his movement and unpredictability was Ronaldo, whose first goal against the Dutch saw him drift off the wing and break the offside trap perfectly through the middle.
"He has a powerful shot, he can shoot with his left or right, he can score from any place, he's great at heading," Cech said.
The Czechs' much-maligned coach, Michal Bilek, believes the tough times they have endured together — both in qualifying and in their group after starting with a 4-1 hammering by Russia — has made them stronger and a match for any opponent.
"In those two-and-a-half years, we have always managed to overcome the critical moments — and there have been quite a few," said the 47-year-old.
"We found ourselves under huge pressure all the time, the players always fought and beat the crises and in the hard games they showed huge moral strength," he added.
Portugal, finalists in 2004 when Ronaldo was the baby of the team, have also showed spirit, having like the Czechs started with a defeat — 1-0 to Germany — but they should be favoured by virtue of coming through a tougher group.
Paulo Bento, who like Bilek has had his fair share of criticism, believes whilst the Czechs will not be the easiest of opposition, if his "unified team" carries on playing as they are then a place in the last four looks guaranteed.
"We qualified for the quarter-finals in brilliant fashion and thanks to great unity in these three games we have played. In terms of how we played as a team, I'm very proud," said Bento, who turns 43 on Wednesday.
"We've been loyal to our spirit and that's what we're proud of. We've always shown we have the capability of responding and that we don't let up.
"We don't claim to be favourites (against the Czech Republic) and it won't be easy. We have to keep up our work and the quality that we have shown so far. Then maybe we can even reach the semi-finals."